Global brand identity transforms new central Nottingham office
After decades of being situated in the suburbs, Gleeds Nottingham made a strategic decision to relocate to a prominent City Centre building.
The new workspace allows for flexible working, designed to bring teams together in a central hub.
This project follows our completion of their Manchester and Bristol offices.
A VERSATILE WORKSPACE LANDSCAPE
The new workplace, situated adjacent to the train station, marks Gleeds' commitment to support local communities and adapt to evolving work trends.
Covering over 11,000 sq ft, this high quality modern facility acts as a central hub for Gleeds' colleagues, clients and co-consultants. The space is designed to offer flexible working and prioritise employee well-being, foster collaboration, and enhance team synergy.
Where teams previously had limited workspace options, the new office ushers in a diverse range of settings tailored to accommodate various day-to-day activities.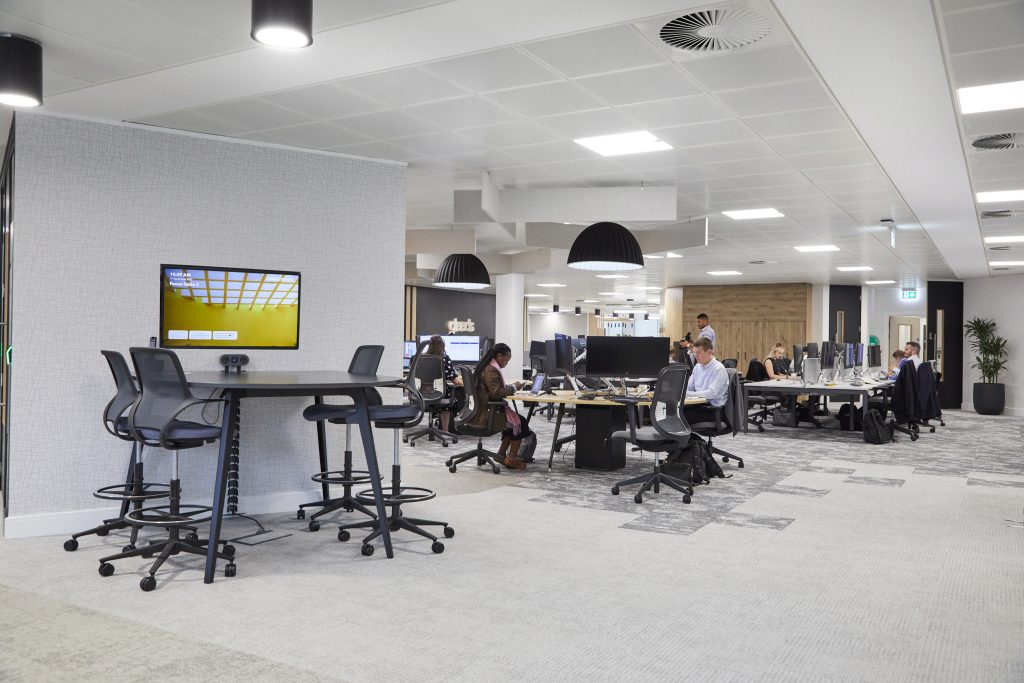 Lounges for all occasions
As well as creating a striking first impression in the reception area and meeting rooms, we designed distinct lounges, each catering to specific needs.
Social Lounge: This multifunctional space serves as a lunchtime escape and informal gathering spot for colleagues and visitors. It's ideal for town hall meetings and provides easy access to power points for working away from the main open-plan area.
Street-Side Lounge: Designed for client use, this lounge features two adjacent meeting rooms for up to four people. It allows for meet and greet holding space, and can be used as a quiet workspace too.
Macs Lounge: Designed with Boss Design soft seating.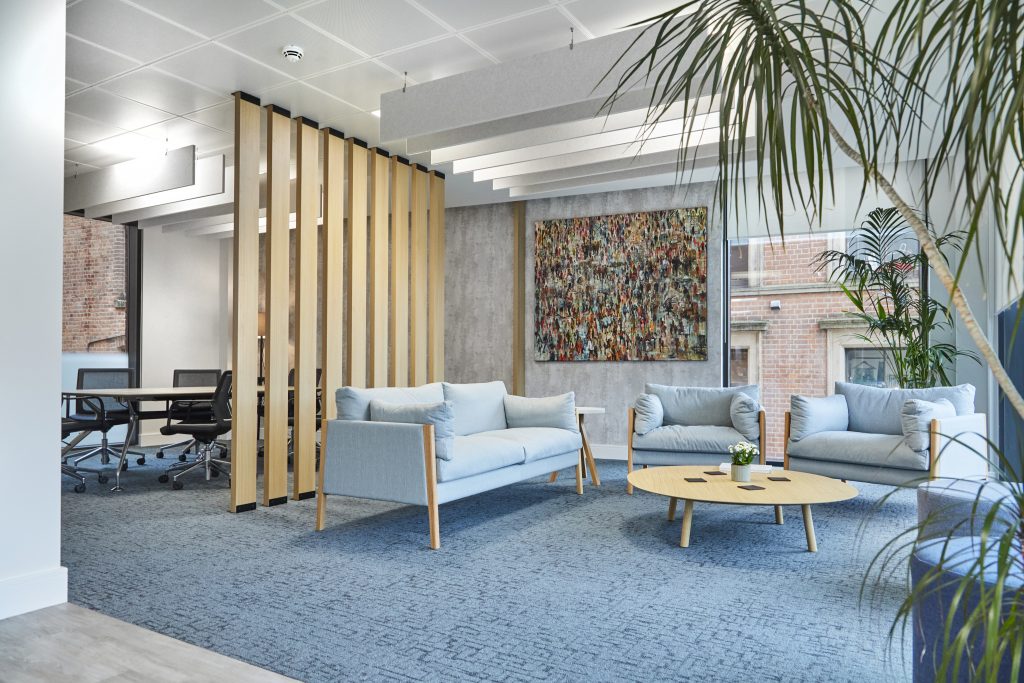 Further activity hubs
The Main Board Room is designed to hold meetings with 20+ people, it has acoustics, flexible sound speakers and two large TV screens to ensure high tech collaboration in-person and globally.
The Radcliffe Room is an open space for screen sharing, collaboration and non-confidential client meetings.
Focus and Learning Space: This area encourages colleagues to catch up and review documents together, with pods available for focused work and video calls.
Main Open Plan Area: With a configurable range of seating options, this space allows for flexible workstyles. The main boardroom can also be configured for different numbers of people.
Additionally, a canal-side lounge with soft seating and laptop tables provides a home-from-home environment with stunning views overlooking Nottingham Canal.
complementary design elements
To bring Gleeds' distinctive branding to life, each lounge features carefully chosen colour schemes. The finishing touches include feature lighting, acoustic panels, and biophilic planting to enhance wellbeing.
With practicality in mind, a dedicated resources area acts as the hub for making drinks and printing. Additional Walkway four-seater booths with acoustic surrounds add further collaboration spaces.
"Blueprint Interiors previously collaborated with Gleeds UK leadership to establish a unified yet distinctive office style in Bristol and Manchester. Their support in workplace design and consulting throughout our move to 11 Station Street has been instrumental in shaping this strategic decision. They have successfully created a modern, adaptable workspace that aligns with our sustainability and environmental responsibility objectives—key factors in our choice to relocate to the city centre. This office offers convenient access for clients, colleagues, consultants, and our extended supply chain network, both physically and through advanced technology. Moreover, the move has bolstered local businesses, benefiting from the presence of a major local employer."