A transformative, sustainable head office refurbishment
The Melton Building Society embarked on their complete office refurbishment and fit out in order to encourage people back into the workplace, add value to their members and enhance community engagement.
We acted as the main contractor for this refurbishment project as part of our complete workplace design and build service.
Building thriving communities
The Melton Mowbray Building Society (MMBS) has served the people of Melton Mowbray and the surrounding area since 1875. The company's purpose is to 'build thriving communities'.
With a new CEO at the helm and following a rebrand, we were appointed to revamp their head office, Mutual House, to provide a more efficient work environment and to bring value to members by investing in a shared future. Throughout the process, much consideration was given to the fact that members should benefit from the new space as well as employees.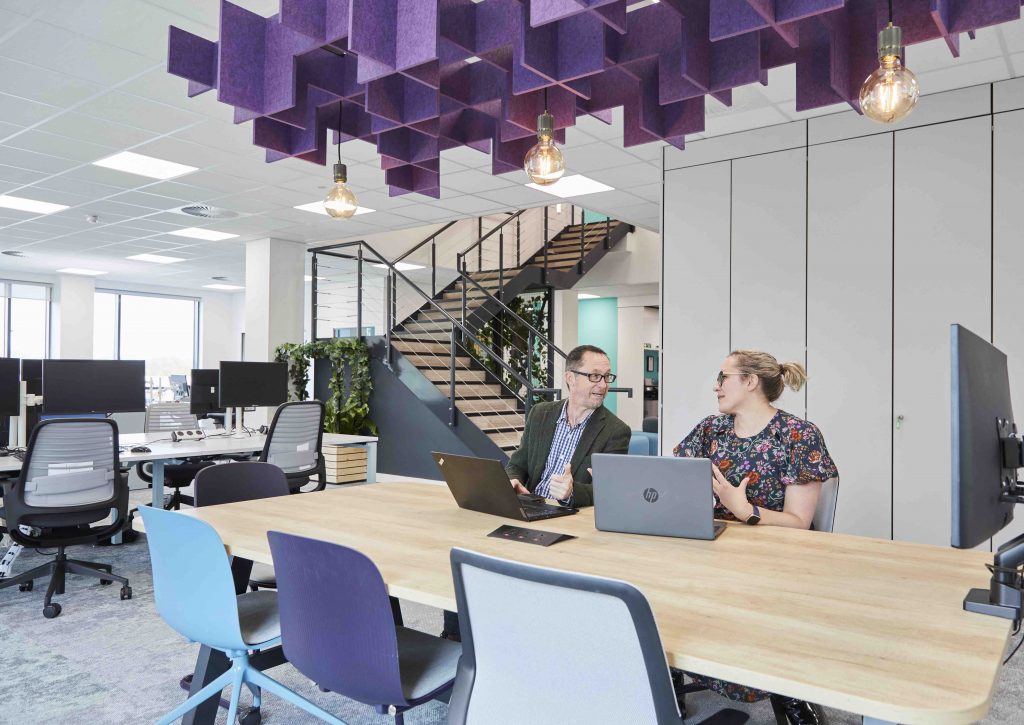 understanding workplace needs
A truly great workplace is designed with people and their wellbeing in mind. The workplace consultancy phase of the project helped us to understand exactly what that meant for MMBS. This first stage of our trusted four-step process delved into their team, culture, space and processes to uncover insights that we used to form their bespoke workplace strategy.
Equipped with this information, we created a design brief for a space to enable people to perform at their best. The human-centric design concept focused on the ability for people to be happy healthy and productive at work, rather than being constrained to a traditional corporate layout.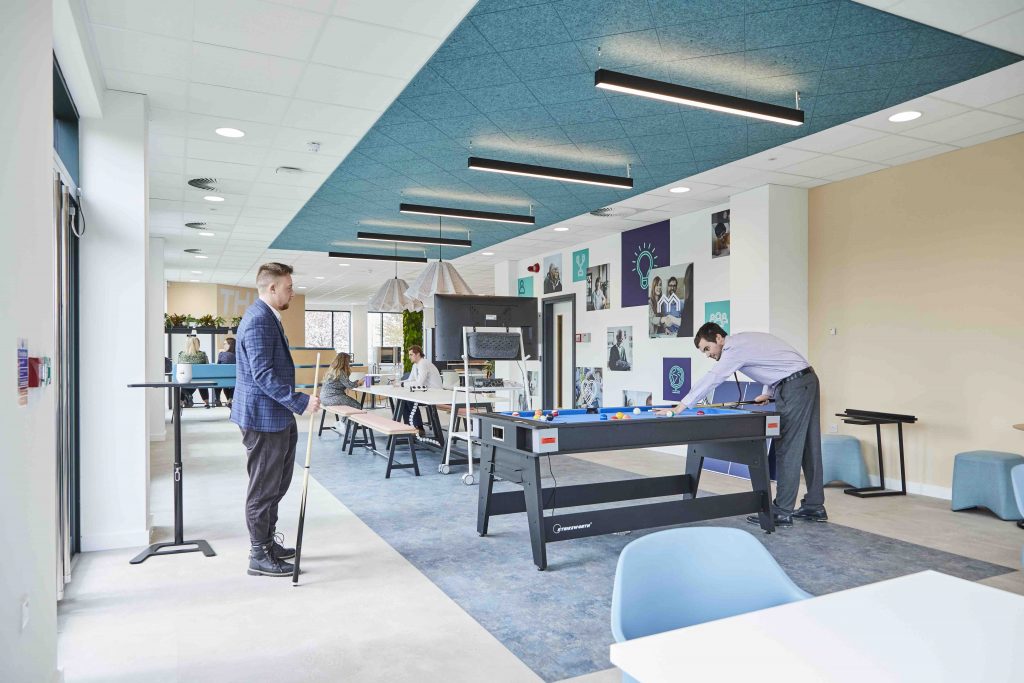 embodying brand values
Working closely with MMBS, we ensured the finished project embodied the company values and brought their new brand identity to life.
The project has redefined the perception of a mutual building society, positioning it as modern and futureproof. Its operating base is now a diverse, flexible workspace, that also acts in the best interests of all the company's stakeholders.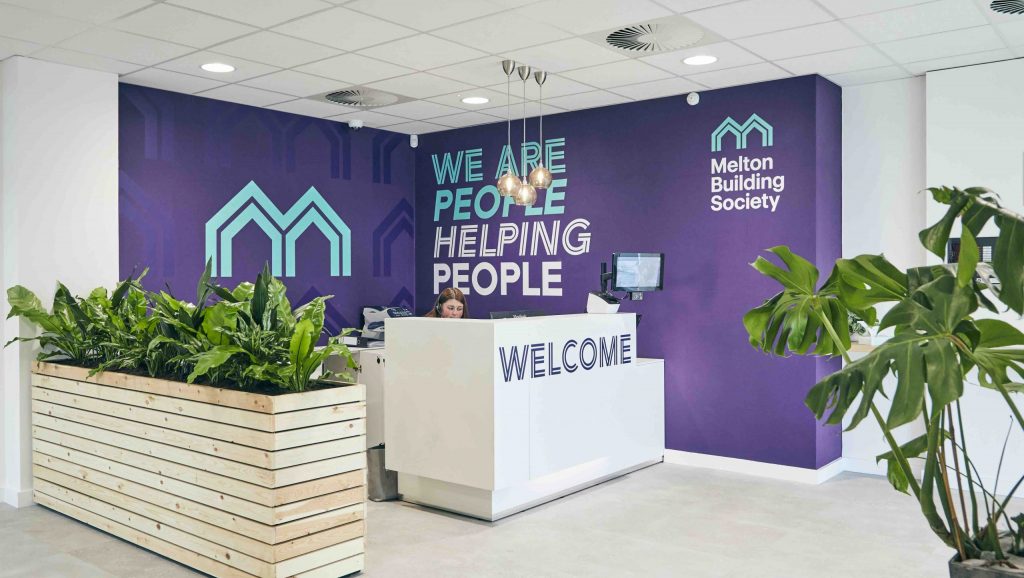 A new structure and floorplan
The project was delivered in a tight 20-week programme, expertly led by our internal project management team. We coordinated the work of a team of trusted, loyal and reliable internal office fit-out subcontractors, with client and landlord-nominated teams.
We maximised the available square footage in the building and created a greater sense of space by creating an opening between two floors and fitting a bespoke staircase to encourage more mixing between teams.
Partitions were removed in favour of activity-based workspaces. The upper floors are now open plan with a variety of shared and individual spaces, break-out areas, and pods for focused work. Flexible office furniture is used throughout, to enable changing setups when needed.
"We're thrilled to reopen our Mutual House and welcome colleagues back into this fantastic new space. The transformation is a testament to the dedication and hard work of everyone involved. We're confident that the new facilities and technology will enable us to deliver an even better colleague and member experience."
collaborative community spaces
The ground floor is now a collaborative zone for the Mutual House colleagues, branch staff, and the wider community. An inviting and fully equipped workplace café acts as a hub for social interaction. A top-class learning and development centre has been created with the latest tech to encourage idea-sharing, communication, and innovation.
New meeting spaces also enable more engagement with new customers, existing members, and local community groups. There's space to host informative financial planning workshops for members, and rooms that are free to use for community groups to host meetings.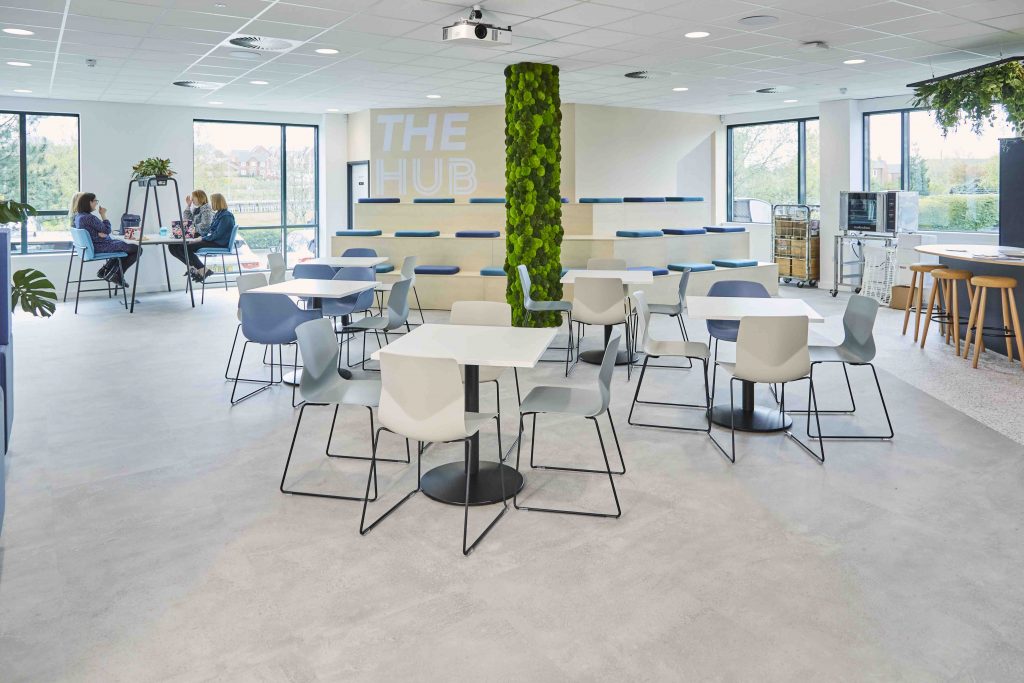 sustainability at its core
The project mantra was to re-purpose, recycle, and install technology to reduce carbon footprint wherever possible. As part of the re-use strategy, most old furniture was donated to local charities, schools or businesses. Suppliers that meet a minimum sustainability certification standard were chosen for the furniture, fabrics and floor coverings used throughout the building.
To enable this, we installed EV charging points, solar panels and a completely new VRV system to provide efficient heating and cooling. Energy-efficient LED lighting controlled by local PIR detectors with absence/presence detection is used throughout. This setup not only reduces energy consumption but also champions wellbeing by ensuring optimum natural light can flow through the building.