Personalised office design and fit out
Roythornes Solicitors is a top 200 law firm which has been serving businesses and individuals across the East Midlands, East Anglia, Lincolnshire, Cambridgeshire, Bedfordshire and Northamptonshire and nationally in its specialist sectors for over 85 years.
They approached us for a personalised office design and fit out for their new offices in Alconbury.
Design to reflect investment in community
Roythornes Solicitors had previously expanded twice within the Alconbury Weald Enterprise Campus. As part of its growth strategy for Cambridgeshire and the wider central and eastern region, the firm had moved to an entire wing of the ground floor. They came to us wanting to personalise their new workspace to fully reflect their culture and brand identity.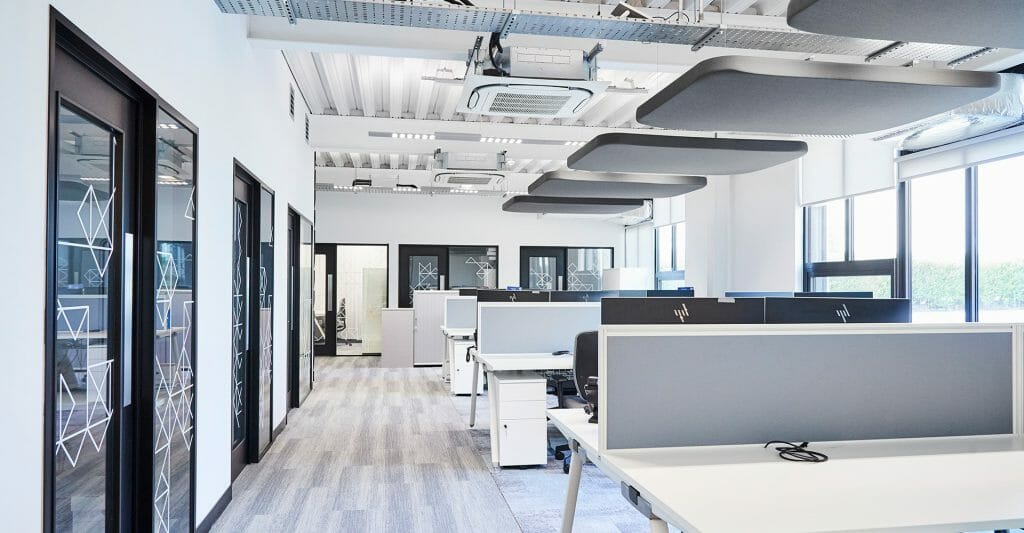 Bringing Brand Values to Life
Shades of blue and grey were used throughout the design to mirror the fit out we completed two years earlier on the firm's Peterborough office. Roythornes' brand mark 'triangle' was also incorporated as an instantly recognisable feature of their identity.
These combined to create an 'on brand' workspace with subtle nuances to differentiate the Cambridge office.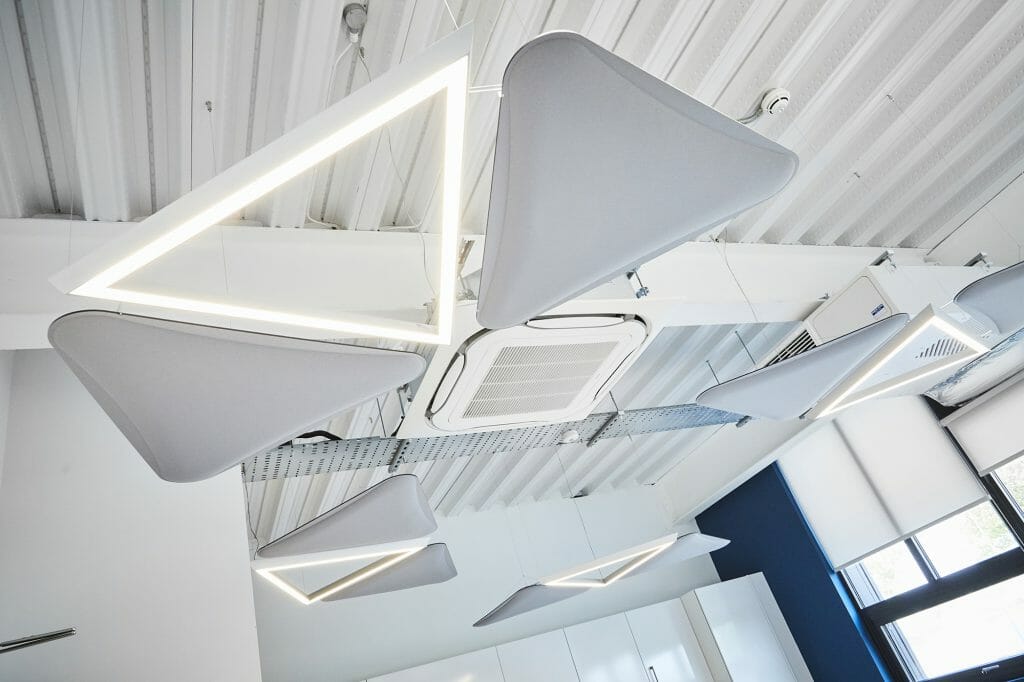 Transforming a blank canvas
Starting with a blank shell, the ground floor area comprised 3,700sq ft of space which we used to create an open plan office with plenty of agile working options. We incorporated individual offices, client meeting rooms and a conference facility capable of seating 35 people. Workplace wellbeing was ensured through the provision of the 'workcafé', and a professional reception area ensures visitors gain the best first impression as they arrive to meet their adviser. Although designed pre-COVID, the space offers a superb environment to embrace a socially distanced working environment.
The architecture has been designed with a range of sustainable features to reflect the low carbon aspirations for the whole development. This meant we had to resolve acoustic issues by introducing hanging ceiling rafts and textured walls.
"The design team listened to what we wanted to achieve and really showed they had understood the brief. Everyone had a really flexible attitude and were always willing to listen and take on board our own ideas and suggestions. Although our project timetable was impacted by the Coronavirus pandemic, Blueprint Interiors was immediately in touch and kept us informed every step of the way. They worked with us and supported us at all times to ensure our projects proceeded safely and without risk. We always felt like we were their only client and not waiting in a queue for responses."