Law Firm Office Design and Fit Out
Finch Consulting came to us with the need to create a space that their consultants, based across the UK and who mainly work remotely, would be drawn to visit, collaborate, innovate, share ideas and engage together on a more social basis.
Inspiring Engineering Confidence
Finch is unique in that it's the only professional services organisation to be both an engineering consultancy and law firm.
Its unique position allows the team's engineers, lawyers, specialists, ex-regulators and consultants to offer world-class advice, investigation, training and representation to its clients. They work across a wide range of sectors including food and drink, energy and waste, defence, leisure and entertainment, manufacturing, and legal, financial and insurance.
Finch has invested heavily in creating a brand identity which accurately reflects their entrepreneurialism and expertise as risk consultants who inspire 'Engineering Confidence'. They needed a workplace that actively promoted their brand values.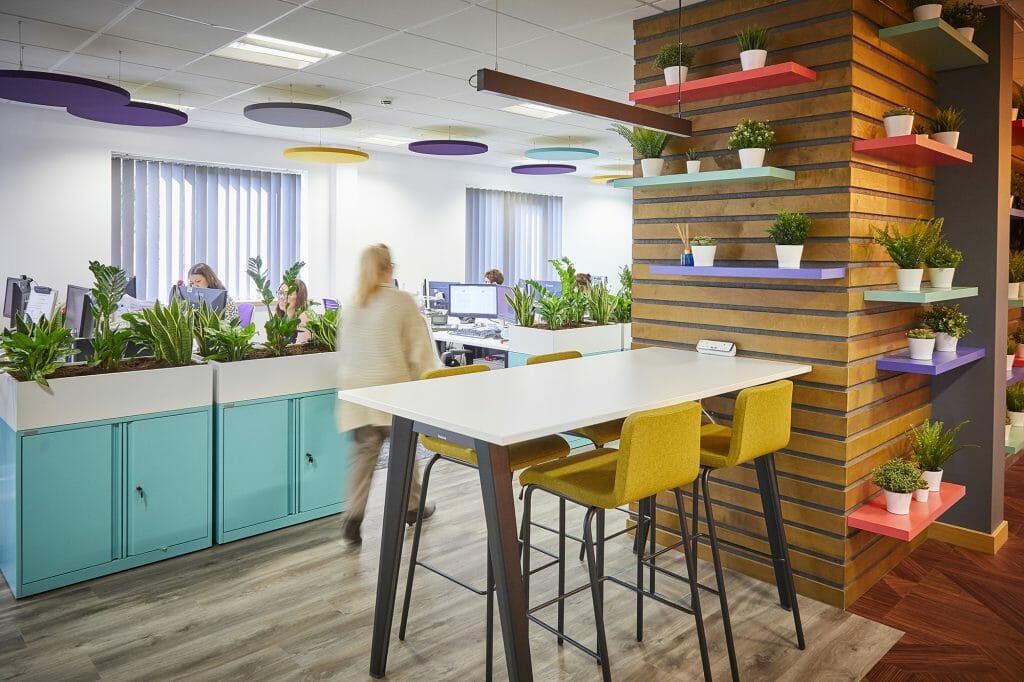 An embodiment of company values
We spoke to the management team and listened to their vision, and it was clear that the transformation of their HQ was an effort to immediately convey Finch's brand values to its people and any visitors entering the building.
Our team came up with the concept of 'The Nest' to effectively bring this vision to life.
Another key element of the project was to provide new training and conference facilities to enable Finch to deliver the company's four services: Advise, Investigate, Represent and Train.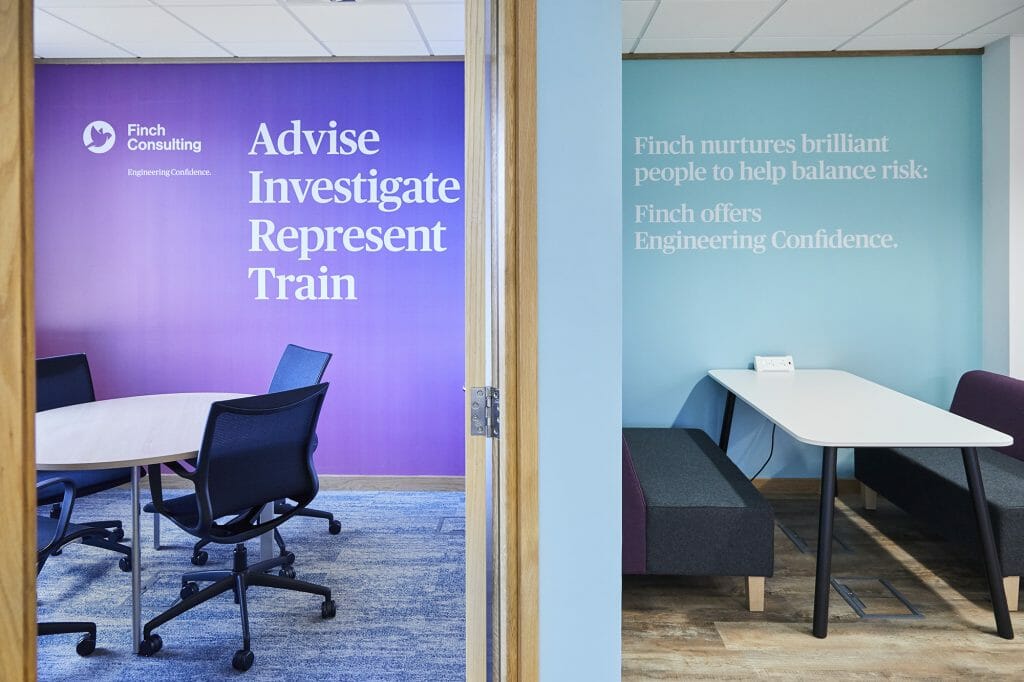 The feathered Nest
The ground floor was previously a myriad of offices and meeting rooms with a print and server room, kitchen facilities and open plan reception area.
By completely opening out the ground floor space we've provided hot desking facilities for the Finch community to hold informal meeting with large project benches, focus desks, booths and touchdown areas.
With the space being more open plan, we have paid special attention to the acoustics and lighting, to ensure they motivate and inspire collaboration. Ceiling mounted circular acoustic panels in the Finch brand colour palette have been used to deliver stylish but essential noise suppression.
Other design features include wall mounted acrylic graphics to convey the Finch brand values, and natural, patterned wall coverings to provide a warm welcome for everyone visiting The Nest.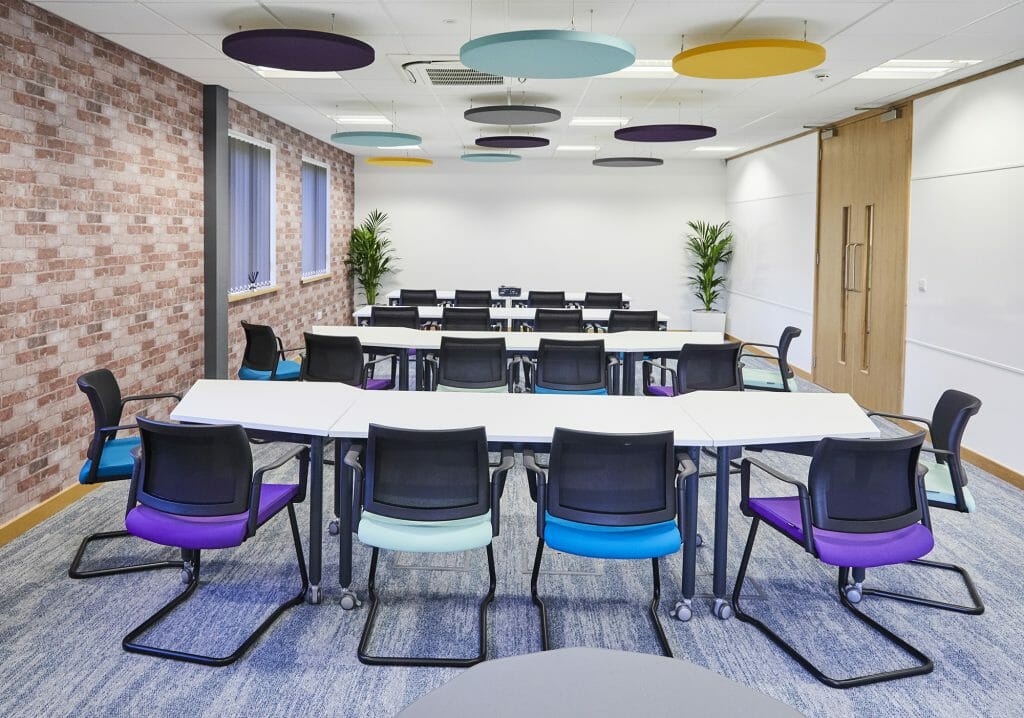 Contact us to discuss your project
An Agile, collaborative workspace
It was important to the Finch community to enjoy being at work so plenty of socialising opportunities were factored into the design.
We've provided comfortable relaxed seating areas, an open plan cafe, a library styled wall and a pool table.
The upper floor of The Nest has been re-configured to provide conference and training facilities that can be flexed according to the number of delegates. Technology and connectivity have been seamlessly installed and a large 86-inch Interactive Screen ensures optimum vision and clarity from all angles of the training room. A sound proofed video and vodcast room has been created for the production of training media and company communications, and well-equipped kitchen facilities support the needs of the training room and agile working areas.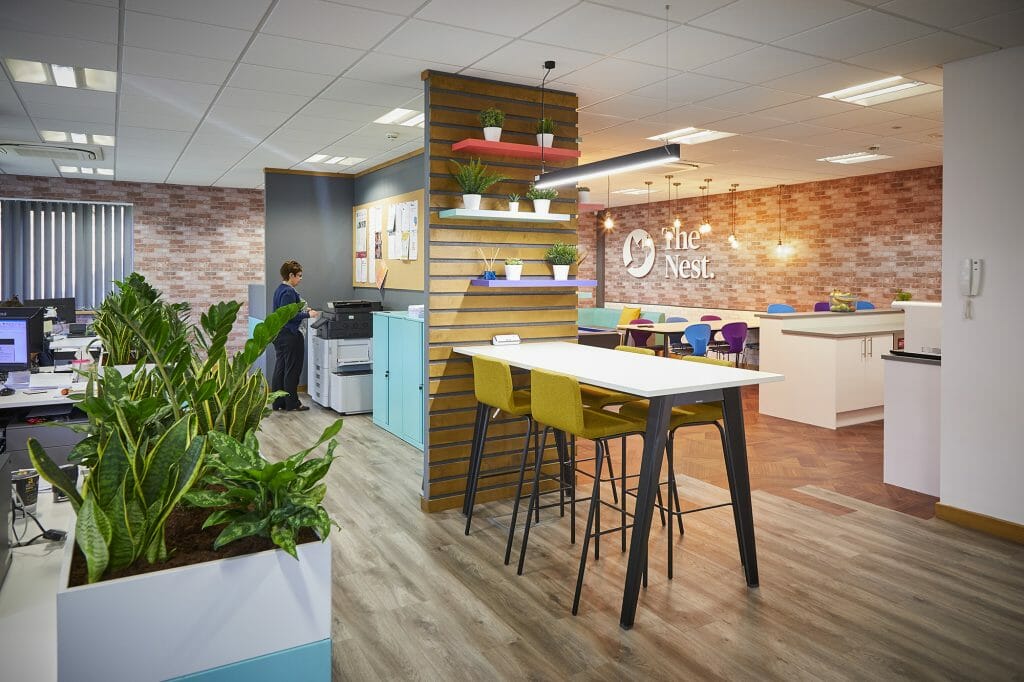 Remaining Operational
Project delivery had to be meticulously planned around the need for Finch to remain fully operational throughout the eight-week fit out period. We liaised with the team during each phase to ensure staff were relocated with minimal disruption to their daily routine.
Overall, the finished project has delivered a range of workspaces that support Finch's wellbeing initiatives and enables the community to share, escape, focus, explore, record, create and socialise together.
"We have spent a great deal of time working with our brand agency and marketing team to perfect our brand identity and values. From the outset it was clear the team at Blueprint Interiors understood the rationale for the investment in our office-fit out and were very committed to ensuring our brand was reflected in their designs. The initial design meetings were very creative, the designed proposal was superb, and the install was completed by Blueprint Interior's own team of very competent and professional contractors who were very attentive to the finest detail. The project was also finished as promised and ready for us to reveal to all staff who were attending our annual staff conference which we were able to host for the first time in our fantastic new offices."