Refurbishment of iconic 1950's office building to reflect needs of 21st century hybrid workforce
We were asked to design and deliver the interior refurbishment of an iconic 1950's office complex, previously HORIBA MIRA's first HQ. We were pleased to be working with HORIBA MIRA again, having previously completed the commercial fit-outs of MIRA Technology Institute and the social hub within MIRA Technology Park – one of the UK's leading enterprise zones for automotive research and development.
The building had been unused for quite some time. The refurbishment would allow HORIBA MIRA to lease the space as a temporary solution to a Swedish automotive brand, who would eventually move to brand-new purpose built offices within the technology park.
Creating space for continued growth
The overarching objective was to be sympathetic to the key features of a 1950s building, whilst providing a modernised interior office space for HORIBA MIRA's tenant to continue occupancy within the technology park. We took the building back to its shell and core, before completing mechanical and electrical upgrades and installing new toilet and shower blocks. The interior style is influenced by the building's iconic original critical windows.
We worked to ensure MIRA's objectives were met from a landlord's point of view, but also that the baseline was tailored to the tenant's operational requirements. We spent time with the new tenant to understand their business activities and processes to ensure the resulting furniture and tech solutions were specific to their needs.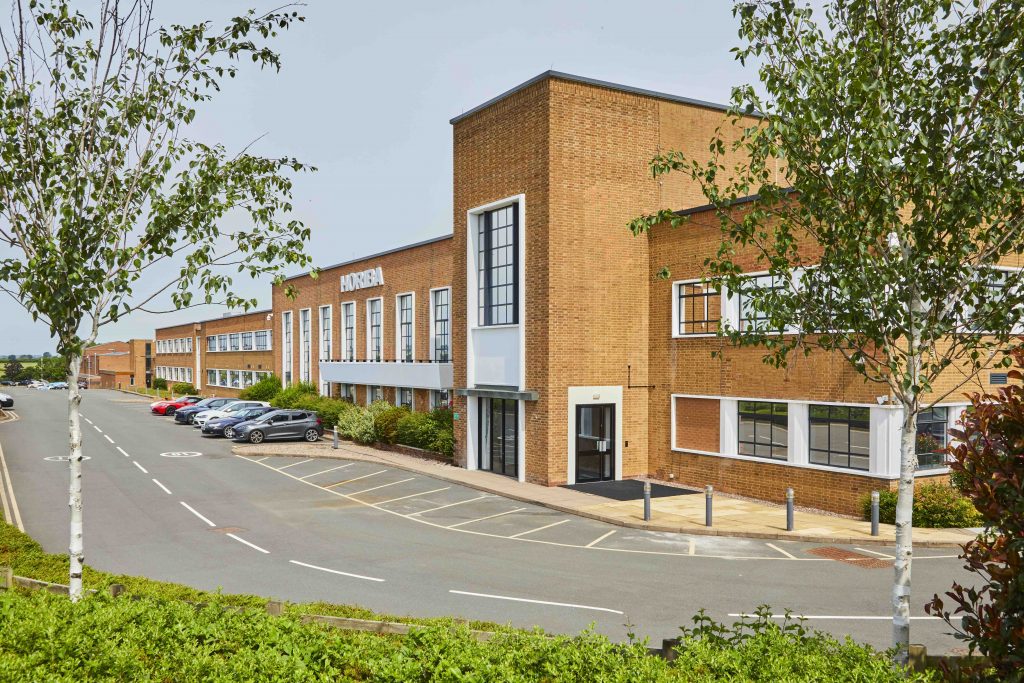 Stripping back to basics
Over the building's lifetime, various layers of interior fit out had been added decade by decade. So whilst removing old ceilings, partitions and false floors, we uncovered some incredible original features.
To reinstate the character of the space, we modified the designs to utilise the features. For example, when we removed the reception area ceiling, it revealed an amazing double height space. We abandoned plans for a new suspended ceiling, and instead kept the impressive 9m height, adding feature lighting and acoustics. This has now become a central focal point which 'wows' visitors and helps to convey a positive first impression.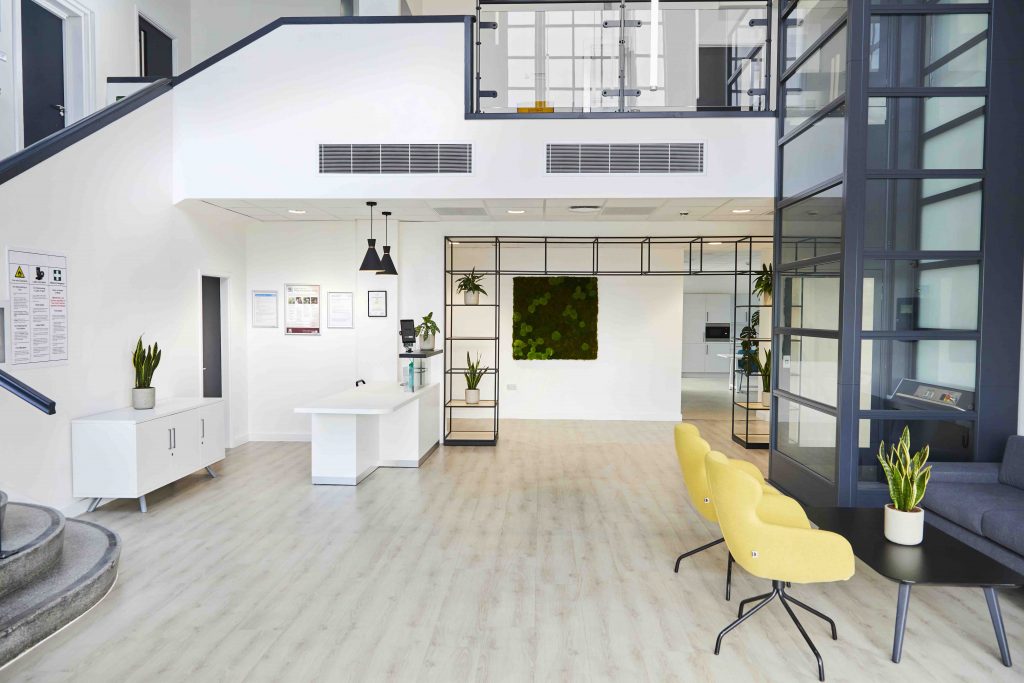 Restoring a piece of MIRA heritage
By cleaning and restoring the building exterior and window frames we have retained the heritage of an iconic building that is familiar due to its high-profile location on a busy carriageway of the A5.
Internally we have completely transformed the entire space, including a new light and welcoming reception area which includes an accessible lift, provision of a wide variety of functional desk spaces, break-out rooms and meeting rooms, as well as refitting functional features such as toilets and showers with modern energy-efficient equipment.
"Blueprint Interiors has delivered a great result as promised and we now have a fully modern, people-focused, climate-controlled space. More importantly, we now have the wide variety of workspaces we wanted. The deadline, the budget and some of the unforeseen things we found during the strip-out meant the project presented some unusual challenges but the transformation is just amazing! Everyone who now visits the building just says 'wow' when they enter the main reception. Overall we are delighted with how the project was delivered, and more importantly, this fabulous refurbishment has enabled us to retain a valuable and influential brand as a tenant."
Tackling challenges
The most challenging area of the build was the transformation of an industrial workshop with a storage mezzanine into a bright double-height workspace. This included coordinating the install of a 30m long roof lantern with the construction and fit-out works happening below, so work could continue and project deadlines would be met.