Workplace befitting of a global leader
Initially, our brief was to design a presentation suite to enable Worldline to host customers and be able to showcase its range of solutions. It needed to be a space that could demonstrate Worldline's global capabilities within the transport, hospitality, retail, and fuel sectors. The aim of the space was to allow Worldline to host industry colleagues and customers in a state-of-the-art immersive experience. It also needed to offer employees a better working environment and spaces conducive to collaboration.
Innovation needs Imaginative Spaces
During the discovery phases of our workplace consultancy process, we heard about the leadership teams' desire to review their wider office design in a post-pandemic world. This was to cater for the huge shift in working culture that had taken place. Worldline wanted to adapt in order to attract and retain talented people.
To achieve this, we designed an imaginative space where customers and colleagues can join together to further build relationships. Worldline now has a wide choice of workplaces to facilitate their teams' activities, where people can collaborate in groups or work alone.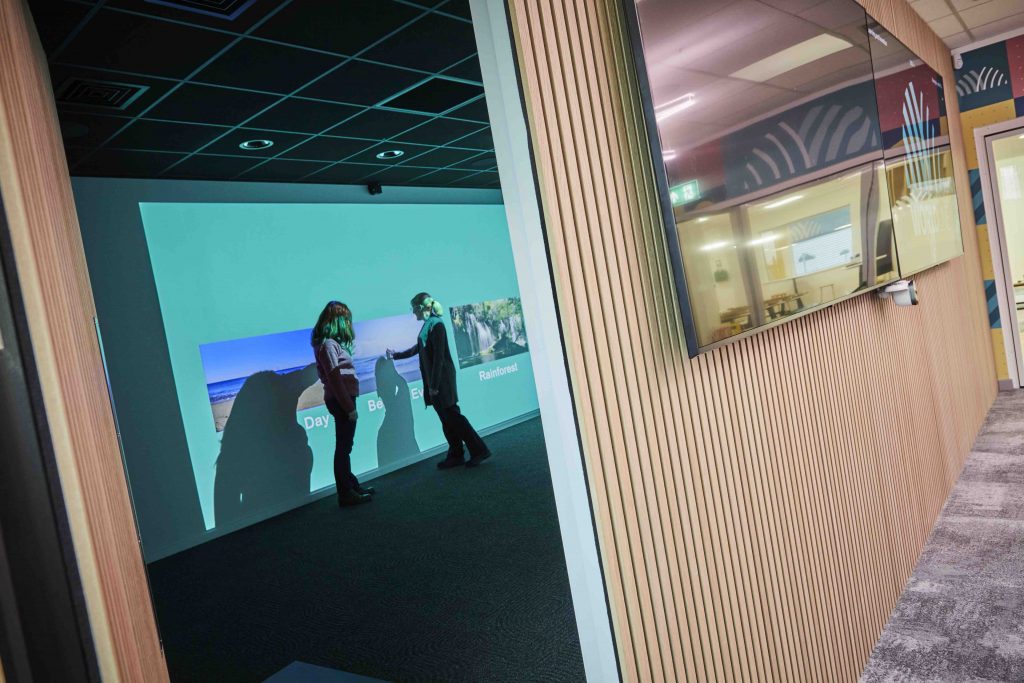 Evolution is the only game in town
The newly designed office supports business growth. As people embrace the new space, they discover new ways of working that suit them.
The Worldline visitor experience has totally evolved. It starts at the entrance and extends to the new learning and invention suite. They use this fantastic space for immersive storytelling about Worldline's values and product offerings in a way that engages clients and colleagues. Each wall in the immersive has full-length screens that are fully interactive and enable the viewer to explore any particular areas of interest more deeply.
Workplace technology has been a central part of the Worldline office transformation. Their space is now equipped with the latest audio-visual tools for their workforce, enabling hybrid working.
The workplace café provides the perfect space to meet, break away, or socialise. It has a diner-style feel with an R&R hub, a mini market, and games.
"The new space is better than I could have ever imagined. For me, this project wasn't just about changing the way the Worldline office looked, our people are the most important part of our business, and it is fundamental for us that we provide them with the best possible environment to work in. We hope that by completely transforming the space, we'll inspire and motivate our people, enabling them to collaborate, invent and work to the best of their abilities."
Nomadic spaces
In a nod to the heritage of the locality, 'Nottingham Square' was created as an open-plan nomadic space. Using technology, it works as a drop-in area, or an area to be taken over by project teams. It has spin-off spaces on either side, leading to additional office areas with a range of flexible furniture options, pods for focus time or team calls, and plenty of fun and social spaces including a beer garden.
The refurbishment of Worldline has also led to the donation of £137,584 worth of office furniture to the community. We diverted 816 items/35,044kg from landfill and 68,291kg of CO2e avoided.