Designing a new Loughborough HQ fit for future needs and ambitions
UK Anti-Doping is the national body responsible for creating a UK-wide environment of confidence in clean sports and the global fight against doping in sports.
Our challenge was to create an inspiring office space fit for a post-Covid world. One that would entice the team's current employees to collaborate, whilst enabling effective hybrid working.
The space needed to be agile and flexible, with room for growth as the employee base expanded to 60+ people.
A smart decision to move to a new office space
Following a new Government policy encouraging more organisations to have bases outside of the City, UK Anti Doping decided to open an office alongside other leading sports bodies at Loughborough University's brand-new SportPark extension.
The unique facility embraces the PassivHaus concept – the only internationally recognised, performance-based energy standard in construction.
Relocating to SportPark, gives UK Anti-Doping an outstanding, energy-efficient base alongside other mission-driven and innovative sports organisations. Co-located with the UK's leading university for sport, it provides the perfect location to support their future ambitions. It enables them to influence athletes and teaching curriculums, work closely with other sports organisations, and attract future talent.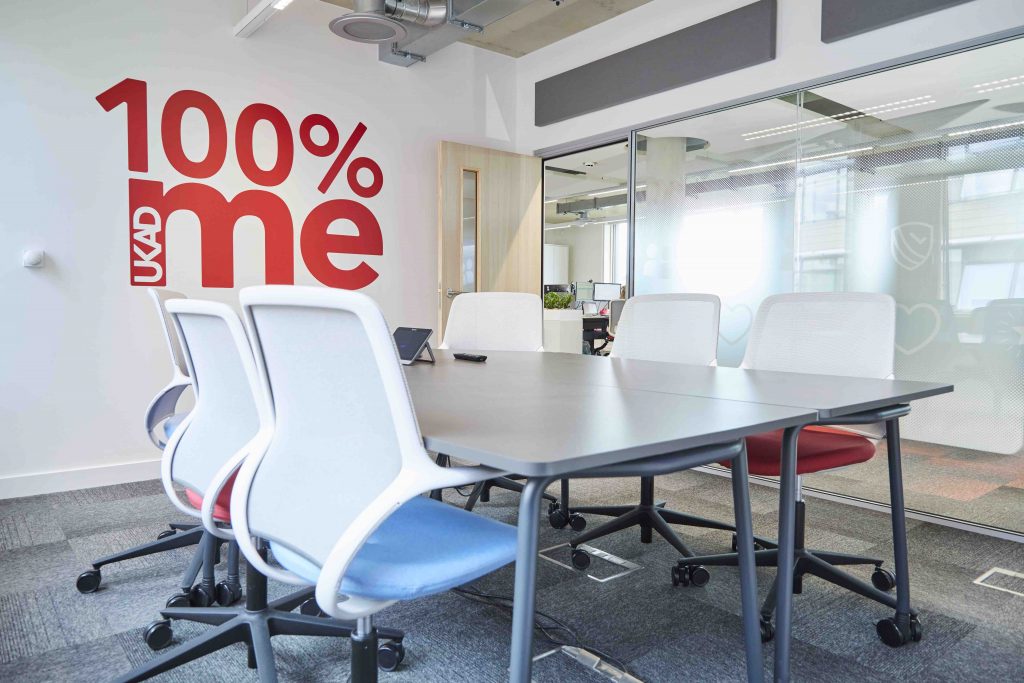 Enabling knowledge workers to collaborate
UK Anti-Doping recognised that knowledge workers can get tasks done easily at home. But isolated working meant colleagues missed out on vital opportunities to collaborate and share knowledge across the team.
The company's objectives for their new offices were to convey the brand vision, attract existing and new employees to the space, and retain and develop their people. The new office design complements the sustainable, passive house concept of the building, whilst being attractive, flexible and accessible.
Driven by sustainability
As a Passivhaus building, sustainability was also a key objective. We worked alongside an in-house design team who set the framework for these key requirements and used our previous experience of fitting out other spaces within the University campus (for ASA, Youth Sport Trust, and Cimspa) to future-proof the design as much as possible ready for anticipated team growth.
We procured products made from recyclable materials wherever possible, ensuring all soft furnishings were hard-wearing and complementary to the overall design and brand identity.
"We definitely chose the right partner to help us with this project as they communicated well and in a language, we could fully understand. All the team at Blueprint Interiors have an exceptional eye for design. They rose to all challenges and recognised that we had our own ideas and could make decisions but needed an office fit-out specialist to bring them to life. We welcomed their input at all stages and valued advice on what would and would not work. This was always accompanied by very practical alternative suggestions so that we could make appropriate decisions."
Visualising the space and needs
To be as flexible and accessible as possible for each team member, all 24 workstations have rise and fall desks. Walkways are larger and meeting rooms are multi-functional and highly configurable. There is also a large town hall space area designed for full team collaboration, including with visitors from other offices. This carefully thought-out space planning ensures that whatever the task, all colleagues have the resources and space to work at their best.
During the consultation process, staff showed an interest in having more planting in the office. Natural planting and moss walls have therefore been incorporated to create a more relaxed feel, and reflect the sustainable building that the office is within.