Feasibility plan for new location
Corteva Agriscience is a major American agricultural solution company (both in chemical and seed environments) headquartered in Indiana, USA with offices located within Milton Park, one of the largest life science clusters in the UK with over 800,000 sq ft of lab space in Oxfordshire used by over 250 companies.
Corteva have been present on Milton Park Estate (MEPC) for over 20 years in a building which had been earmarked for an upgrade to both Lab and Office space. To avoid being on a building site for a year or so, Corteva took the opportunity to fully research their future workspace needs.
MODERN PERSPECTIVE ON FUTURE OFFICE NEEDS
Corteva are an existing global Steelcase account, but they needed to find a UK-based design and build partner to provide a turnkey solution. Although Blueprint Interiors were pitched against three other companies, our design knowledge and innovative thinking processes offered Corteva a modern perspective on what could be achieved within their new office space – which was also going to be about 15% smaller – all backed up by our ability to supply the right product, via our longstanding relationship with Steelcase.
Following lots of discussion and site visits to really understand the culture and atmosphere we were able to create designs that motivate people and enthused them to return to their new space to in order to collaborate with colleagues, have fun and be creative, innovative and inventive in their thinking.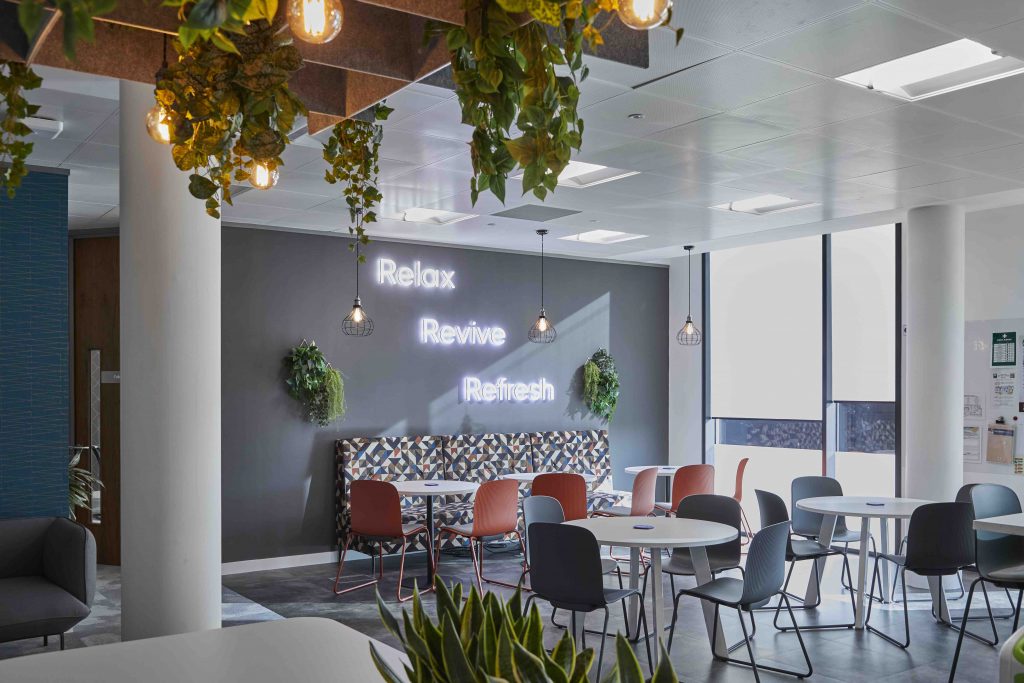 DESIGNED FOR CREATIVITY, INNOVATION AND INVENTION
Central to the design ethos was a need to change mindsets away from closed offices spaces and a work from home mentality to one of openness with a range of inviting options to use for independent working.
Collaboration areas run centrally through the building with 1, 2, and 4-person pods positioned alongside to enable focused work. The space was designed intelligently to maximise natural light. The use of biophilic walls and plants deliver a natural look and enable the brand and culture to be reflected throughout the office.
"Working with Blueprint Interiors and Steelcase was a truly enjoyable experience with plenty of discussions and two-way feedback which was really important to us. We have previously not experienced this level of engagement and their ideas and insight made us challenge our beliefs and processes. The invitation to visit WorkLife Central to experience how each design and item of furniture would function was also highly beneficial. We now have a fabulous functional and people-focused office which has also helped us change our culture and the ways we work for the better."
USING THE BEST WORKPLACE TECHNOLOGY
The latest tech has also been utilised to enhance efficiency and we provided a wide range of flexible furniture arrangements across the space. A focus was given to individual workspaces whereby Migration height adjustable desks and Series 1 task chairs encouraged an active and ergonomic working environment, whilst collaboration areas were served with Potrero tables, Flex Active frames and Flex Mobile whiteboard solutions.
Practicalities were also considered during design, such as an inviting reception areas, flexible meeting rooms, space for archiving and the protection of  T-servers.