Creating the Perfect Office through Workplace Consultancy
When long-standing client Futures Housing approached us for advice regarding their impending office move, we were delighted to offer our help.
By being engaged at the early stages of their strategic thinking, and before the final purchase decisions were made, our expertise helped Futures Housing to understand their space needs and make informed decisions. We could then apply our specialist knowledge through workplace design, build and furniture, to help them make it a reality.
Meeting the needs of employees
Futures had been on a pathway to shifting their culture for a long time. By adapting leadership and work styles away from public sector process-driven thinking they were already well on their way to progressing towards their goal of being a people focussed organisation. The lease at the existing Head Office was also coming to an end, which presented an opportunity for them to truly define what a great workplace meant to them.
Futures Housing were keen to ensure their new environment was focused on the needs of their employees. Thanks to us being involved in the very early stages of the project we were able to complete a full feasibility study.
This process helped Futures Housing to visualise their office and plan space requirements and layouts according to how their people prefer to work, ensuring space was maximised.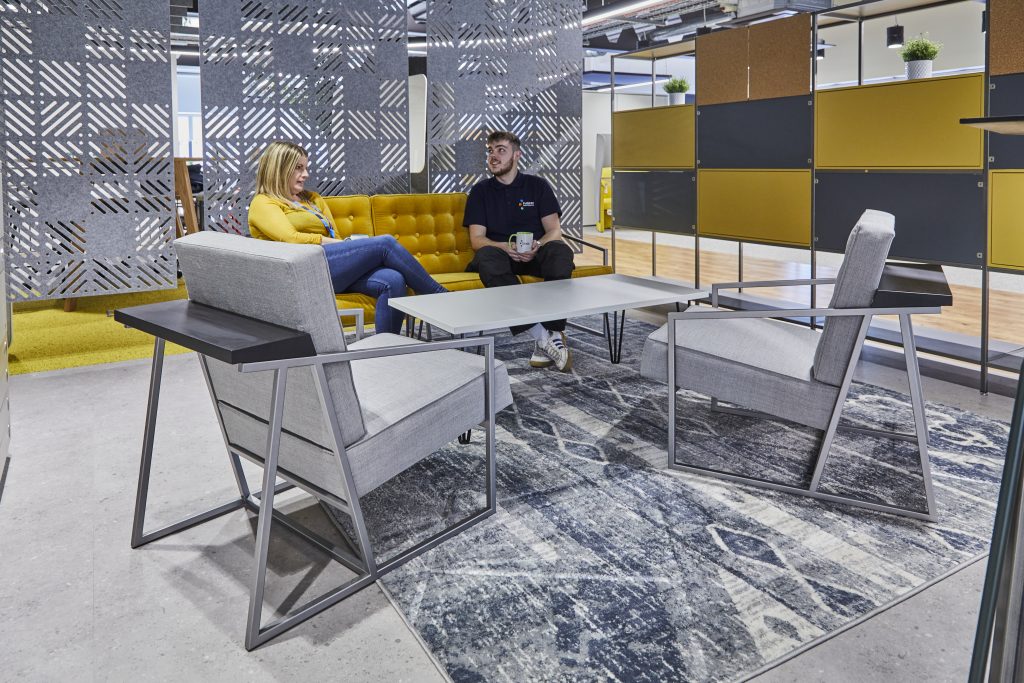 Design with Culture at its heart
Once the building was identified, we could start work on designing a space that would bring the culture to life.
Pre-pandemic, people at Futures Housing were already practising agile working and so the new space had to offer something different. This resulted in the transformation of a building that on the outside looked middle-of-the-road, into an impressive workplace with a cultural vibe that meant people wanted to visit.
First impressions count, so we incorporated an airy atrium and a mezzanine balcony for the reception area which set the scene for a positive visitor and employee experience.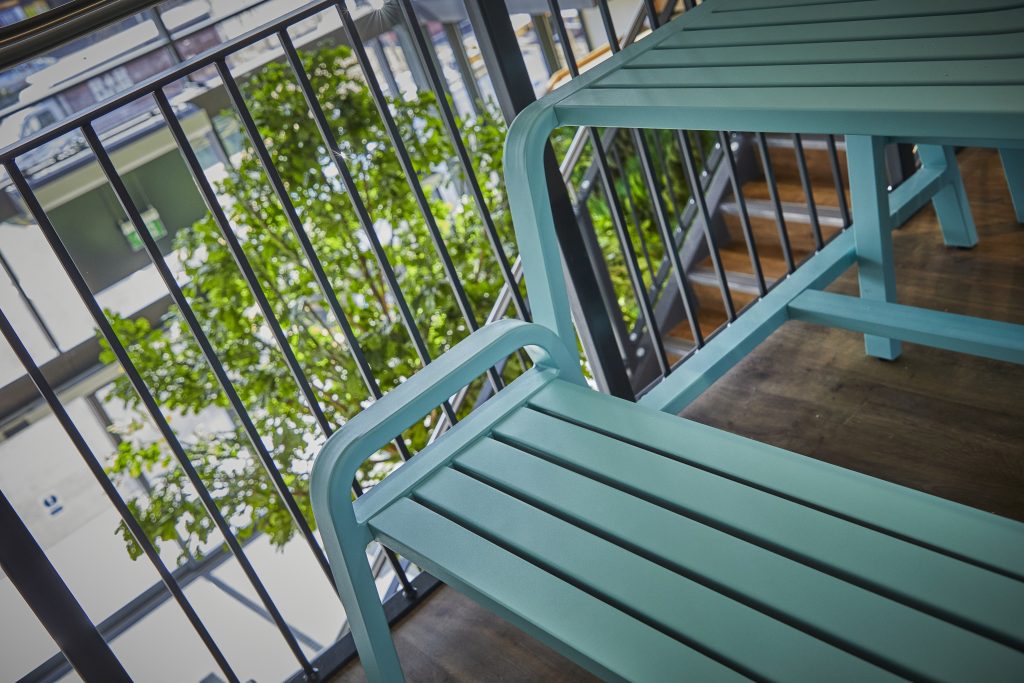 Furniture and Tech intertwined
The use of furniture was a key element of our design concept so an activity-based work culture could be supported. The solutions offer flexibility by using equipment that could be easily adapted according to the specific requirements of the day.
Hybrid working – either from home or out in the community – was already part of Future's ethos. With Futures Housing, we created individual and group video interactions that are not constrained to laptops or phones, resulting in easy-to-use tech that braids digital and physical spaces together.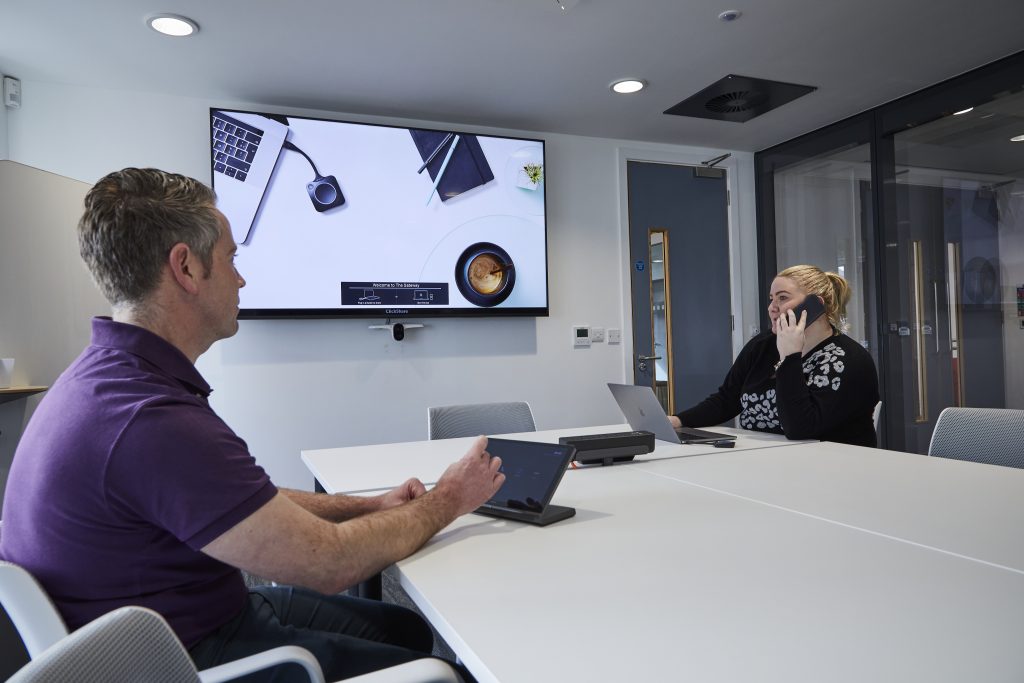 Biophilics and Workplace Cafe a huge success
The addition of biophilic design has also turned out to be a big success – the Flokk on point table, which has a tree running through its centre is by far the most popular workspace!
We also ensured these areas are complimented with Coppice work dens for focused work, soft spaces and well-being rooms that have Moss deckchairs to create a 'home away from home' feel. There is also a dedicated café space – Futures had a café before, but not to the extent the of specification they now have that includes Bodyn dining booths and Nemea dining chairs.
All the furniture chosen enables Futures to be completely flexible with configurations based on where they are being used and according to the type of meeting.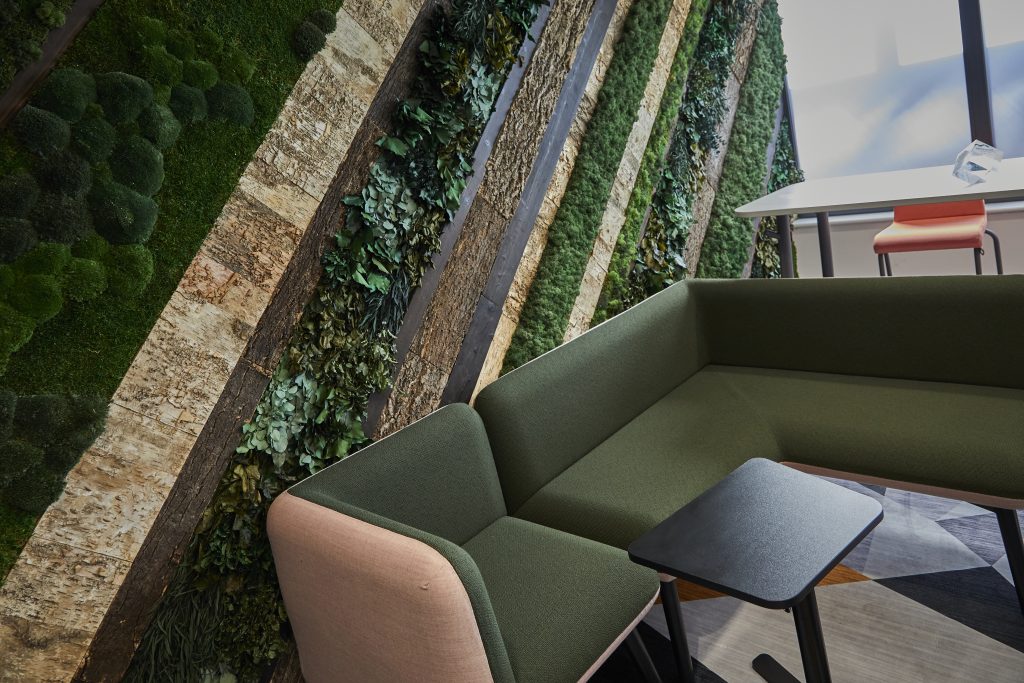 Flexible Furniture for Agile Working
We supplied a variety of desk height options to allow stand up working, such as Steelcase Ology desks. These help people with muscular-skeletal issues, and together with the Connection dual height meeting table, have proved very popular for focus work.
When people want to adapt their space to meet their rapidly changing work activities – they can choose to work in the Steelcase Flex setting – a range of mobile desks, whiteboards, and acoustics screens – giving people more comfort, control and flexibility within their space to achieve the level of privacy or project interaction they desire.
Outdoors there are informal meeting or recreational spaces which are very popular when the weather is nice.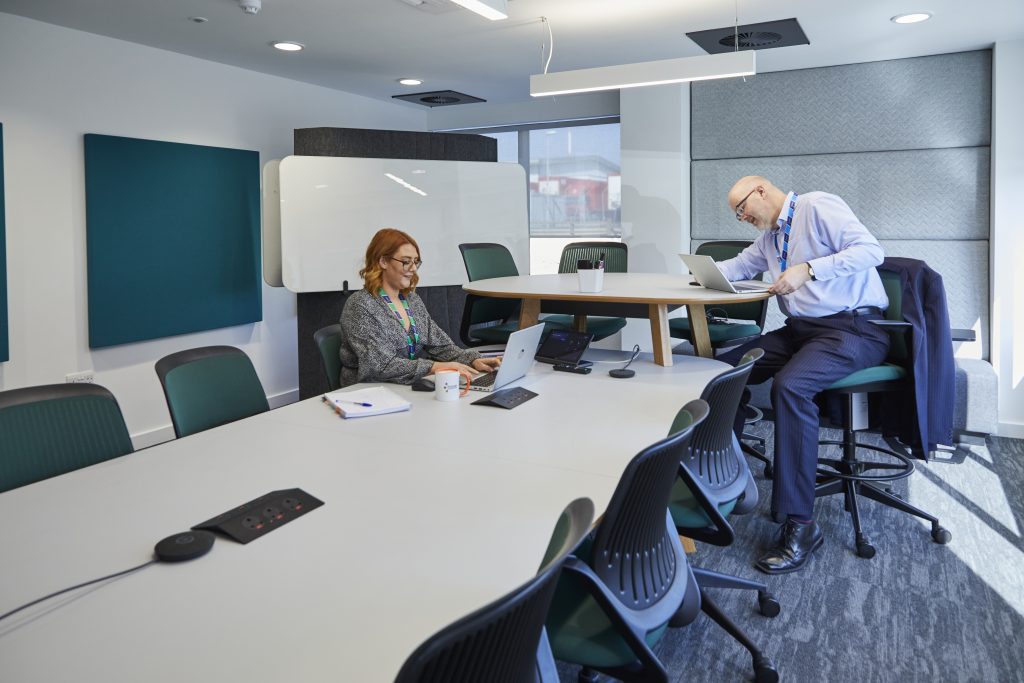 Lindsey Williams, Chief Executive Officer of Futures Housing Group stated,
"First and foremost, we think we have delivered a space that underpins our culture and a place our people are proud of and want to work from. The feedback so far has been really positive and, although we will continue to take ongoing feedback, we think we have definitely created a space in which our people will feel happy and motivated.
"Before we made any final decisions, we really appreciated the fact our people were able to visit Blueprint's Offices – WorkLife Central, to experience working in the spaces we were planning and sit at the furniture we were proposing. The fact that they were engaged in the decision-making process has been extremely helpful in ensuring their needs have been met and they enjoy coming to work."
"Firstly, I would just like to say how proud I am to have the opportunity to work within such an incredible workspace. I have been an employee of Futures Housing Group for a number of years now and I have witnessed the progression within all of our workspaces in line with the company's ways of working and most importantly our culture. Maintaining the culture within our workplace is vital in order to sustain such a high level of productivity. The choice of furniture, technology, and greenery included within the design has undeniably created a positive impact on both the happiness of our employees and the increased occupancy across all of our workspaces."