A continued transformation of global identity across Gleeds' UK office portfolio
 Gleeds is a leading global property and construction consultancy. Independent since 1885, they have delivered award-winning projects around the world. With 80 offices in over 20 countries covering 6 continents, we have been working with their senior leaders in the UK to achieve a unified yet unique style, starting with their offices based in Bristol and Manchester.
Unified yet unique
As a global brand, it was important to create a unique style that also incorporated individual design features to reflect each location. Together with Gleeds property experts, our design process created personalised office spaces that reflected local cultures and traditions, giving a unified UK identity that resonates with the people who use them.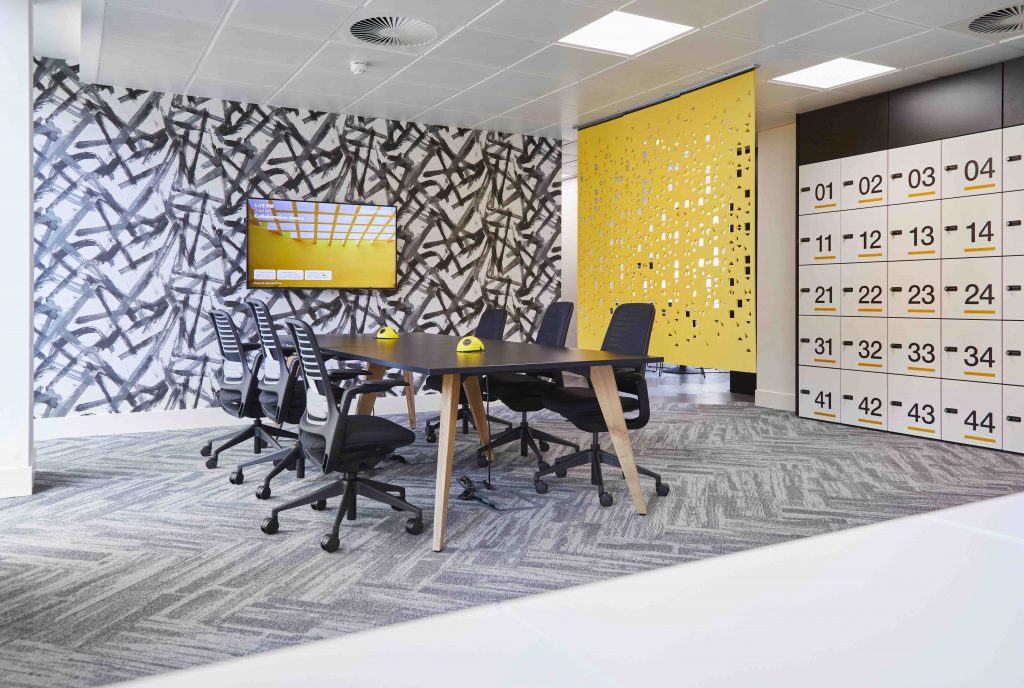 Flexible multi-use space
Recognising that the way people work has significantly changed, the design provides a more open-plan hybrid work environment, with flexible multi-use areas, desking, and furniture options.
To promote social engagement and professionalism, we incorporated a relaxed welcoming area for visitors. Collaboration and break-out areas, relaxation zones, and a workplace café also promote healthy eating and general wellbeing. There are versatile desk and seating arrangements, with high-back sofas to create zones within the open-plan office space and absorb noise. There's also a range of storage solutions for personal items and work files.
The new client meeting rooms vary in size, with collapsible wall partitions to provide a flexible space that seats up to 16 people. Each has access to the latest high-spec video conferencing and digital technology to facilitate global collaboration. The office design fully embraces the Gleeds vision and values to create spaces that attract top professionals, provide for their needs, and improve morale.
BREEAM Standard Priority
As a highly respected property consultancy, Gleeds intends to achieve 'BREEAM A' or 'BREEAM Excellent' office standard across its portfolio.
The building landlord was doing some work on the building at the same time we were hired to do our own work. We worked together with the landlord and the teams they hired. This allowed us to make sure that the necessary changes were included in the work being done so that it matched the high-quality CAT B fit-out we had been commissioned to deliver.
These changes included replacing all heating, lighting and ventilation systems, new ceilings and partitioning, floor coverings, décor, and sustainable furniture choices. The office now allows space for creativity and collective thought in an agile and collaborative way.
"Blueprint Interiors has helped us create a showcase office from which we are proud to promote the Gleeds branding and culture. We now have a sustainable fit-for-purpose office that has boosted morale. The increased level of employee engagement is also helping to drive the cultural change required to embrace hybrid workstyles. Additionally, the wider use of technology is enabling teams to collaborate more effectively across the UK and on international projects and overall, the project has set a corporate benchmark that will attract professionals to join us, impress our clients and be enjoyed by our employees."