Office refurb for BREEAM Gold Standard building
International property and construction consultancy, Gleeds has 73 offices in 20 countries worldwide. 20 of them are in the UK, including this one in Bristol.
In October 2020, Gleeds agreed a 10-year lease of 7,026 sq ft of office space on the second floor of the Aurora building in the Finzels Reach development. They appointed us to complete a commercial office fit out that would create a flexible, inspiring work environment.
The building that the Gleeds Bristol office is situated in was impressive from the outset. Shortlisted at the BREEAM Awards, achieved BREEAM 'Outstanding' status and the LEED 'Gold Standard', and boasts Platinum Wired accreditation for connectivity and digital infrastructure. We couldn't wait to get started.
Meeting the brief
This project was to set the precedent for a new era in office design at Gleeds. The detailed brief specified that the design conveyed the company brand values, and be sleek, agile and classic.
We held several workplace design workshops with stakeholders and employees to ensure that we captured this brief, and designed a space to meet the needs of everyone using it. The workshop insights also helped us ensure that every inch of the new space truly embodied the Gleeds brand identity and values.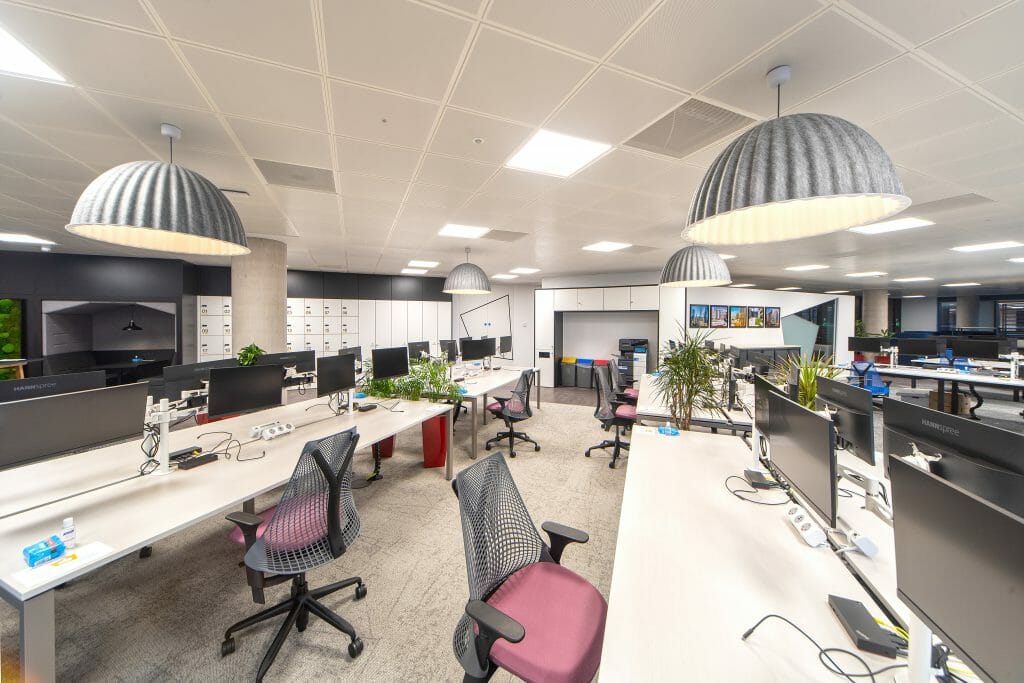 People-focused design
We placed the needs of both the Gleeds team and their clients at the centre of this office design. On entry into the space, there's now a clear line of sight to a multifunctional area where clients, employees and visitors can dwell or use the space for agile working.
Plenty of social spaces foster a sense of community, including a well-equipped kitchen area stocked with refreshments. Wall dividers create totally multifunctional rooms, with options for individual use or for group social events and business presentations.
Sustainable, hi-tech materials have been used throughout the fit out, to meet the extremely high standards set by the LEED, BREEAM & WELL accreditations.
Creating neighbourhoods
As well as a sense of community spirit and the ability to attract clients and visitors from the wider business community, Gleeds wanted to create internal 'neighbourhood zones'. These zones have been designed to encourage staff to mix and work in different spaces each day, for a truly agile work culture.
Varying desk styles and heights, including standing desks and seating from the Steelcase office furniture range, facilitate this agile way of working. Spacestor products such as Railway Carriages, Recycle & Printer Points, Collaboration Benches and Lockers complement the flexible nature of the space. Feature lighting, acoustic shades and decorative pendants create practical, comfortable workspaces, whilst offering a sleek and modern look.
Global commercial flooring company Interface provided all floor coverings and additional seating, and chairs from Boss provide added versatility.
Brand new IT and wireless telephone systems, as well as the innovative Evoko meeting room booking system, ensure collaboration is possible in all meeting spaces. All spaces are also equipped with HD video conferencing and interactive displays.
Thank you Gleeds for providing the images used in this case study.
"We've enjoyed working with the entire team at Blueprint Interiors, who were sensitive to our requirements and carefully interpreted our brief to develop an innovative and welcoming space.
This move represents our first step in a shift in approach as we think about changing the ways in which we all work. We wanted our staff to have access to working spaces that are Covid compliant in the short-term and encourage collaboration and flexible working practices long-term.
It was also important to us that we occupy spaces which reflect our global commitment to reducing our carbon footprint and put us at 'the heart of the action' in terms of proximity to our natural client base.
We are very pleased with the approach Blueprint Interiors adopted during the initial design process, their overall project management of all the various contractors working on site, and the completed fit-out has met our brief perfectly."