Complete Office Building Refurbishment
After Etex Facades had found a home for their new UK head office in Burton On Trent, they turned to us to handle the interior design and fit-out.
They wanted inspiration and ideas on how to transform a former steel manufacturing plant into an office building set to impress an international audience, and we were excited to get on board!
A workplace to Promote Wellbeing
As an expanding business, it was important to ensure Etex Façades' new space reflected the company branding, ethos and values. The aim was to create an improved working environment for their team of 60, prioritising the health and happiness of everyone using the space.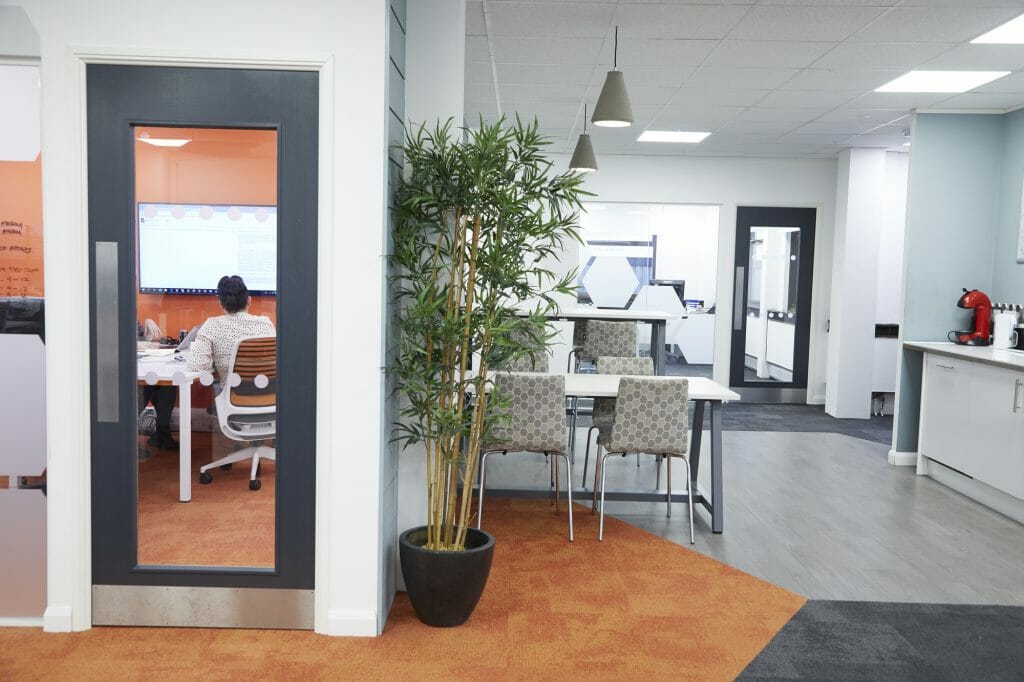 Custom Features
As an international building company, Etex were keen to use some of their own building materials in the fit out of their 10,720 sqft space. Their products are made from innovative fibre cement materials and are often integrated into the construction landmark buildings worldwide.
We used their cladding and panelling to create feature walls and other partitioning, bringing their product to life within the work environment for employees and their visitors.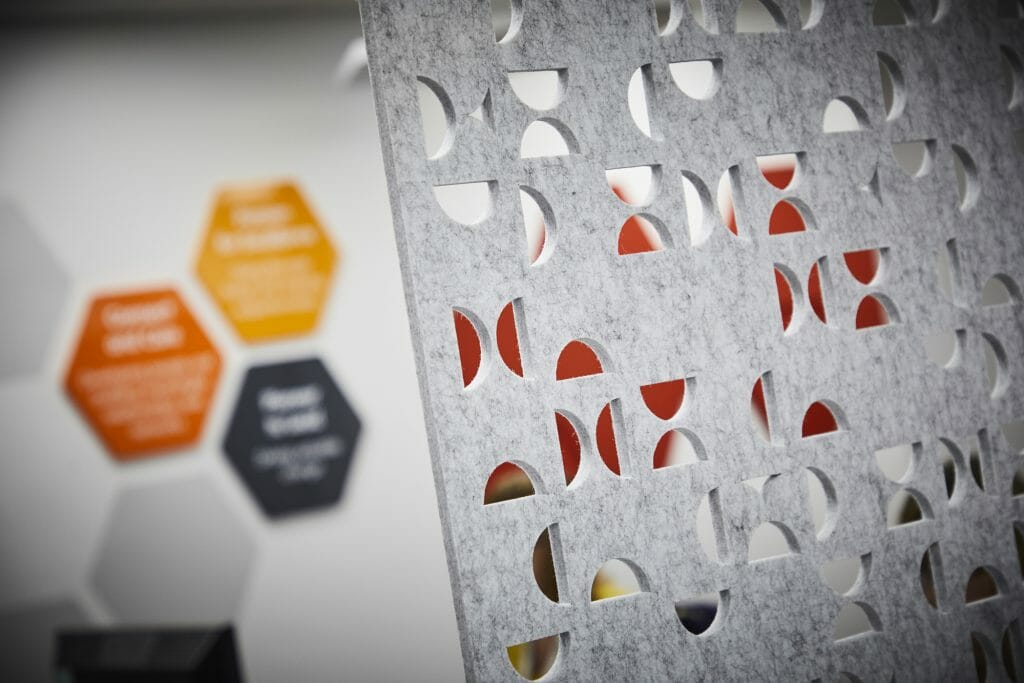 back to basics
As well as totally redesigning the interior, we project managed the entire office building refurbishment process.
The project started by reducing the space to a basic shell, as though it were a Category A fit-out to create the base of an unfurnished office space. We put in new (mood-sensitive!) lighting and sockets, air conditioning, ventilation and smoke alarms, as well as raised floors and suspended ceilings to create a blank canvas for Etex's transformation.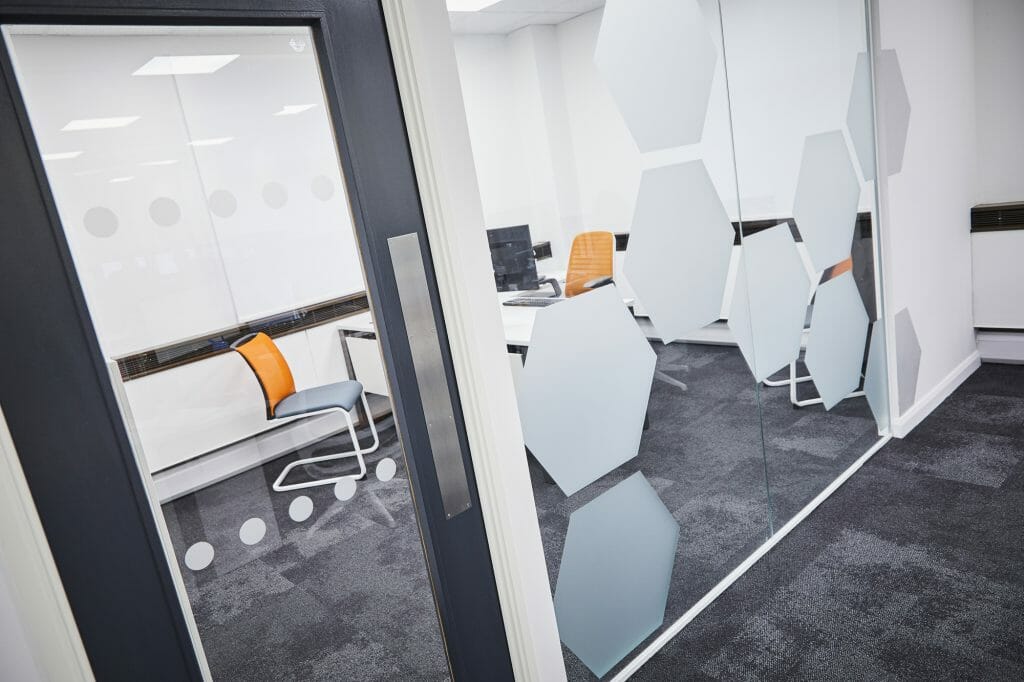 A Flexible Workspace
Then came the fun part! We embarked on the Category B personalised makeover to transform the space into a workplace designed specifically to enable people to choose how they work, and to give a positive boost to the way the business operates.
We created a client reception area, single and open-plan office spaces with modern partitioning, high quality meeting rooms and restrooms, together with an ultra-modern canteen with breakout areas and snack food vending machines.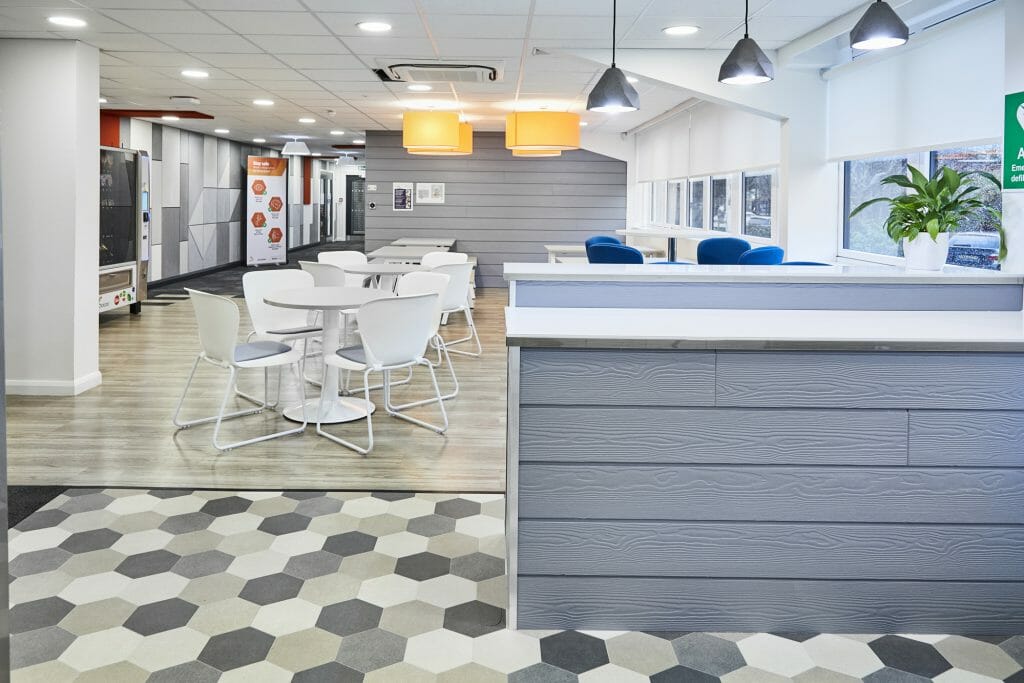 Bespoke Furniture
To supply the office furniture, we partnered with our friends at Steelcase. Everything was co-ordinated to the Etex brand colours, as well as specified to optimise acoustics and ergonomics and ensure employee wellbeing.
We also arranged for the installation of infrastructure to support the latest technologies in AV equipment, interactive display screens and telephone systems.
We really enjoyed working to transform the UK headquarters of an international group. The finished workplace of Etex Façades is designed to inspire and motivate.
"We have previously worked with Blueprint and therefore had confidence that they would be able to meet the tight deadline and enable our team to move in as planned. Our new home will allow our multi-disciplined teams to collaborate together more effectively and strengthen our focus on our core products such as fibre cement."