Onsite Cafe Fit Out
Having worked with Ibstock Brick for over 14 years, our ongoing discussions highlighted that their existing onsite café needed a complete fit out and refurbishment. The main aim was to create a new image that would encourage more people to use the space.
Ibstock Brick specialises in manufacturing high-quality brick ranges for all kinds of building projects. The cafe was situated at their company headquarters, manufacturing and distribution facility is based in Ibstock, Leicestershire.
PLAN, DESIGN & FIT OUT
The existing café was just waiting to be modernised to meet the needs of a diverse workforce and a progressive company, and we were happy to help!
The café had originally been designed as a 'works canteen', serving basic breakfasts and lunches with an average usage of 40 covers.
Despite its downfalls, the building was ideally located right in the centre of the site. This provided the perfect position to create a welcoming space where all staff, regardless of their shift pattern, would be happy to meet, enjoy nutritious food and have opportunities to socialise with colleagues from across the business.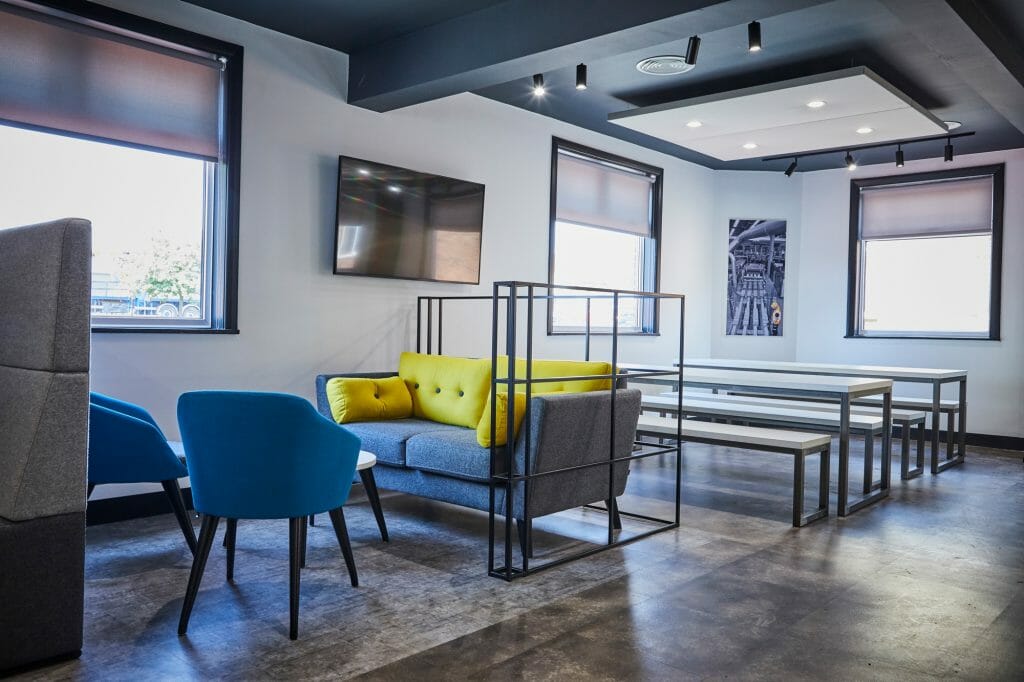 The New Food Factory
"Food Factory" was born! Ibstock Brick's new facility is a place that everyone is proud of and happy to show off to customers and suppliers.
The space features light and airy decor created by a combination of ceiling lights and window blinds, cool booths and bespoke wall art.  As a brick manufacturing facility, we had to ensure that all furniture and décor was hardwearing and durable, including seating arrangements and designs that ensure people can meet and eat in large or small groups.
Integrating a 'Costa Coffee' franchise has given the space a whole new function as a more informal meeting spot outside of peak times. Charging sockets and wall-mounted LED TV's means everyone can keep up with the latest news and sport and re-charge their devices, providing another reason for staff to visit Food Factory.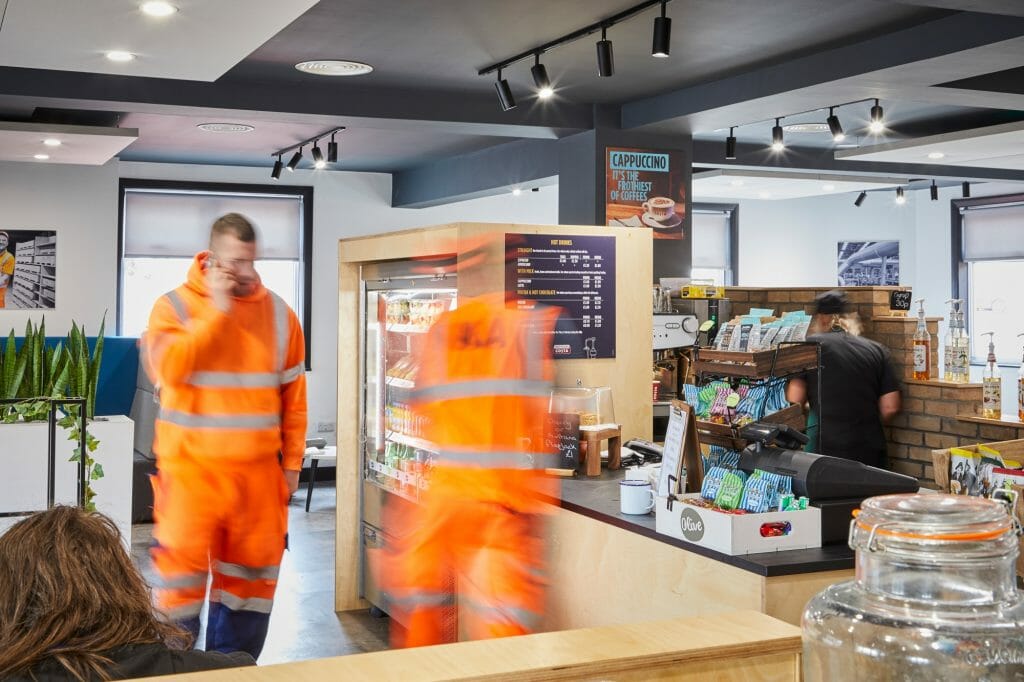 Contact us to discuss your project
A Space For All to Enjoy
The onsite cafe fit out and transformation means that the 'Food Factory' now serves over 150 covers per day, with a community feel where both factory workers wearing overalls and employees wearing business attire feel welcome.
With the space now capable of serving many more people, the servery was installed to ensure food can be displayed appetisingly and diners can be served as quickly as possible to avoid queues. A self-service drinks coolers, a salad bar and a toast station are also new features for staff to enjoy, and new recycling points are available for food packaging.
Outside, approaching paths have been block paved and a sheltered outdoor seating area has been created to enable staff to eat outdoors in nicer weather.
"Our previous on-site staff canteen facilities lacked appeal and needed a complete facelift. We are delighted with the 'Food Factory' and feedback from the staff has been really amazing.
People are definitely using it as we intended and are now opting to get away from their desks or the production line to enjoy a nutritious meal and find it a great place to meet and get to know colleagues and suppliers better."