New build office fit out for a building company
Cadeby Homes, now in its third decade, is a family run business that's grown by creating small, individual developments, and family homes with character and style.
Having decided to build its own purpose-built offices and showroom, Cadeby Homes appointed HSSP Architects to design the building exterior. Aware that their interior design capabilities were more accustomed to defining the finishing touches to stylish individual homes, HSSP recommended that Cadeby meet with Blueprint Interiors to ensure their new office interior fit out fulfilled their aspirations.
designer meets designer
With a blank canvas shell to work from, we engaged with the team from Cadeby to understand their needs for their office fit out and their new homes showroom.
Potential buyers expect a wow factor in the design of their home interiors, so Cadeby's new offices needed to give the same positive first impression and reinforce these emotions.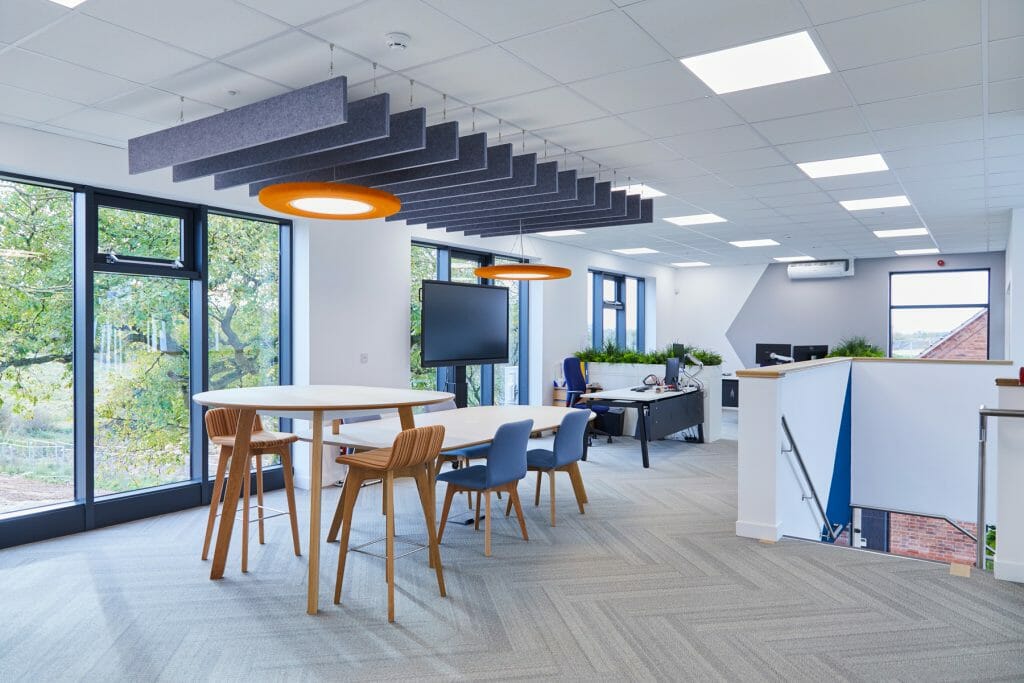 multi-purpose showroom
Downstairs we created a comfortable meet and greet area, elegantly furnished with a welcoming reception desk from Bralco, and a Steelcase coffee table and chairs from Boss Design. We incorporated the brand logo and 'building a new tradition' strapline in the reception area to reinforce their company values.
The ground floor now features a collaboration area with differing height desks, seating, and storage cupboards. Sales advisors have comfortable surroundings to discuss kitchen and bathroom features with new homeowners, with flooring and tile samples readily accessible for consultations. Well-equipped modern kitchens and restrooms complete the overall functionality of the space.
the wow factor
A feature glass and steel balustrade staircase with hardwood treads leads to the office space. Carefully designed to meet the needs of directors and other staff, the layout comprises four individual offices, individual desk spaces, meeting rooms. The collaboration area features a dual height table and other multi-functional furniture from the Steelcase Connection range and Ocee.
A combination of mosaic floor and wall tiles with matching carpet in blues, greys and oranges compliment the overall affect. Ceiling mounted lighting and acoustic panels add the final soft touches to the design.
"We were very pleased with the finished design and the colours that were chosen for the décor and furnishings. It was certainly beneficial to seek advice from a professional commercial office fit-out company who understands how workspaces need to function in order that the people using them can work at their best. Despite several difficulties caused by the coronavirus restrictions, Blueprint Interiors kept us updated, worked hard to deliver quick resolutions to any unforeseen issues and everyone is now delighted with the finished project. First time visitors say 'wow' as they enter the front door and staff say they really enjoy coming to work in their new surroundings."