Family Dining Room for Children's Hospice
Having already refurbished the fundraising HQ at Rainbows Hospice for Children and Young People, we were invited to design a special dining room for families to create lasting memories and enjoy eating meals together within the hospice itself.
Rainbows holds a special place in the hearts of everyone here at Blueprint Interiors because of the great work they do bringing care and happiness to children with life-limiting illnesses and their families.
The transformation of the dining area was a massive undertaking for the charity as the space is very much a central hub for families and yet another way that Rainbows helps to brighten short lives.
More than a Dining Room
It was clear that the finished dining room would mean a lot to the families and young people using it so we spent a lot of time talking and listening at the start of the project.
Once we'd gained a full understanding of who exactly would be using the space and the activities that took place, we planned how each area would work within a larger space. As well as aesthetic considerations, the design stage involved making important decisions such as how to create areas for those sensitive to light and sound.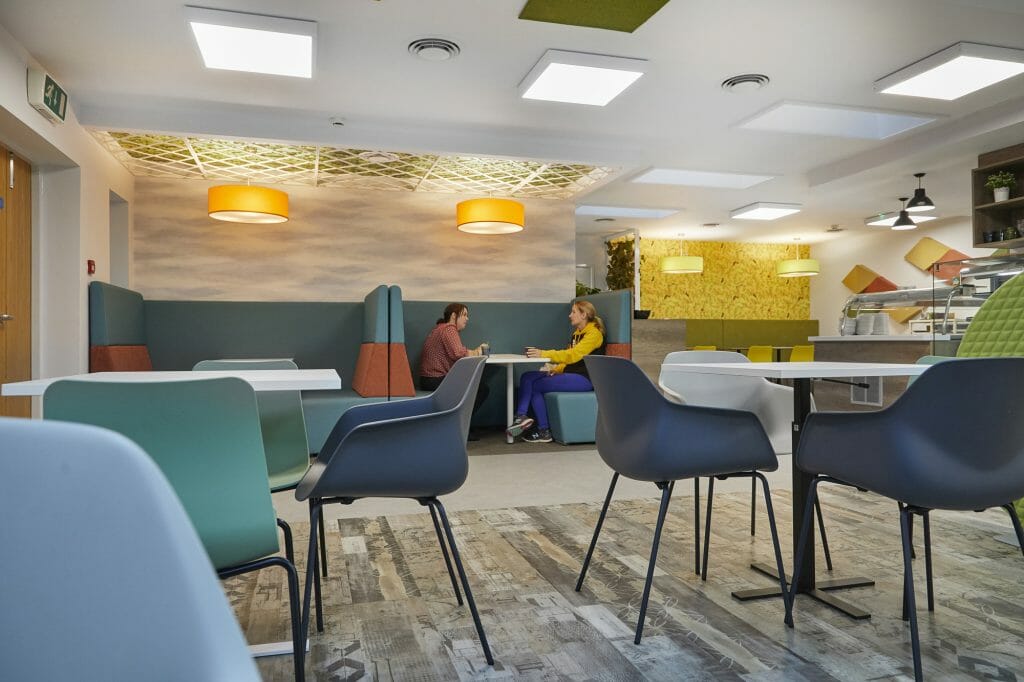 A SPACE TO CREATE MEMORIES
Lots of acoustic products such as wall and ceiling mounted panels were used throughout the design, and we injected some fun with acoustic standing cactuses.
Brightly coloured wallpapers featuring birds and geckos added a bit of happiness and fun, and a write-on magnetic wall has been a big hit with families and children who want to write inspiring messages and pin up artwork, letters and drawings.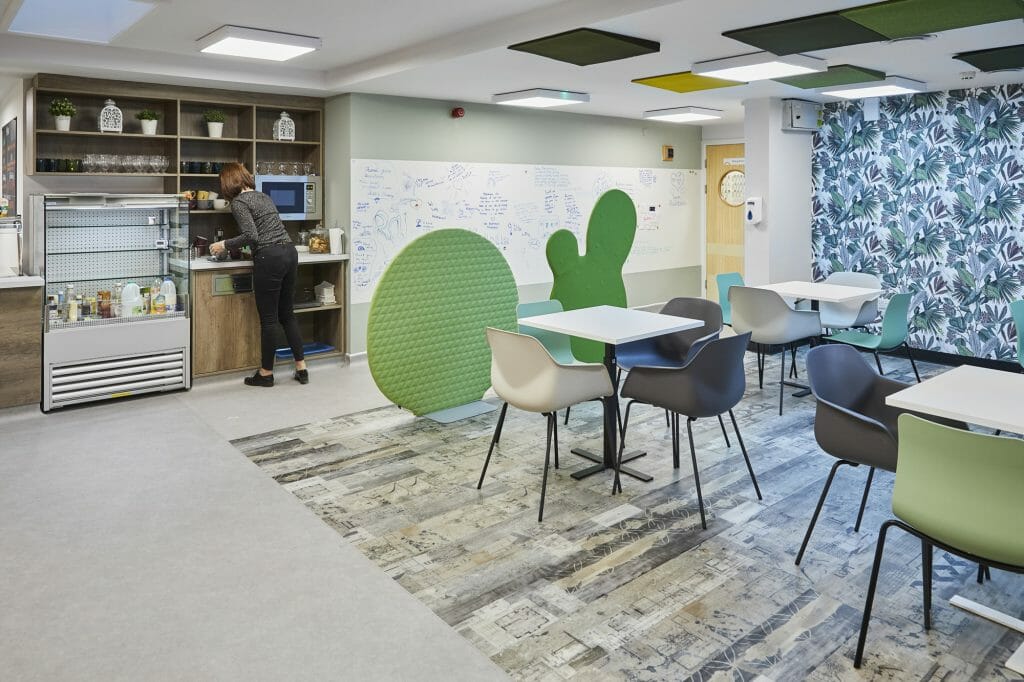 Accessible For All
In order to enable wheelchair users and children in beds to access the space, all furniture installed was practical and moveable including height-adjustable tables with high quality safety tested kitchen equipment and electrical appliances.
Cosy spaces and booths where families could all get together were also a key feature. And skylights were installed to give children unable to leave their bed something interesting to look up at. We also created areas where lights could be adjusted or switched if needed.
Blueprint Interiors really understood the sensitivities of our project and how important it was to create a space in which everyone would feel comfortable. The finished design has enabled us to meet the many varied needs of our families who may simply want a bit of a home from home, a quiet area to relax or a place to work when they need to spend longer periods of time at the hospice with their children.
Ready to transform your workplace?