Education Facility Design & Fit Out
R.E.A.L Education approached us for help to transform a typical office space into a specially designed education facility to support students with creative skills to take advantage of commercial and career opportunities within the digital world.
We believe there's great power in bringing education providers and businesses together, so were excited to work on this project with this long-standing client of ours.
A Space to Inspire
R.E.A.L Education provide creative education solutions for children and young people who are "lost to learning" and "hard to place".
Their aim is to create a continuum of excellence in education that spreads beyond the school or academy gate and allows those who may struggle in a mainstream setting to reach their full potential and pursue rewarding careers.
Although principally a not for profit organisation, R.E.A.L Education understand that there must be ongoing investment in their facilities to ensure commercial viability and attractiveness to their education and employment partners and students.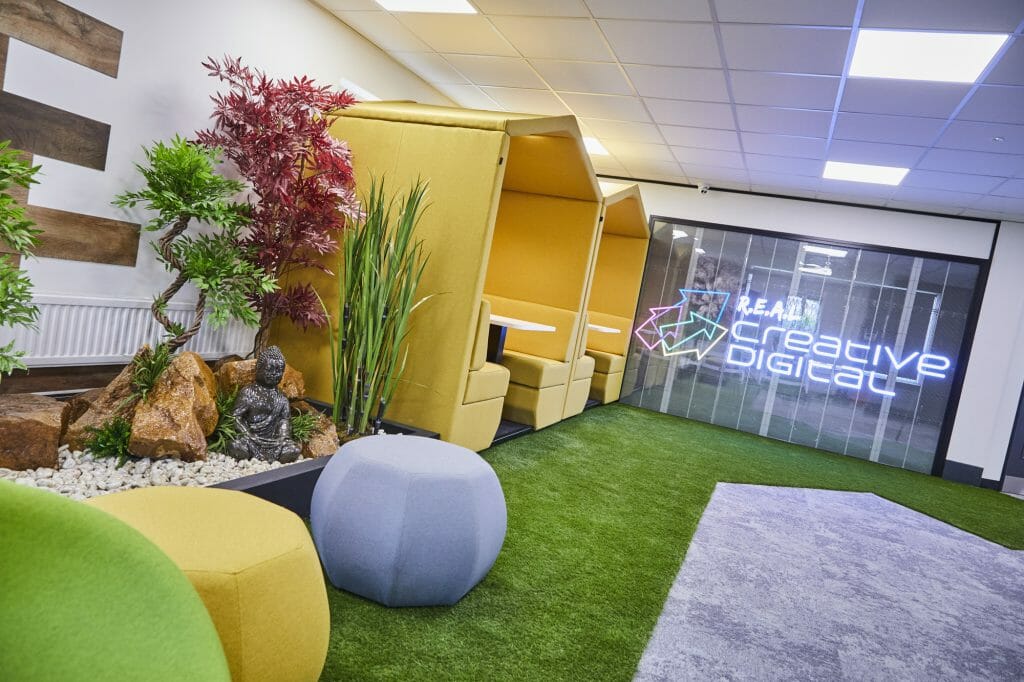 Commercial Feeling
The digital suite had to be different from REAL's other educational facilities as business partners such as Sony would regularly visit the site to meet students and discuss projects.
The fit-out had to provide everything a client would expect of a digital agency. So the transformation included a professional and welcoming reception area, green screen rooms and areas optimised for video and photography production.
Contact us to discuss your project
The Completed Space
As well as production areas, we created spaces to inspire thought and creativity, meeting rooms to discuss client projects, a working office area with a range of technology such as desktop computers, LED screens and laptops, places to meet, collaborate and socialise.
We also designed a stylish kitchen area to give a professional image to visitors and provide facilities for the young people working in the space.
"One of our key objectives with this project was to provide our students with a facility where they could work using the latest technologies in an environment that inspired creativity, but also ensured that visiting potential employers or prospective clients realised the digital marketing suite was a serious enterprise with credible and commercial outputs. Blueprint Interiors has helped us to achieve this vision perfectly."