19th Mar 2021
The People-First Office Fit Out Guide for 2021
We created the People-First Office Fit Out Guide to help employers create enticing office spaces that give their employees convincing reasons to return.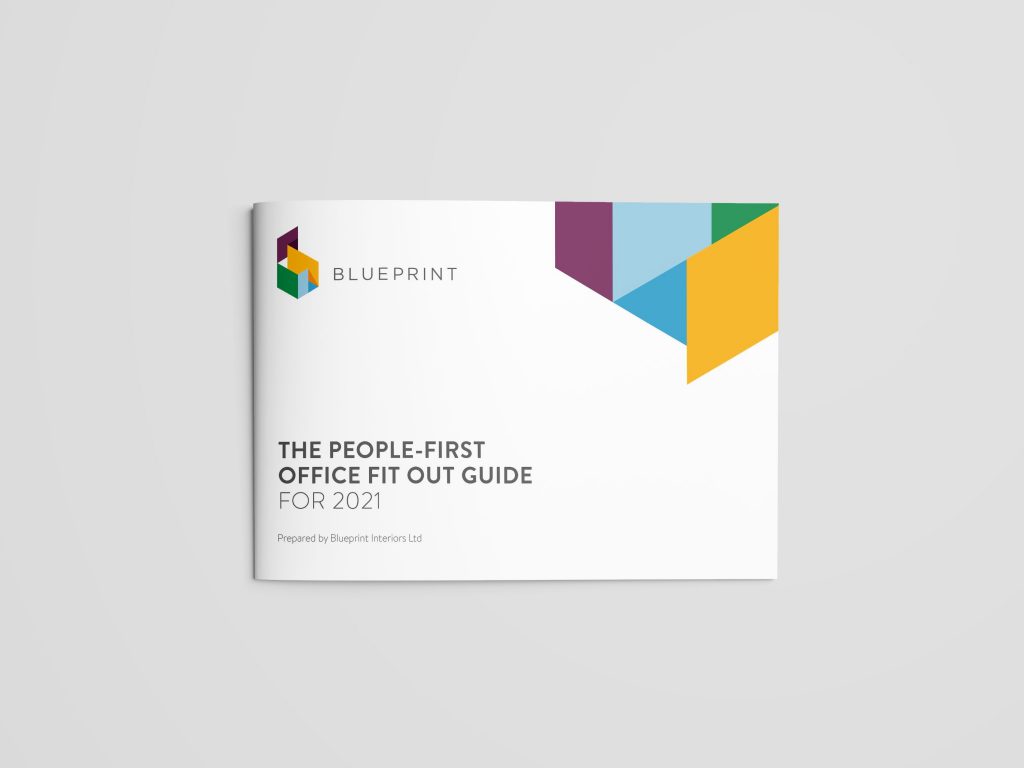 Introduction
No one could predict just how much people's views of the workplace would change in 2020.
Opportunities to ditch commutes and enjoy home comforts have changed what people will be looking for in the office spaces they return to.
There are some employees who simply can't wait to return. But even they will be looking for more from their current and future employers. Greater flexibility will be expected, and tools that allow for teamwork and innovation will be more valued than ever.
People are much more aware of the things they need in order to be productive and happy. And they'll also want these things to be provided for them in their workplace environment.
Employers and HR teams will need to take notice of what these things are and cater for them as they begin preparing their workplace for their return of their most valued asset – their people. The ones that don't will risk losing their best talent to organisations that recognise the importance of meeting their people's needs.
For many, the initial excitement of working from home in isolation is wearing thin. They've recognised the things that can't be done as effectively from the solitary home office environment.
So it's vital that businesses explore how they can offer experiences that draw people back together, collaborating and innovating.
So what's going to encourage your people back to the office in 2021?
We've published The People First Fit Out Guide for 2021 so you can answer that all-important question in your own organisation.  Because unfortunately there isn't one easy answer that applies to everyone.
Read the abbreviated version of our guide here, or click below to download the full PDF version to keep for later.
Contents
Setting the scene
Why change your workplace?
Re-evaluating agile office spaces
Employee engagement & comms
What type of fit out do you need?
Space requirements
Budget
Finding a project partner
Office fit out timelines
Procurement routes
The ultimate workplace design
Project management
Revealing your new space
Ongoing support
1. Setting the scene
Recent research from Steelcase revealed that 88-90% of people want to work in an office again.
So it's time to innovate! Time to create a workplace where employee needs are at the centre of your office environment. And time to create workplace experiences that teams don't want to miss out on.
Before we start, we wanted to highlight the three things that underpin everything we share in this guide:
the belief that every company's office should reflect their culture, values, beliefs and principles
the WELL Building Standard™, which educates businesses on how to create and provide intentional and meaningful workspaces
the Human Givens approach, which believes every human has fundamental needs that must be met for them to stay mentally and physically well
2. Why change your workplace?
First things first, why?
It's a big question. And the most important one to ask before going full steam ahead into changing your office with high hopes of getting your employees back in.
Our guide gives you the questions to consider when you're thinking of a change. And in answering the 'why' we give you some things to ponder about how your people feel about your current workplace, and how you're going to involve them in the project.
This is because employee engagement is fundamental to any workplace change, whether you're undertaking a fit out of existing spaces or moving to an entirely new location.
3. Re-evaluating agile office spaces 
Your office spaces may already be equipped for agile working, and that's fantastic. But have you revisited the design since the world changed?
It might be time for an audit of how you could enhance your workspace for an even better employee experience that abides by health and safety standards. The ultimate aim being to keep your people feeling safe and comfortable whilst working in the office.
So where do you start? The guide tells you what we think, but it's worth highlighting here that the most important outcome of this is to give your business and your people the reassurance and peace of mind they need during the office return journey.
4. Employee engagement
If you haven't already, get a system in place to communicate updates on your office fit out to your people wherever they're working from.
Invest in technologies or software that allows you to reach all employees, ask for their thoughts and give them the chance to raise, issues or concerns.
We discuss how getting your people engaged forms the basis of a new workspace where people love to work productively and socialise with colleagues, and where clients and visitors love to spend time. You just need to make sure you're communicating the benefits throughout the fit out process itself!
5. What type of fit out?
An office fit out is the development of an office space where its main purpose and key functions meet the needs of the people who use it. Simple!
There are two distinct types of fit out, Category A (Cat A) and Category B (Cat B), which the guide talks about in more detail.
6. Space requirements
How much space do you need?
If you're embarking on a fit out, it's likely that your current space no longer works for your team. But is it because you haven't got enough space? Too much space? Or that your space simply needs to be reimagined for new ways of working?
Home working has caused companies everywhere to re-evaluate how they might want to use their office spaces in future, so this is a hot topic! And one that needs to be addressed to create workspaces that employees, clients and visitors can't wait to return to.
The best way to determine how much space you need is to match your key business objectives with your current space.
The People First Fit Out Guide gives you specific questions to ask when you're evaluating your company's space requirements.
7. Budget influences and constraints
In the same way business leaders need to consider how much space is required, and how it can meet current and future employee requirements, it's also important establish a budget for the fit out to determine what can be achieved
By doing the groundwork and deciding the type of office that will meet your business objectives and employees' needs to create a healthy, productive, and successful workplace, you'll be able to define an appropriate and realistic budget.
8. Managing the refit project and choosing the right office fit out partner
It's imperative to choose the right project partner to help you achieve your workplace design vision.
Choosing an appropriate partner isn't an easy task or light-hearted decision to take. It's the difference between a project succeeding and a project failing.
There are a range of specialists – architects, interior designers, engineers – who can provide specific expertise on your future workplace.
The guide gives you detail about nine aspects to benchmark your chosen fit out partners against.
9. Creating a project timeline
 One of the biggest outcomes of a successful project is that it's completed on time and within budget.
The best way to achieve this is to create a project timeline. Dates for completion of key activity should be agreed with your office design and fit out team, who, once you've appointed them, will  work closely with you to make important decisions throughout the project.
The full guide gives you guidance on the things to include in tour project timeline from lease breaks right the way through to moving in plans.
10. Procurement routes – which one?
Working with your project partner, they will recommend a specific project delivery approach based on your project's objective. In other words, your new workplace will be delivered via a traditional procurement route or a design and build procurement route.
The full fit out guide discusses the difference between the traditional and design and build routes.
11. The ultimate workplace design: employee-focused & wellbeing-centred
It's possibly an understatement to say that most workplaces have been through quite a bit of upheaval in recent times, so it's more important than ever to put your team's needs first. This means providing a thoughtful and meaningful workplace, designed to empower people to work at their best.
The guide goes into more detail about what to aim for with your final office design concept, and the frameworks our team uses to get you there.
12. Project management, communication, and construction 
This is the bit where that design you've seen on paper comes to life! All those technical drawings will now be physically created, and every detail becomes a reality.
When it comes to moving in, site planning and move management are vital. As the move in date gets nearer, it's crucial to communicate every stage to your people. Who will be where and when?
The guide gives you more detail on what to consider at this stage of the office fit out process.
13. The final reveal
Ther you have it, your perfectly designed, employee-centred, productivity-rich new workplace.
Before the official handover, your project partner will legally serve notice to confirm that the project has reached practical completion.
From this point, a pre-handover final inspection will be arranged, and this will focus on the quality of the build and completeness of it too. Any defects can be flagged and actioned immediately.
Once you're happy with the quality and agree that the project is fully complete, you'll then be provided with a site walkthrough and relevant documentation (manufacturer's guides, floor plans etc).
14. Ongoing support
Aftercare with your project partner is vital as your workplace needs to continue to meet the needs of your business and your people. It'll help meet your objectives, both in the short and long term.
As your business changes and grows, alterations or improvements might be needed, and your project partner should be on hand to facilitate such changes.
As part of the ongoing post fit out partnership, a project partner should carry out six and 12-month health checks, for example, and provide advice on the future of the workplace. They should also be there to help with things like furniture maintenance and replacement.
Communicating the benefits of returning to your newly transformed office space
You may think the workplace redesign was the hard part, but you're mistaken! A lot has changed in the last 12 months, and workplaces now need to be about the experiences they provide for the people that use them.
Now that you have an office that meets the needs of your employees, is aligned to key business objectives, activities, and growth, and empowers your team/s with the resources they need to fulfil their job effectively, you need to persuade your people to return to it.
Talk to us
Redesigning your workplace is a huge step. Before you take the plunge it's essential to do your homework, adequately prepare and be 100% confident that you're making the right decisions, at the right time.
If you'd like to discuss any type of workplace fit out with us, please do pick up the phone and call us on 01530 223111 or drop us a line at hello@blueprintinteriors.com.