10th Dec 2018
5 Reasons Your Workplace Needs A Work Café
Why you should be giving your employees more than just a place to work.
Apart from being the world's most popular search engine, Google is also famous for having some of the quirkiest and most creative office spaces dotted around the globe.
If you're ever lucky enough to visit Google's headquarters in Mountain View, California, you'll likely come across their Coffee Lab. With décor similar to many of our UK high street coffee shops and trained baristas serving freshly-made coffee, you wouldn't be blamed for thinking you were sat right in the middle of a Starbucks. Except for two major differences… It's not open to the public, and the coffee is free. Yes, free.
The trendy Coffee Lab is Google's very own work café, exclusively serving the company's own staff and visitors. The ultimate work perk!
Whilst most businesses don't have the space or the resource that Google has to casually recreate a full-service coffee shop in their office building, there are cost-effective ways to create amazingly agile spaces with the same ambience, that allow your business and staff to enjoy all of the same benefits.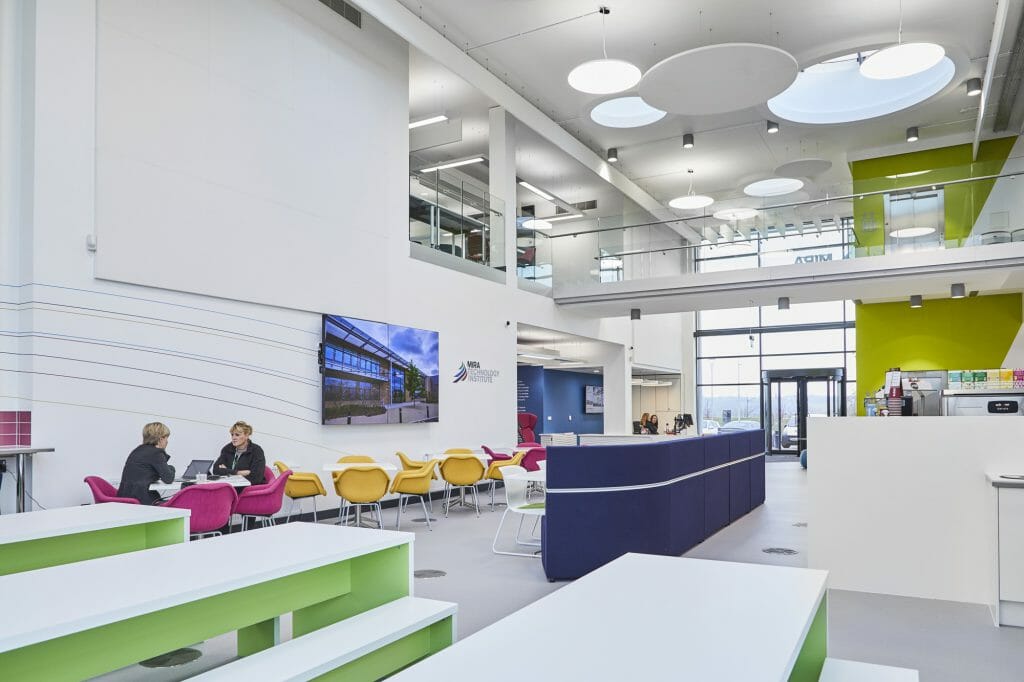 Having an inviting, tech-enabled work café is becoming more of a priority for forward-thinking businesses looking to transform their office spaces. So, let's discuss why…
1. enjoy the 'best bits' of coffee shop working
It's easier than ever to get out of the office and work in a café for the day, so it's no surprise that coffee shop working has become massively popular. And why wouldn't it be? Many people like the buzz of a bustling environment, the tasty coffee, and the fact that there's no one there to disturb us in the middle of writing that report we've been trying to finish for a week.
The only problem with coffee shop working is the number of things that can go wrong. What happens when it's too noisy for you to have a phone conversation? And where do you leave your things when you need to step outside? What about those days when the free Wi-Fi isn't working? And is there a table big enough for your laptop next to your coffee?
The beauty of creating a work café for people within your own organisation to enjoy is that these issues can quickly disappear.
You choose the furnishings, design and technology to suit the exacts need of your people. And with developments in coffee machines, you can even get great tasting coffee that's as good as in any chain.
Suddenly, your work cafe becomes the perfect welcoming environment, and a hub of productivity for your staff, clients and visitors, without even having to leave the office!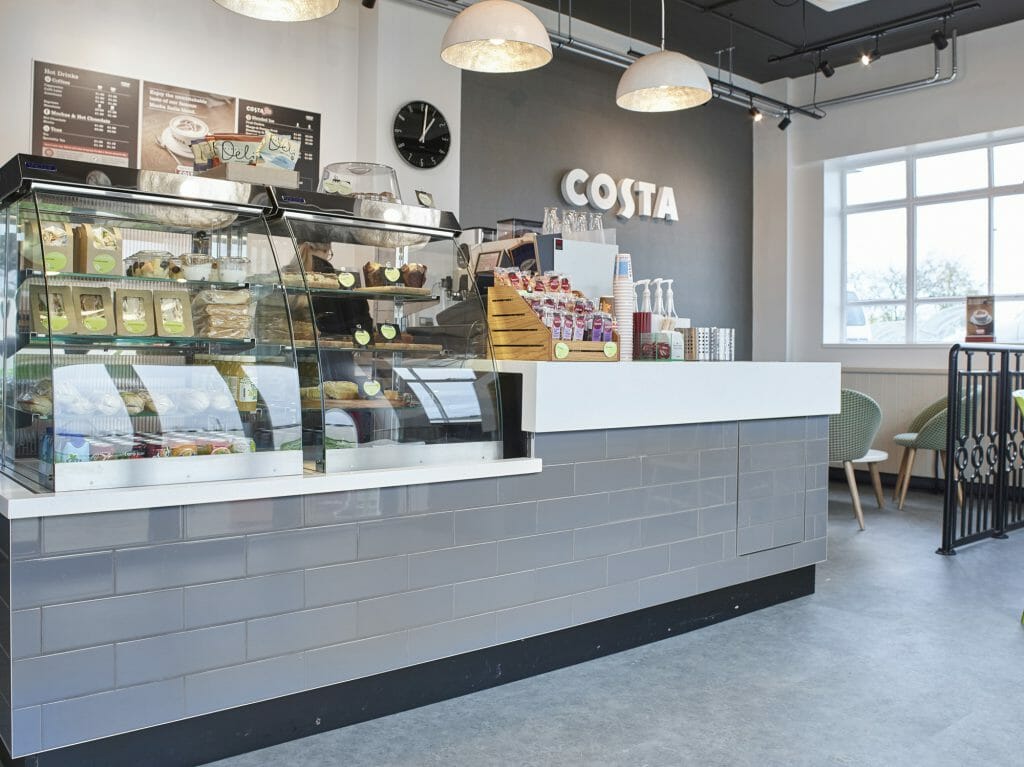 2. Reap the benefits of an agile workspace
A work café takes the traditional 'office canteen' and turns it into a dynamic space for collaboration, focus and relaxation, not forgetting refreshment.
The beauty of a work café, or any agile workspace for that matter, is that it can be treated as both an area for relaxation and a place of engagement and innovation. The decision lies in the users' hands. And if your space is designed for it, that decision can change at a moments' notice. You just need to ensure that your space has integrated technology so that groups or individuals can work or meet with easy access to power outlets and Wi-Fi.
Equally, if you want your people to be able to use the space to relax or have more informal meetings, soft furnishings might be the answer. It really is about creating the environment that your business works best in.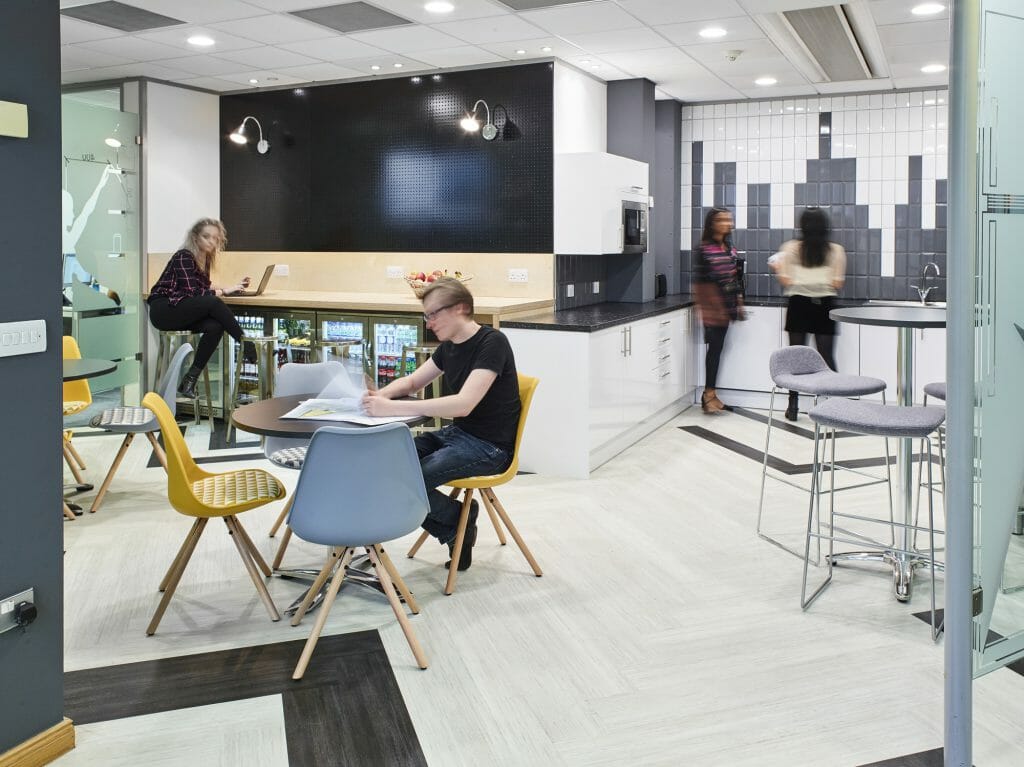 3. Bring a slice of home to the workplace
We all know that it's important to find a good work/life balance. But it's less well known that bringing a sense of home into the workplace can support the wellbeing of your employees physically, cognitively and emotionally. When you think about it, it's common sense really.
Steelcase found that "49 percent of employees say that they don't have a place with ambiance where they can recharge, reenergise, as well as work." Which sounds to us like a bit of a worrying figure…
Providing a dedicated work café gives your employees a less formal area in the workplace to go to get some 'home comforts'. An area with comfy furnishings away from desks or dedicated meeting spaces can encourage people to unwind when they need to take a break.
Giving your staff alternative workspaces has also been known to boost overall productivity, so ensure you're facilitating it with appropriate furniture, technology, and refreshments.
4. Communicate your values
If you're a business who cares about your staff and looks after your customers, what better way is there to show it than to practice what you preach?
Investing in staff facilities shows you're willing to go the extra mile to look after the health and happiness of your employees, and also gives your clients a bit of a treat when they come to visit you. Who doesn't like the surprise of a coffee shop standard cappuccino when they go to a meeting at someone's office?
With clever branded design and carefully-selected furniture and fittings you can create the perfect, bespoke aesthetic that communicates exactly what your business is really about, as soon as people walk through the door.
Putting time and money into what may be seen as an unnecessary perk also encourages a sense of pride in your workplace, and creates a positive atmosphere where hard work is rewarded.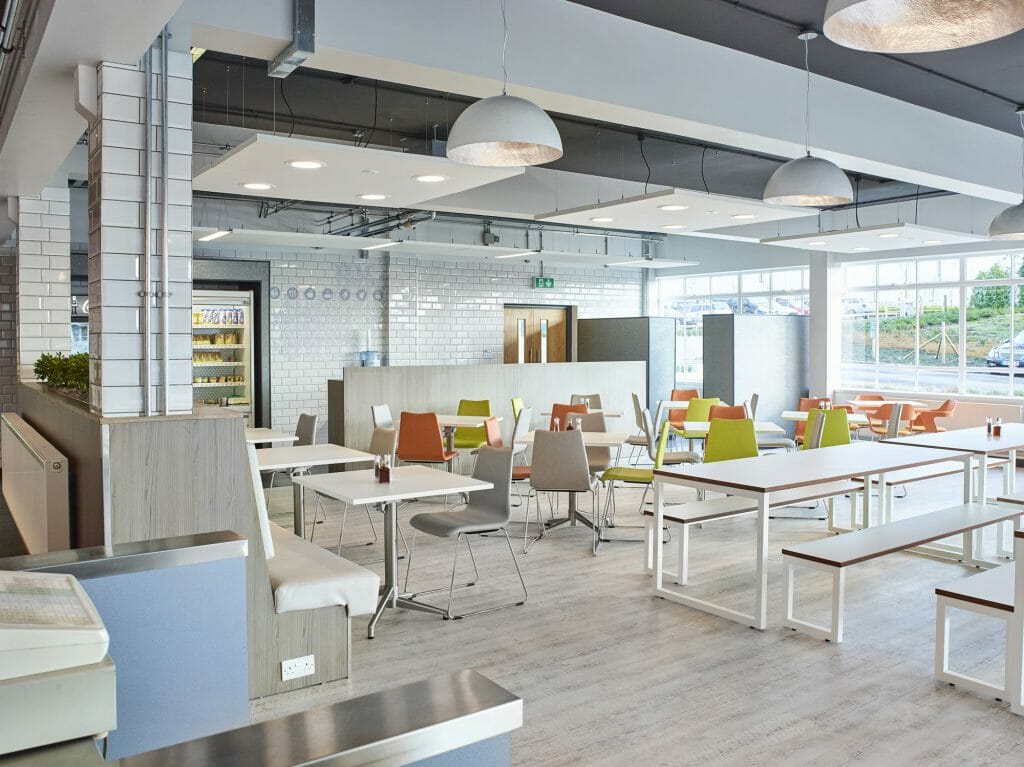 5. Create more light bulb moments
Ultimately, a work café acts as a more relaxed environment where people can connect with colleagues, their work and their organisation.
It creates a hub where your employees meet more often and in a more relaxed environment. People that may never normally bump into each other in a large office could find themselves interacting, and if they spend a little more time working, meeting, or thinking in this space, those 'serendipity' moments are more likely. Of course, you don't need to book a meeting room for 'by chance' meetings, so when they do happen, they are likely to be less forced and more productive. A win-win!