13th May 2020
Behind the Scenes: Looking to the Future Whilst Adapting to Change
Well it's been an unusual month for us all, meaning our monthly round-up is a little different this time.
But it's not all doom and gloom! We've been taking the time to focus on what we can do, rather than what we can't. We're staying productive by celebrating our successes and planning for the future, and we're helping our clients to do the same.
So, here's more on what the team have been up to…
A little bit of good news – we've had our best year ever!
As for everyone else, it's been tough for us to see a lot of our planned and progressing work affected. But we feel that's even more reason to celebrate our team's achievements where we can.
We're over the moon to be celebrating (virtually, of course!) the development and growth of Blueprint Interiors which has led to our best year ever since Rob founded the company over 18 years ago.
The Business Desk spoke to Rob about how far we've come, you can read their article here!
Keeping connected over coffee
We've been continuing our daily coffee mornings to keep us connected, engaged and sane! It's a time we use to chat about 'non-work related stuff' and it's great for giving a little bit of that team atmosphere whilst we're not physically together.
Plus, if you use video calling you can pretend you're sat on a desert island surrounded by palm trees as Rob and Rachel are demonstrating nicely here by customising their zoom background!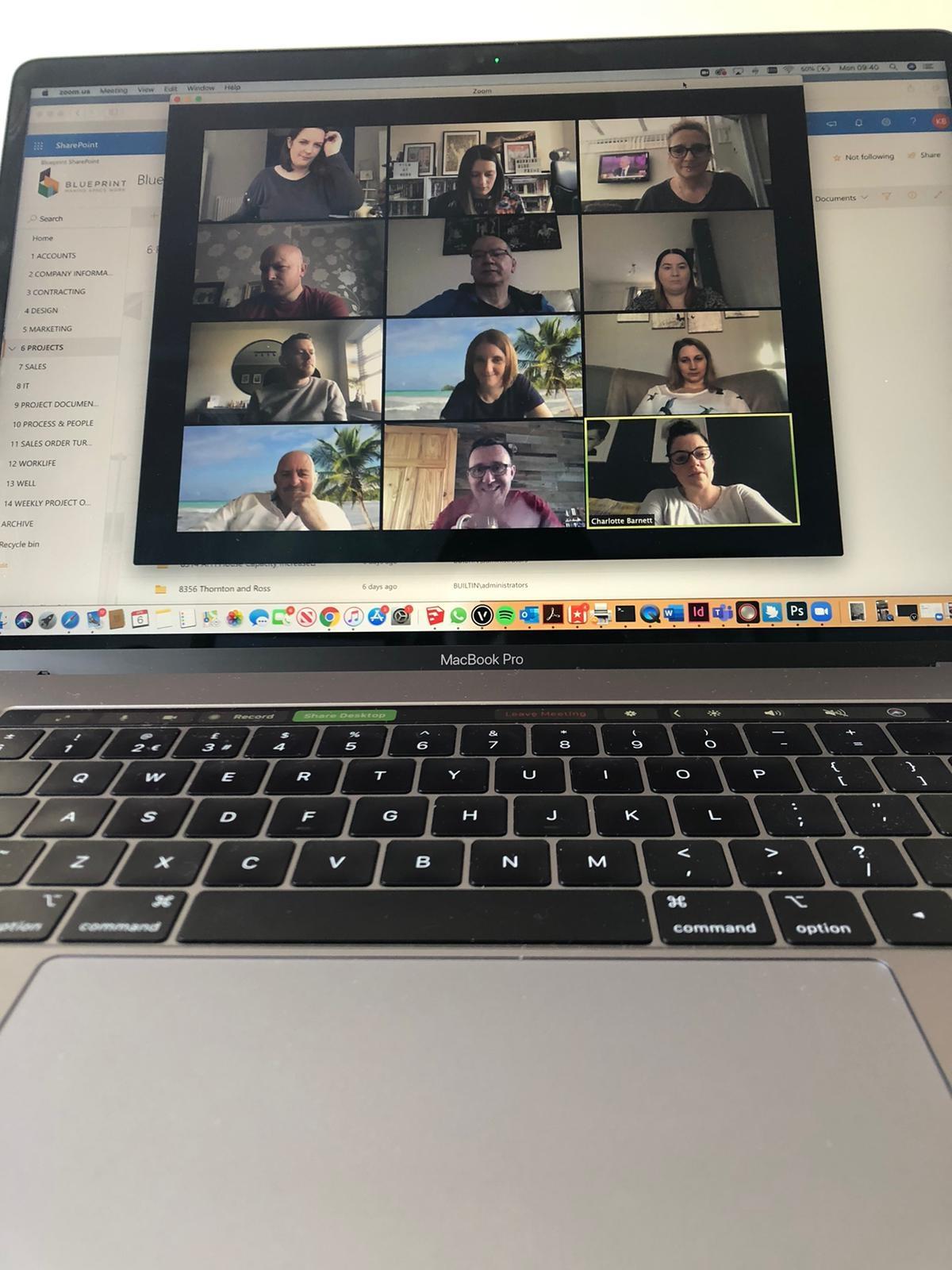 If your team are still working remotely and you're not connecting regularly, we'd suggest you start. Video calls or phone calls, it doesn't matter. It just helps to keep morale up and you never know who's day will be brightened by even a short conversation about how they're getting on.
Looking to the future
As lockdown continues, thoughts are beginning to turn to what office life might be like in the future. We've also considered this, so we've put together an article with our thoughts on what your future office might be like.
We're currently producing a return to work guide so keep an eye out for that one too. In addition, we're taking part in a webinar with our strategic partners Finch Consulting, Gleeds and Breedon Consulting and discussing the future of the workplace.
Oh, and Rob was also interviewed for an ITV news feature!
We've also been looking to the future by focusing on our marketing efforts to ensure we keep in close contact with our clients and our profile is maintained in a way that is sensitive and relevant. That way, we'll have our best foot forward when things do return to 'normal.'
We've been working with our long-term marketing partners Vida Creative and Simple Marketing Consultancy (SMC) to help us do this, and they have some great advice for marketing during the pandemic:
This article from Vida Creative outlines 3 key marketing actions you can take at this unusual time.
And SMC have outlined how to adjust your marketing plan to react to coronavirus here.
Mary, one of our Business Development Managers, has also been considering the first thing she'll do when isolation ends (spoiler alert – have a glass of wine over a meal with friends!) and she's shared her lockdown experience with The Business Desk. You can read all about it here. 
Helping you stay productive and happy now
Perhaps the biggest adjustment for our team has been adapting to working from home full time. We've always embraced agile working practices so our team can choose to work where and how they think is best, but most of us usually like to be at WorkLife Central. It's a fantastic space we've optimised to enable us to produce our best work.
So whilst we can't be there, we've been adapting our own home working environments – and using our expert knowledge of workplace design to help you do the same with our most recent A-Z of Workplace Wellbeing blogs.
Working from Home: E is for Environment
Research has consistently shown your environment to influence the way you feel and behave. So we've shared our top tips to adapt your remote working space for more healthy and productive working in our 'E is for Environment' blog.
Exercising in Small Space: F is For Fitness
And whilst we can't spend as much time outdoors or go to the gym, how to keep fit is something we've all had to consider. It's essential for your mind and your body so our 'F is for Fitness' blog has tips for exercising in small spaces. You can easily incorporate some of them into your daily routine, whatever that may look like at the moment!
5 reasons plants boost wellbeing: G is for Greenery
The latest instalment of our A-Z of Workplace Wellbeing, 'G for Greenery' talks about the unmatched wellbeing benefits of having plants in your workspace. So why not add some greenery to your home-working environment and feel the benefits for yourself?
Thank you!
Most importantly, we'd like to thank everyone who has continued to support us throughout this strange time.
We'll be back again next month with more news about what the team have been up to. But until then, keep an eye on our social channels and the insights section of our website for more regular updates!