17th Oct 2019
Biophilic Design Trends: How to Bring Nature into the Office
The term 'biophilic design' keeps cropping up in the office design world, and for good reason, as the benefits of bringing nature into the workplace become more and more widely known.
For this blog, we've teamed up with our good friends and biophilia experts, Plant Plan. Plant Plan Biophilic Design Consultant, Percy Smith, shares his favourite biophilic design trends as well as the benefits of incorporating biophilic elements into the workplace.
But first, what is biophilic design?
Essentially, the 'biophilic hypothesis' suggests humans are 'wired' to respond positively to nature as it's been integral to our existence since, well, forever.
It's common to jump straight to plants when we talk about biophilia, and that's not wrong. But adding plants around the office isn't the only way to bring nature into the workspace.
Apart from planting, which biophilic design trends should I look out for?
We asked Percy about some of the other popular biophilic design trends in the workplace, and he told us that "Apart from plants, you can use texture, sounds, lighting and even scents to invoke aspects of nature throughout the space. Natural textures such as wood, stone and greenery can all be introduced into a space through the furniture material, wallcoverings and carpet."
"Mimicking natural light characteristics and sequences will resonate with the human body's natural circadian rhythms and will leave workers feeling more energised and productive.
Here are a couple of examples from recent Blueprint Interiors workplace design projects…
Hanging plants
We used hanging plants in the social and kitchen space at REAL Education's Digital Marketing facility.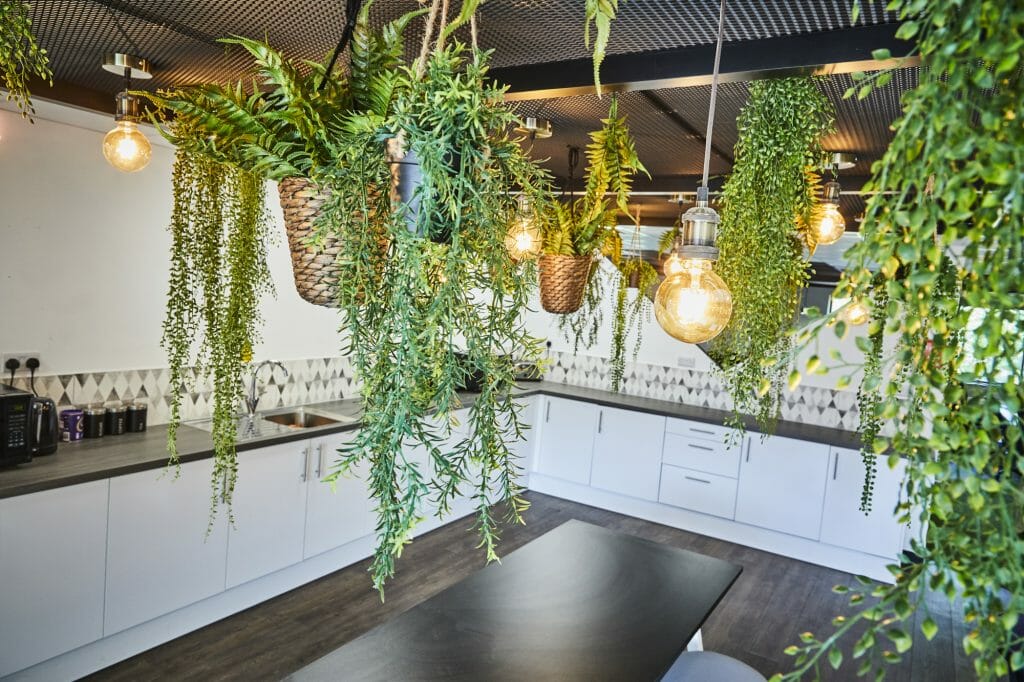 Percy talked about the fact that they're getting more popular, and we can see why. Hanging plants from the ceiling create a focal point and feature in a workspace and is a deliberate design statement that shows you've thought about how an area is configured.
Green walls and panels
Percy told us that "We are finding more people now want real living walls or replica living walls, and are also integrating them into feature walls, pairing them with laminates, tiles and ceramics."
We must say that we're fans of a green wall too. If you've visited us at our living office showroom, WorkLife Central, you'll have seen our 'mixed media' green wall in the double-height kitchen space made out of moss, carpet tiles and wood. Plant Plan did a great job of creating an eye-catching wall piece that enhances the working environment of our team.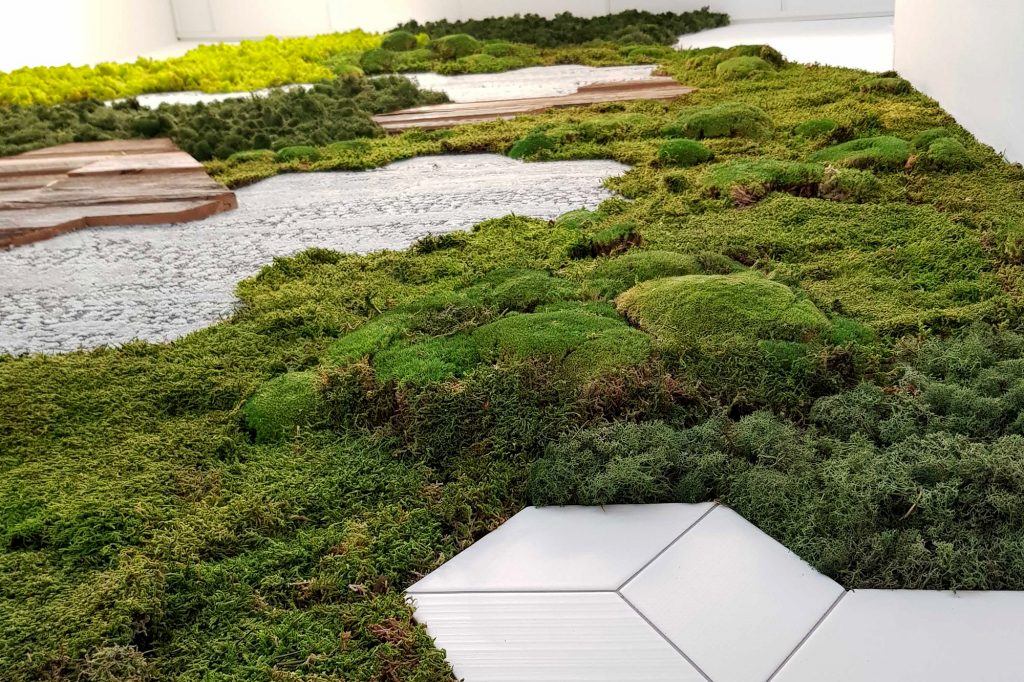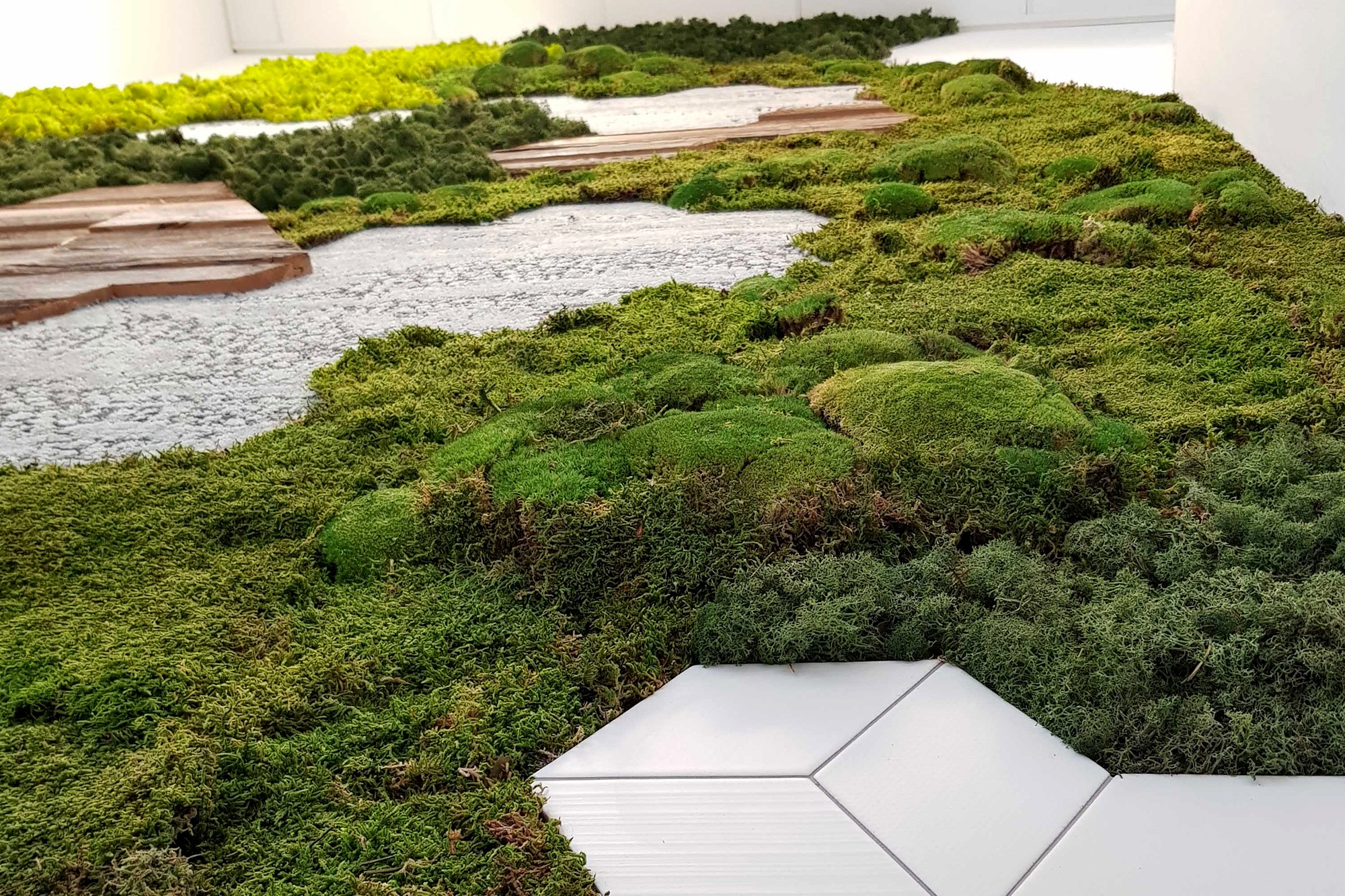 We also installed a green wall in the refurbishment project we completed at Enzen.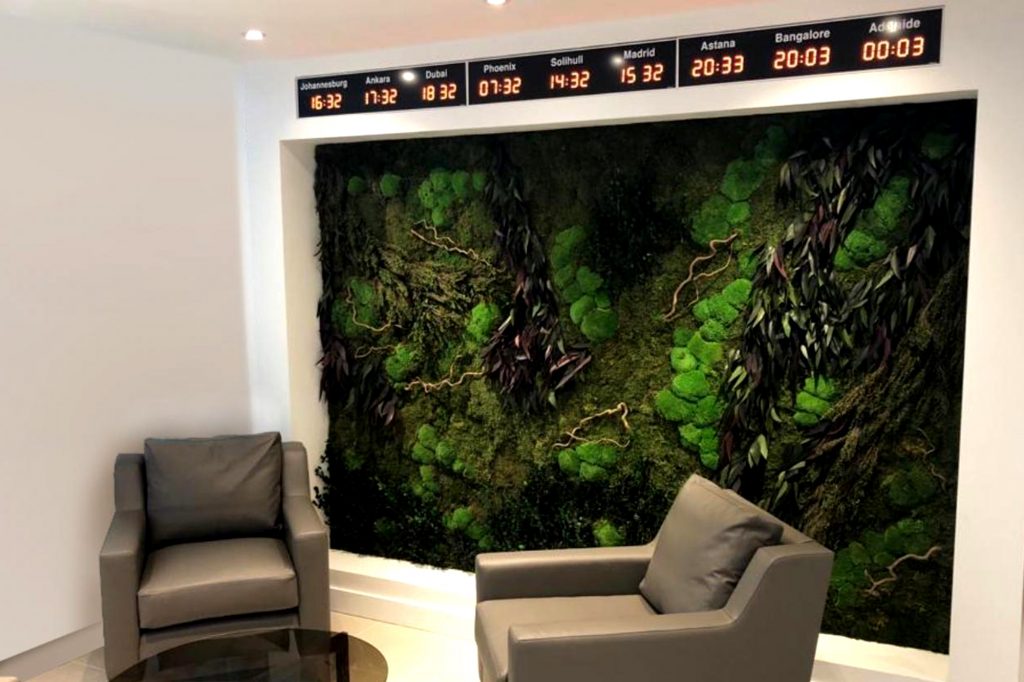 Plants
Of course, if you're not looking for a complete office redesign, adding plants to the office is a simple way to bring the outdoors in.
Plants are aesthetically pleasing and have been proven to improve creativity and productivity and reduce stress levels, as well as having air-cleaning properties, as we mentioned earlier.
Benefits of biophilia
We've already given a few hints about the benefits of incorporating biophilia in the office, but let's get to the nitty-gritty. Here are a couple of the benefits that Percy highlighted in our chat with him.
Increased wellbeing, creativity and productivity
"As with any office décor, the main benefits come from increased productivity and wellness for the staff. Plants and other biophilic elements have been proven to decrease stress levels, increase motivation, creativity, and allow for better concentration and memory retention."
"A study titled the Global Impact of Biophilic Design in the Workplace polled 7,600 employees across 16 countries. The findings demonstrated that people who work in spaces with natural features reported 15% higher levels of overall wellbeing. Furthermore, the respondents expressed feeling 6% more productive and 15% more creative at work."
Better air quality
"Plants also help filter out indoor air pollutants, including Formaldehyde and Ammonia, helping keep the air in workplaces cleaner and improving oxygen levels and air quality. The Peace Lily is one of the more well-known air-cleaning plants."
"It was found by NASA to be one of the most effective plants for filtering toxins and removes benzene, formaldehyde, trichloroethylene, ammonia, xylene, toluene and several other known pollutants from the air."
"Other great plants for cleaning the air are Sansevieria (snake plants, mother in laws tongue) and English Ivy. It's been found that 1 plant per 3 people can boost the oxygen levels in a space by 50%! Palms are generally rated some of the best plants for this, the Kentia and Areca palms being particularly popular."
Blueprint Interiors and Plant Plan
Plant Plan is responsible for the planting in WorkLife Central, and we've also worked with them to install biophilic elements on several of our client projects.
One of our favourite elements in our office space has to be the feature tree.
And Plant Plan also provided the plants at the project we designed and delivered at RG+P Architects.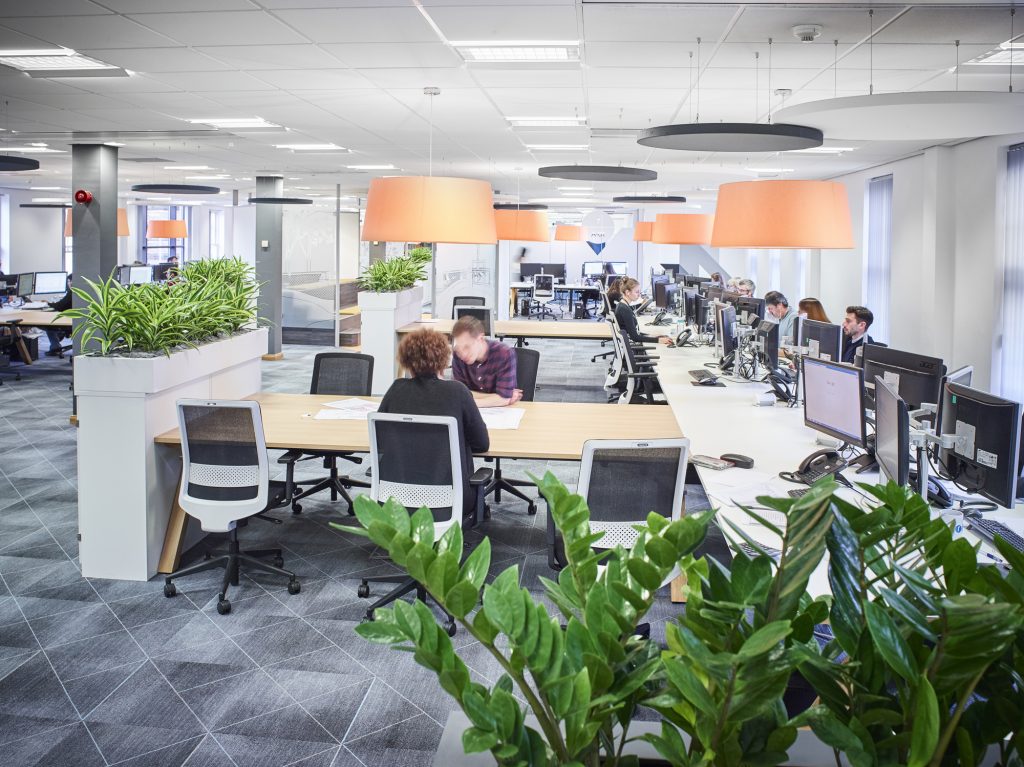 Bring nature into your workplace
Interested in reaping the benefits of biophilic design in your own office space? Fill in the form below to book your free workplace assessment with one of our office design specialists.