25th Feb 2019
A Guide to Office Space Planning: How to Get it Right
So let's talk office space planning. Yes, it's about making sure your people, furniture, equipment and resources physically fit into your workplace, but really, it's about so much more than that.
2020 Covid-19 update: If you're looking for guidance on planning your office space for a safe return to work, click here to read our comprehensive back to work guide.
Taking the time to properly plan how your available office space should be used for maximum benefit gives your business the opportunity to design it around what your people need to achieve at work. A pretty essential consideration!
The three space planning steps we'll be talking about are:
Your workplace should inspire your employees and reassure them that their wellbeing is looked after, whilst serving the core functional needs of your organisation too.
Space planning is the first step in designing an ideal office space that's completely bespoke to your peoples' needs, and here's our guide to getting it right.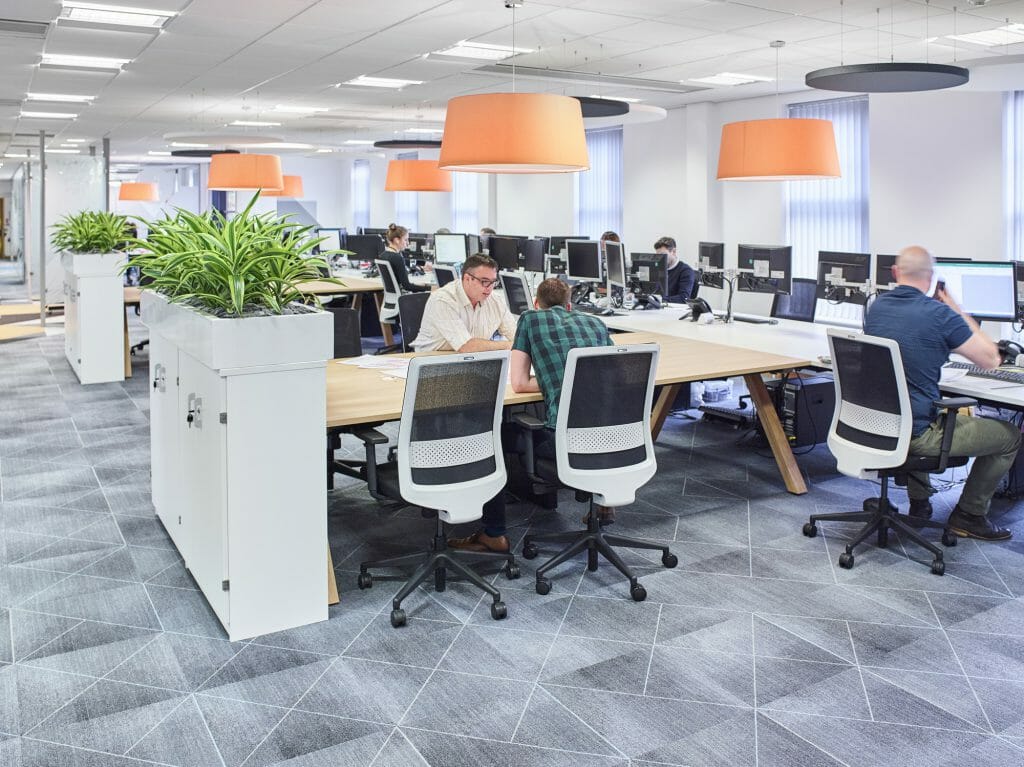 Step 1: Look at how you use your current office space
Start by reviewing how you use your current space because you might find that some areas are being used in a different way than initially intended.
If you do find this, you can look to create new spaces within your office design that are optimised for these activities. A common one we come across is…
Space use assumption:
We need more meeting rooms as they're always in use.
Space use reality:
Your people are actually using these spaces to have quick discussions away from their desks because there isn't anywhere else suitable.
Space use solution:
Think about providing more informal settings for colleagues to have ad-hoc meetings and discussions.
The good news here is that office technology, design, acoustics and furniture have come a long way which has opened up a whole world of new possibilities for solving these kinds of dilemmas.
Step 2: Define your needs
A lot of businesses may feel they've outgrown their workplace but we sometimes find that their current space can actually fulfil their needs… It might just need some tweaking!
So, regardless of the size of your space you should look at how your business operates and define your needs before you try to start on a physical space plan.
Before you create a new design for your office space, ask yourself things like…
What do we need to achieve in our space?
Which departments work closely together?
How many people need to use the office?
Are we likely to be hiring people in the near future?
Do all job roles suit having designated workstations?
Have we got enough social space?
Answer these key questions to create a picture of what you need your space to be and how it can best support your people. It will also help you decide whether it would make sense to invest in your current space or fit out a new more appropriate place instead.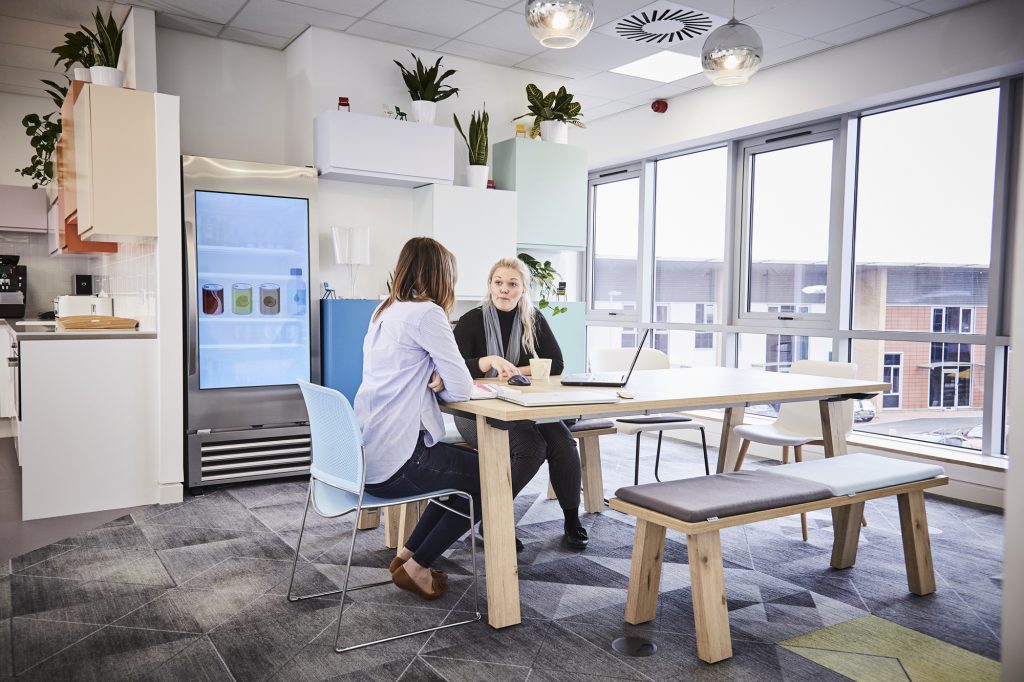 Step 3: Get planning!
Now you know what you want and need from your workplace, you can start to look at how much space you need to fulfil your requirements.
Remember, looking after the wellbeing of your space users is the foundation for success. So it's definitely not just about how many people you can cram in per square meter!
Did you know that return on investment for spend on wellbeing initiatives is £4.17 per £1 spent? So yes, it really is worth being mindful of this throughout your planning process.
Bringing an office design and build company on board is a good idea at this stage as it will ensure you're really getting the most out of your available space. They'll be clued up on the latest workplace products and help with resources such as CAD and design drawings to visualise your new space layout and design elements.
See how space can be transformed
On paper, our office is too big for the number of people that use it, but in practice, it's the ideal space for our team and visitors to 'do what we need to do'.
We're open to visitors! All you need to do is fill out the form below to arrange a visit.