13th May 2020
Back to Work Guide: Planning For Post Covid-19 Return To The Office
We've created this back to work guide to give businesses some tangible guidance on how to safely return to the office in the short-term, and how this will affect workplace layouts and culture in the long-term.
We explore what practical steps can be taken to uphold new requirements around social distancing and hygiene by considering changes to the physical space, and new policies that could be adopted too.
The information in the guide is based upon our team's own specialist knowledge in workplace design, and insights from Steelcase's publication: 'Navigating What's Next: The Post-COVID Workplace.' 1st Edition: Published April 20, 2020.
The government has also published a summary of advice for employers and businesses in England to follow to protect their workforce and customers, whilst continuing to trade here.
So let's get to it!
Contents
Where are we now?
Office workers around the globe are working in new and increasingly agile ways. And although the lockdown forced this change upon them, most employees have risen to the challenge and fully embraced the tools they've been given.
While organisations might experience the benefit of reduced overheads, and many workers may in the future be granted the ability to choose where they work, it's not a sustainable model.
The workplace is more important than it's ever been.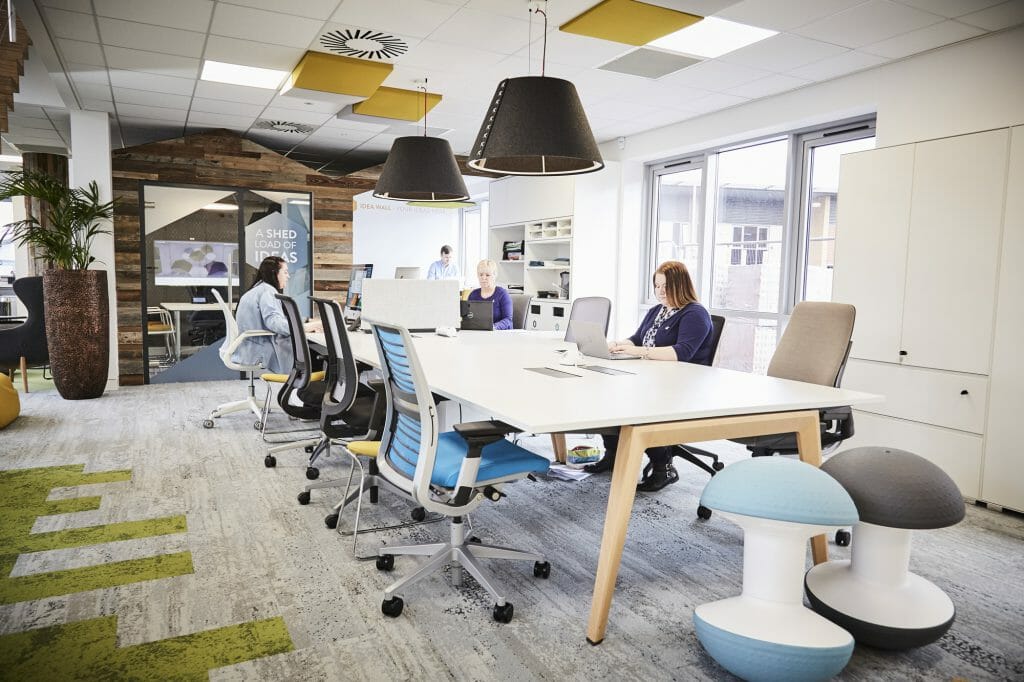 This crisis has reminded people everywhere in the world that we are most successful when we work together.
To many, the return to the office will be a welcome escape as millions are trying to juggle childcare whilst working in uncomfortable quarters. For others, it'll be the welcome return to a network of co-workers who've become their community, provided a social circle, and with whom they share a culture.
This experience has informed us of what's inherently important to our people.
It's important we take this knowledge and use it to create spaces that support our people to work in their preferred style whilst reassuring them it's safe to do so. Covid-19 has created a huge shift in the way people work and has dispelled many of the obstacles that may have previously been used to substantiate why people must work from a desk in an office. These proven examples can't possibly be forgotten as things return to normal.
We can now navigate what's next, as we plan for a return to the workplace.
Exactly how we should do that is still unclear, which is why we need to plan in gradual waves – implementing what we know today, seeking to understand what it will mean in the short term, and exploring how it will change in the future.
The workplace was never designed to mitigate the spread of a disease, but now we need to adapt and change.
TODAY'S WORKPLACE CHALLENGES
The dominant characteristics of the pre-COVID workplace were designed to support new ways of working and high levels of human interaction to fuel creativity, innovation, speed and agility.
'Activity-based' workplaces have also offered employees the flexibility, choice and autonomy to work in the best setting for a specific task.
The challenge now is how to adapt these spaces so they still function, whilst providing safe environments that limit physical interactions.
Challenges in many workplaces include:
Open plan is a prominent feature of many offices
Work patterns have changed and personal technology has become more compact, so the allocation of space per person has become smaller
People are enabled to move freely around a workspace thanks to the mobile technologies and power solutions
Cafes and social spaces are increasingly popular in offices, allowing for informal interaction or bringing large groups of people together
Workplaces often take on a softer less corporate feel including a wider range of lounge settings, bringing people together in more intimate settings
Organisations have realised people want choice and control over how they work, so there are many spaces that are shared by people throughout the organisation
The degree of openness, density and mobility will vary from one organisation to the next, but within these spaces, air and pathogens can travel freely, increasing the likely hood of spreading infections.
It's therefore important to put safety first.
In order to get our people back to the workplace, employee safety and wellbeing must be top of the list — people need to be safe and feel safe.
STEP 1: BEFORE YOU BRING PEOPLE BACK – PLAN AND PREPARE
Before reopening, plan, create and prepare to reinforce your policies for physical space, employee protocols and communication, sanitization and disinfection and use of PPE.
Consider setting-up a Pandemic Response Team (PRT); a cross-functional team led by a workplace manager to address the health and safety of employees returning to work.  As we all learn more about how to prevent the spread of the virus and as protocols need to change, have a plan in place to communicate evolving guidelines.
Here are some good places to start…
Protocols
1. Engage with employees
We'd encourage all organisations to engage with their people both collectively and individually. Discussing how they're feeling about a return to work, what they've learnt from the time at home will help you develop your strategies and ensure you can support them going forward.
2. Schedule the return
Decide how many people will return and how often. Some organisations may choose to rotate employees by day, week, month and close for deep cleaning.
3. Develop illness protocols
Seek the advice of an independent specialist, the local authority and government guidelines on staff sickness advice and staying at home to ensure you are complying with and implementing the correct procedures and policies.
4. Stagger schedules
Create new lunchtime protocols. Implement extended hours and staggered lunch schedules for café/food service areas.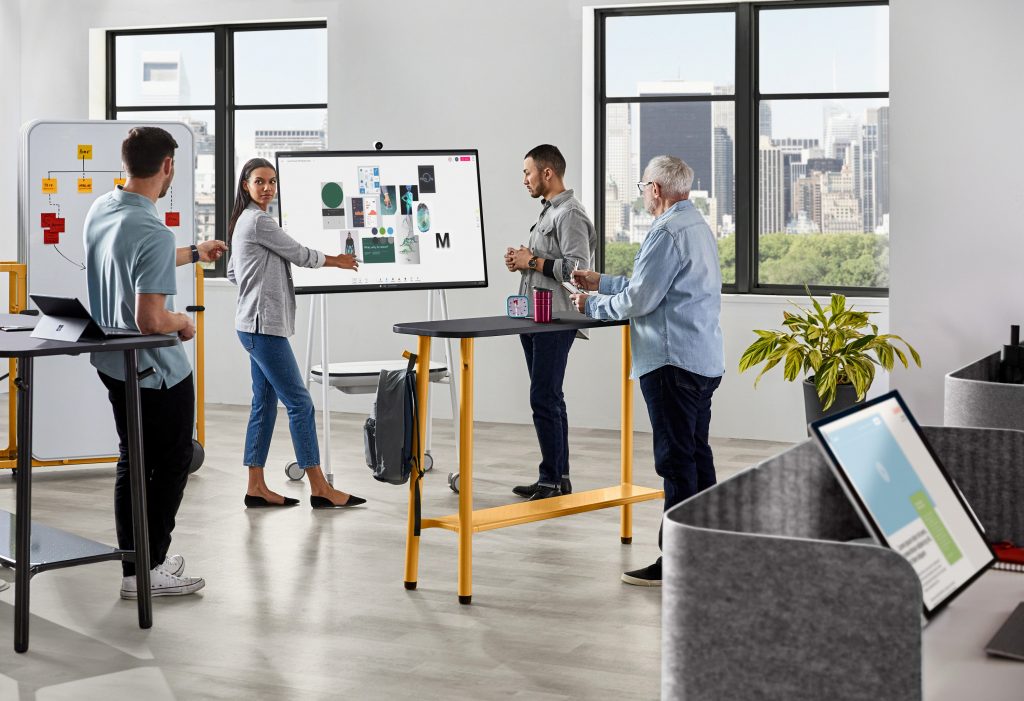 Communication
5. Develop and deliver safety training
Use virtual learning tools as well as written and verbal communications for all workers before returning to the workplace outlining what changes you've made to layouts and policies.
6. Host first-day training
Orientate the team to reinforce physical distancing, hygiene and sanitisation practices and new policies. Use all internal communication channels available including intranet, email, instant messaging, email signatures, and signage to reinforce new protocols.
7. Clear signage
Create and install signage throughout the workplace to visibly communicate new protocols and safety procedures.
Sanitisation, Disinfection and Protection
8. Develop the baseline
Conduct deep cleaning prior to a return to the office (and anytime an active employee is identified as infected) as per environmental, health and safety guidelines. This is defined as more comprehensive cleaning, using advanced technologies and more aggressive cleaning solutions administered by a third party, who should consider site-specific circumstances and pay particular attention to common areas and common touchpoints.
9. Keep it up
Develop protocols for ongoing cleaning, disinfection methods and frequency. Encourage employees to self-clean their workstations and shared spaces before and after use. Ensure you have a 30 day supply of all cleaning and hygiene items.
10. PPE usage
Determine proper usage guidelines of Personal Protective Equipment (PPE) if it's relevant to your business setting. If so, designate team members to train employees on proper usage of PPE and ensure compliance with PPE policy.
STEP 2: SHORT TERM – PLANNING FOR A RETURN TO WORK
Creating more agile, activity-based workplaces created a competitive advantage for organisations – a means to foster new work styles, build culture and attract talent.
We still need to retain these characteristics whilst acknowledging a new dimension.
As companies look for guidance on how to bring their people back to the office, we believe the best approach balances a mix of remote work and the adaption of existing spaces.
We can adapt our spaces and behaviours to enable a return to work, before moving towards changing them more permanently.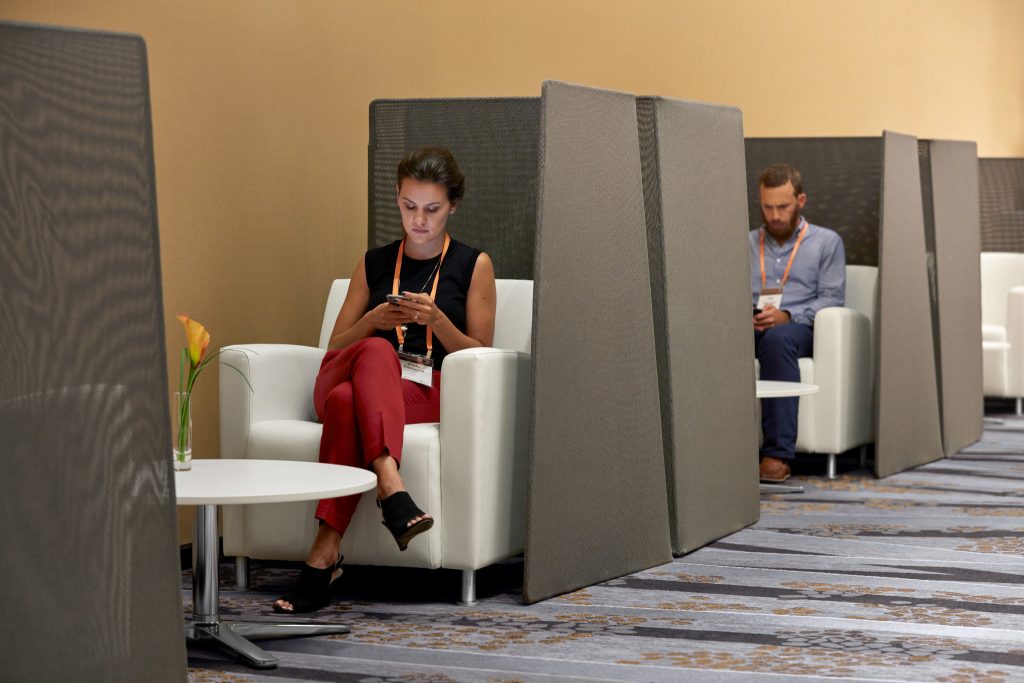 Short term: Adapting the office space
Many workplaces have shut almost completely during lockdown. Vulnerability or home commitments will mean not everyone will be able to return to the office just yet.
This fact, coupled with people returning in waves or shifts will help reduce density in the first instance – say to 50% occupancy – allowing you to apply a common sensed approach to adapting and adopting new ways of working.
This approach should include these steps:
1. Reduce density
Reduce occupancy by removing desks, tables and seating. Consider removing chairs from workspaces so that all of the active stations left are at least 2m apart.
2. Change geometry
Reconfigure freestanding desks away from a standard linear approach so you reduce people sitting face to face without a barrier.
3. Add division
Where 2m separation can't be achieved, add the highest boundary possible with easily cleanable screens, storage elements, plants or partitions in between people.
4. Breakout areas
Rearrange seating to 2m apart and mark lounge furniture such as sofas for single use.
5. Change meeting spaces
Limit enclosed group meeting spaces e.g. use huddle spaces as singular video conferencing pods, a 6-person meeting room may now be a 1 to 1 room.
6. Collaboration devices
Office-based and remote employees will need to connect. Collaboration devices such as Clevertouch can be used for video calls and collaboration on information from multiple inputs. Ensure devices are cleaned before and after every use.
7. Use visual cues
Use tape or add other visual cues, such as feature carpet tiles to suggest the appropriate distance between employees and pathways.
Download this guide for example floor plans.

Short term: Adapting behaviours
This approach should include these steps:
1. Change traffic flow
To avoid overlap whilst moving around the space, consider directing traffic in a one-way system around workspaces and in narrow hallways and corridors.
2. Clean frequently and visibly
Make cleaning and hygiene products accessible to everyone, and reassure staff by ensuring all spaces are cleaned before and after use.
3. Encourage more time on video
Save on travel time and business expense by embracing new technologies so people can connect across distances seamlessly.
4. Get set up at home
Those still at home will require ergonomic furniture, lighting, and work tools to help them avoid injury from poor posture, repetitive movements, strain etc.
5. Support wellbeing by creating community
The move to continued safety and wellbeing will be top of the agenda to support peoples' own emotional confidence going forward. With remote workers still at large, it will be important to nurture a sense of belonging and purpose.
Download the full guide for more information.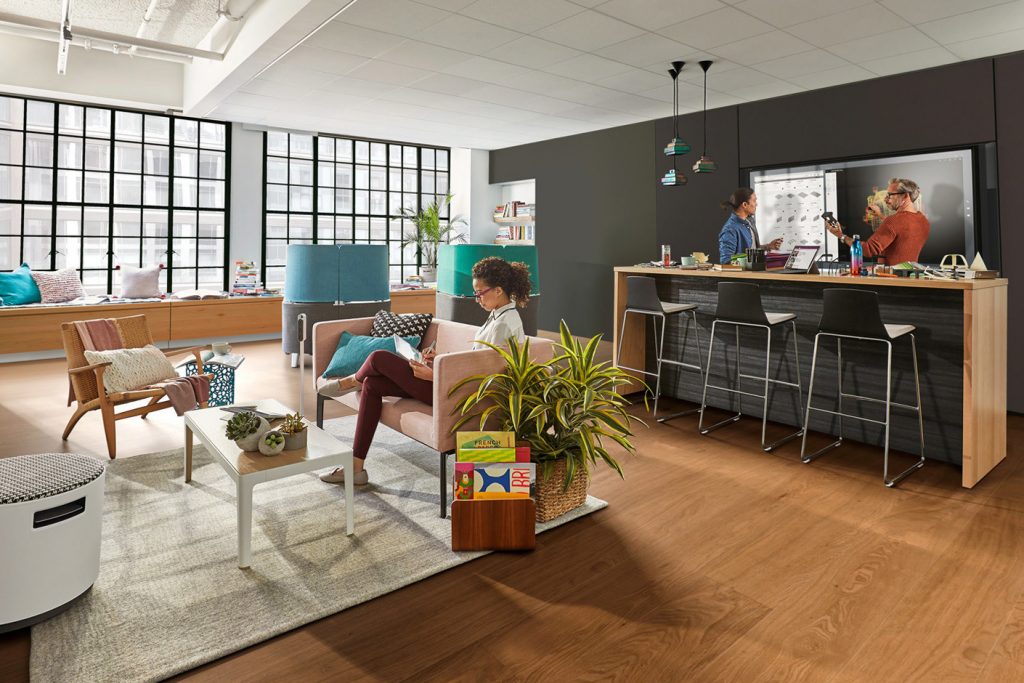 STEP 3: Long Term – Not just adapting, but changing
As we're able to ramp back up and bring more people back into the workplace – say to 75% occupancy – businesses may need to reconfigure or redesign their spaces to accommodate increased numbers.
Due to the nature of your services, this may apply to your organisation from day one.
Long term: Changing the space
Your long-term approach to changing your workplace should include the following considerations:
1. Ownership
By reducing or eliminating shared desks and storage and shifting towards owned individual spaces, people with a dedicated workspace may feel more comfortable.
2. Finishes for disinfecting
Existing materials could now be switched out for surfaces and fabrics that are easily cleaned, anti-micro bacterial or have protective coatings. Desk worktops and screen fabrics could all be switched out.
3. Add flexibility
Adding easily movable furniture gives employees control to distance themselves from others as needed. Items such as mobile desks with power extensions will allow furniture to move with people.
Download this guide for example floor plans.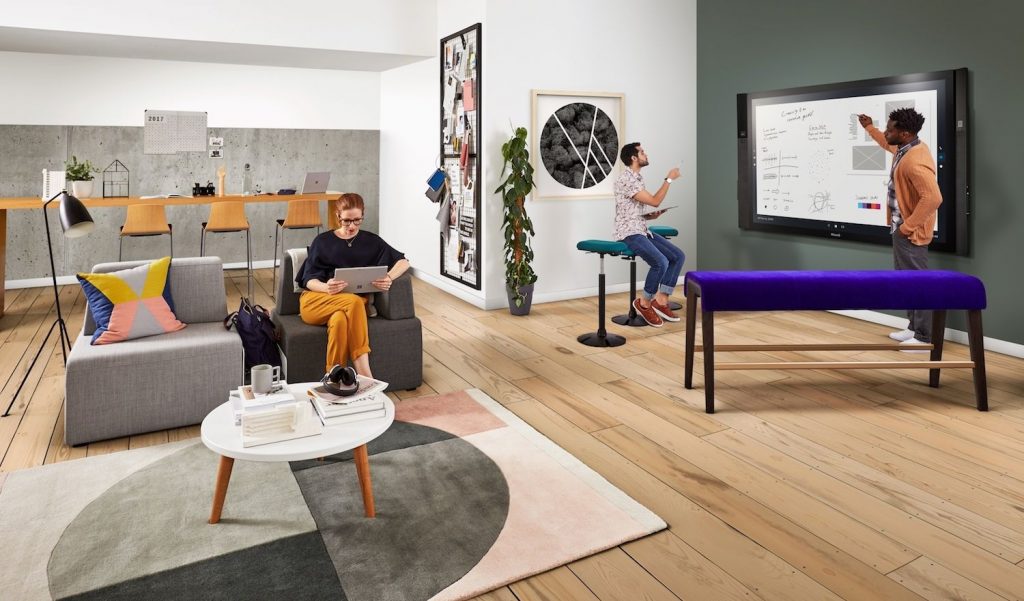 Long term: Changing behaviours
1. Policy
Some organisations will already have home-working policies to reduce commutes for example, or individuals agreements to support workers with their own needs. Many workers have adapted quickly and enjoyed working from home whilst retaining productivity, so it's likely company policies and office coverage patterns will need to be addressed.
2.  Support for wellbeing in the workplace
We've been able to reflect on what fuels our wellbeing and the things we enjoy or dislike about our current working environments.
Workplaces that don't currently facilitate 'little wins' will need to adapt if they're to provide their people with spaces that work for them, not against them. Examples include:
Areas designed for contemplation and relaxation to help with mental fatigue or stress. This could involve dimmable lighting, soundproofing, calming colours and comfy furniture.
Greater appreciation for nature and the benefits to mental and physical health will see more plants and greenery being installed in office spaces.
Increased workplace health promotion and more communications from employers about wellbeing initiatives that their staff can get involved in.
Conclusion: Planning for the future
Most of us will have changed our views on how workplaces should meet the needs of our employees and how they will support the future evolution of our businesses.
Workplaces will need to be designed to mitigate the spread of disease, but they need to go further as people's attitudes and expectations toward privacy, health and safety shift. As the science becomes clearer, so will the answers.
Here's an idea of what this could mean in practice…
1. Design for adaptability
Spaces will no longer be designed for permanence, bit will want to change easily, expand or contract so work areas can accommodate greater or less distancing.
2. Hands-free technologies
More solutions will be made available with gesture or voice-activated commands i.e. to raise desktops, open doors, save whiteboard notes, etc.
3. Contact training
Should you become ill, emerging smartphone technology can anonymously communicate this to anyone who's been near you and suggest to them that they may want to get tested and/or self-isolate.
Download this guide for example floor plans.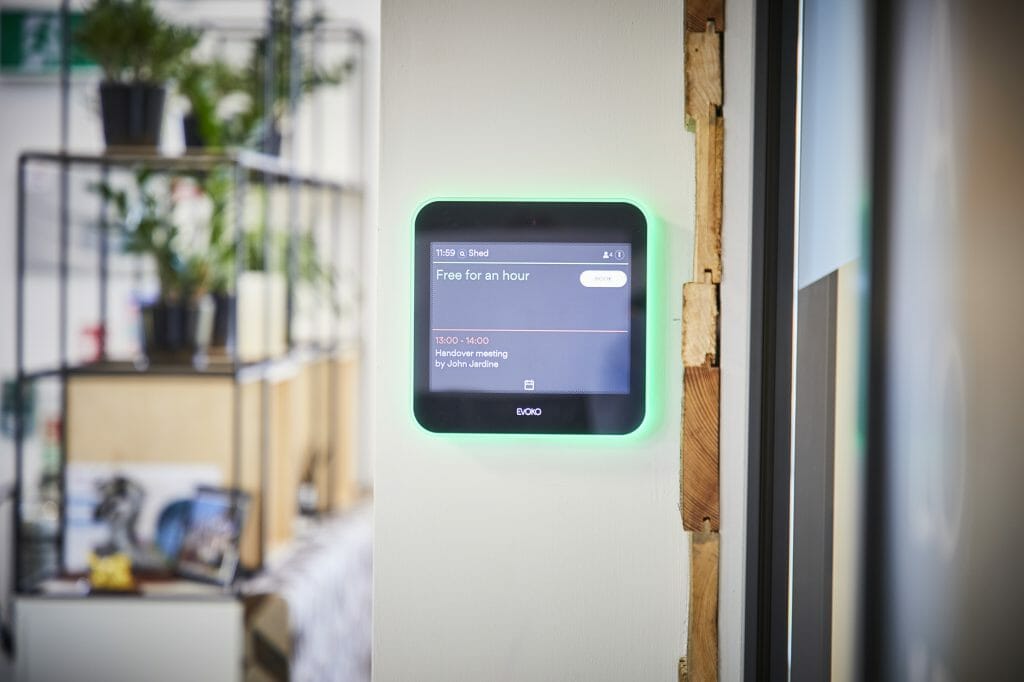 Next steps
If not already, we're all going to be changed in our views on how workplaces should meet our needs. Employers that try to shoehorn their people back into previous ways of working are going to struggle because the world is already too different to ignore.
At Blueprint, we're well-versed in helping our clients design and build agile workspaces equipped with tech that prioritise wellbeing. If your space has the potential to be more than it currently is, get in touch for a chat with one of our workplace design consultants.
Download this back to work guide
We've created a comprehensive version of this back to work guide for you to download and use as a resource for your business.
As well as more detailed information, it includes illustrations and example floor plans for short and long-term office designs and layouts.