30th May 2023
Rebranding your Office: What it Means for Your Office Design
Your office is a reflection of your business and therefore your brand. So when your company rebrands, your office should change with it. Branding is more than a logo; it's about how your company is perceived and makes people feel. This of course includes people who visit your offices, like clients, and perhaps most importantly, your employees.
A new brand means a chance to refresh your office space. We're going to look at the things to think about when updating your office design as part of a company rebrand.
Use elements of your new brand identity
A successful brand conveys your company's personality, values, and culture. Your office design should do all of this too. As a physical space, your workplace has the opportunity to create experiences that make people feel more connected to your brand.
Throughout your office design, consider how you can incorporate your brand colours, fonts and imagery associated with your new brand into the space. A subtle way to do this could be to use your brand colours in the fabric of key pieces of furniture. Of course, you could also create feature walls; as well as paint, we're big fans of bespoke wall vinyl with branded artwork.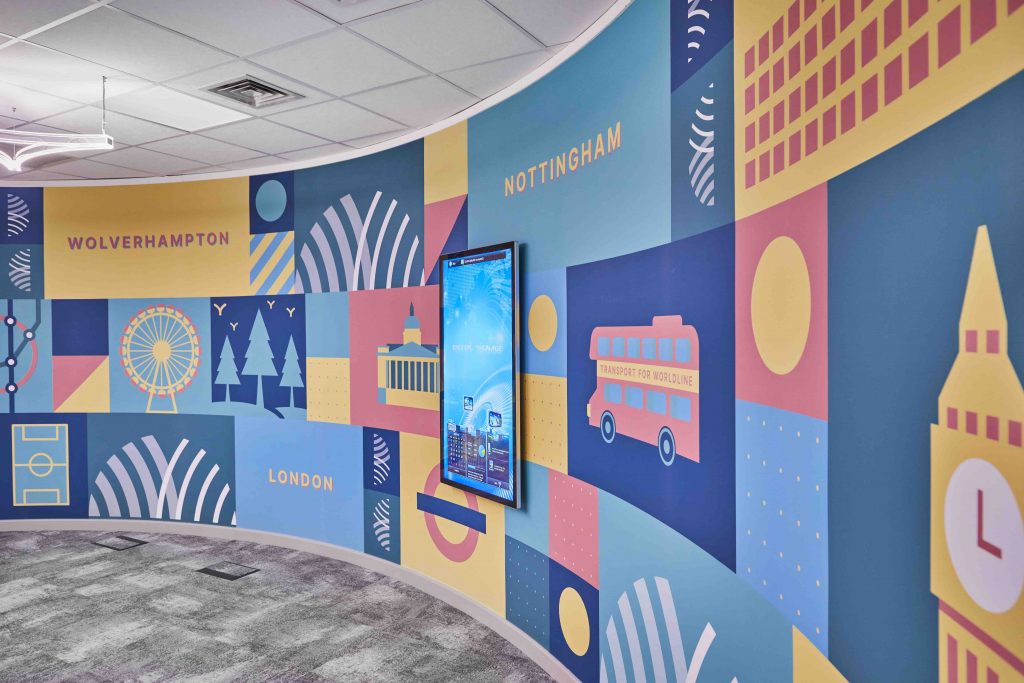 Think about the culture you want to create
Brand updates often happen because there's been a change in the business which means your visual presence doesn't represent you anymore. A shift in the way you work, or a pivot in the products you offer could have been the catalyst. Chances are your workplace culture has also evolved in the process.
Take some time to reflect on the culture of your business now, if it's where you want it to be, and either way, how your office space can facilitate the culture you want to encourage.
It can help to ask yourself questions such as:
What atmosphere do we want to create?
Do we want to create a more formal or relaxed space?
What different activities do we need to complete in our office?
What does our brand represent?
When you've decided on the atmosphere and culture you want to create, you can work backwards to make informed design decisions.
Get your employees involved
It's essential to create a workspace that looks great and aligns with your brand, but ultimately it should support your team's day to day needs.
Consider the flow of your current office and how your team works. Do they need more collaborative spaces or private focus areas?
We find that techniques like workshops and short surveys are great for getting people talking about the things they want to see in their new office space, as well as uncovering the frustrations people have with their current setups.
You can use these insights (make sure you ask people at all levels of the business) to inform what you change about your office.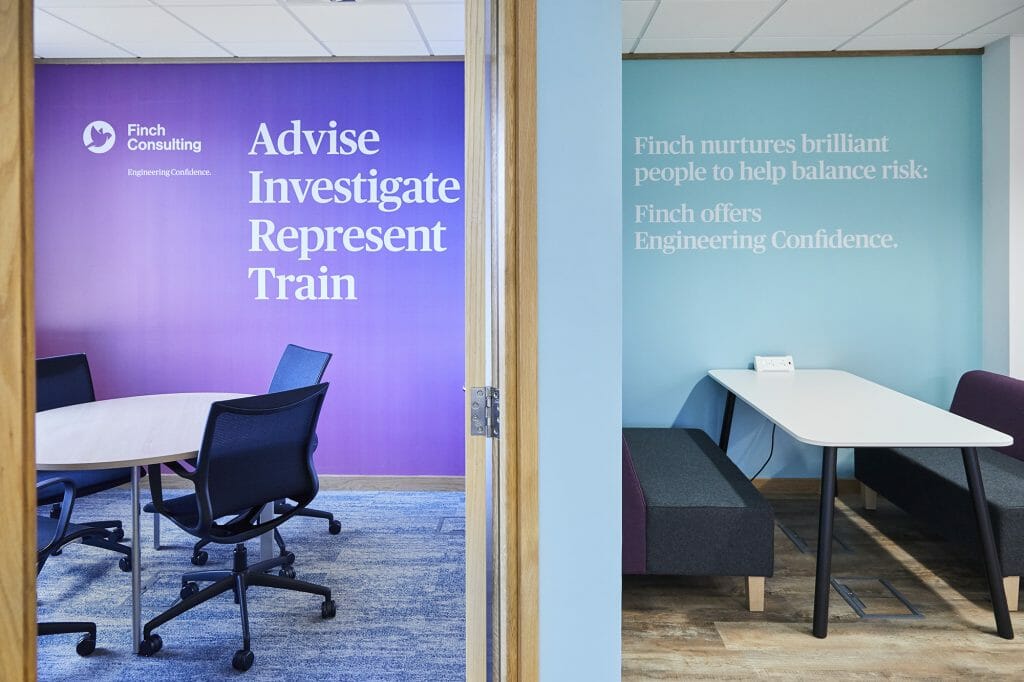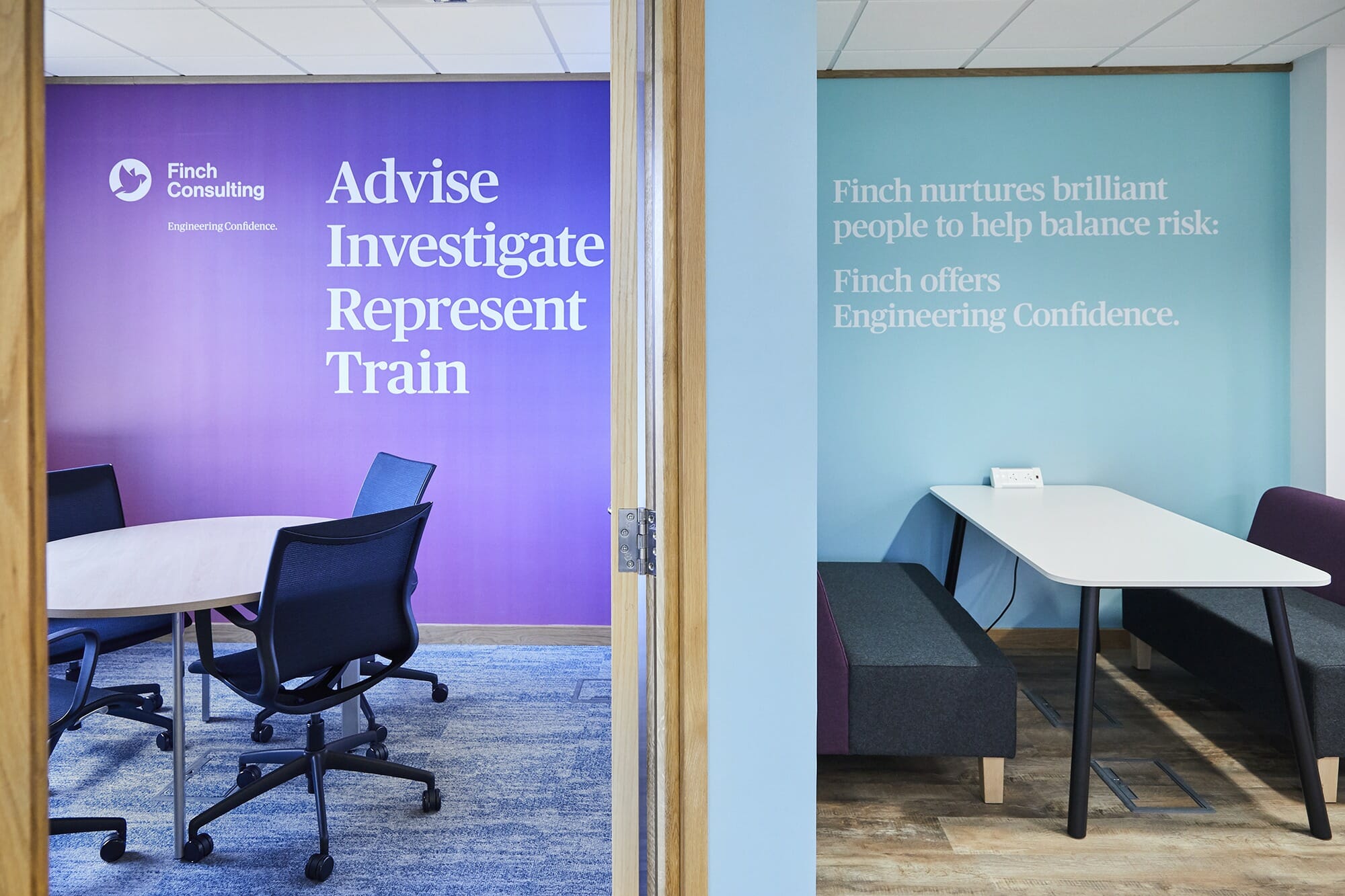 Assess your space
Next up, you need to assess your current office space. Are there spaces that are always fully booked and some that are under-used?
Alongside the insights you get from your employees, look at any data you have (room bookings etc) on how people use the spaces in your office. This will show you what you need more of, and the space you can repurpose to bring more value to your team and visitors.
Within these new spaces, look at opportunities to incorporate your brand and show some personality. Neon signs, quotes on the walls or branded artwork are all subtle ways of creating inspiring areas where people want to spend time – an essential outcome of a successful workplace design!
Prioritise comfort and functionality
While it's essential to incorporate your rebrand into your office design, don't forget about creating spaces that are comfortable and functional. Whatever you do – make sure the changes will improve your ways of working, not hinder them for the sake of a better-looking space.
For example, if you want to give your people more choice over how they use the office, you could integrate ergonomic furniture, adjustable lighting and comfortable seating options to encourage agile working.
In conclusion
A rebrand presents the perfect opportunity to transform your office design to reflect your new identity. By incorporating your brand elements into the design and considering the culture and atmosphere you want to create, you can create a visually appealing space that meets the needs of your team and impresses clients.
Looking to create an office that matches your rebrand?
If you're looking to transform your workplace into a more productive, efficient, and successful environment where your people thrive, we can help.
Get in touch to talk to one of our experienced workplace consultants about your office.