9th Nov 2020
Office Design for Human Beings: 3 Steps to Support Your People
Despite the distancing that the Covid-19 pandemic has enforced, there is one aspect of work that's flourishing – office design to support people first.
Office design has been changing for some time anyway, but because of the current crisis, employee engagement has made more progress in the last eight months than it has in eight years.
The coronavirus has been a catalyst for change. Mental and physical health has become a key priority for everyone in the workplace, from the CEO to the apprentice.
Employee health and wellness has always sat at the heart of our ethos; that's why we design workplaces for improved wellbeing.
As a wellbeing-centered company, we're committed to ensuring the environments that we design are shaped by the needs of the people that use them. Because the real strength and potential of your people is that they can work both individually or together to create something of greater value.
In practical terms, this means empowering and trusting your people. Sharing your business's strategic objectives with them, then allowing them to fulfill their potential by providing the right resources. Not forgetting to back this up with supportive processes and procedures.
For us, there are three key things to consider when designing an office that supports wellbeing:
Understanding people's needs before the design process starts
Using these insights, and the WELL Building Standard™ during the design process
Creating a built environment filled with resources to support human health and wellbeing
employee engagement to Understand people's needs
We're excited to announce that we've recently become a WeThrive partner. WeThrive is employee engagement software designed using human psychology.
It makes gathering and acting on employee's thoughts quick and simple – as we know it's the resources within an organisation that matter just as much as the physical workplace environment.
Working with WeThrive will allow us to deliver clear insights into how your people feel about their workplace experience now. This then forms the basis for office design decisions. It culminates in a better-performing workplace where the risk of stress or underperformance are lessened because you're supporting your people in every sense.
The WELL Building Standard™ and its value
We're great advocates of the Human Givens Model. It suggests that every person is born with a set of core needs that must be met to remain physically and emotionally healthy. To meet people's needs, you need to create and implement a wellness strategy that directs how employee wellbeing is continually supported.
The WELL Building Standard™ is one well-established initiative that we're incredibly invested in. Through the framework, we deliver thoughtful and intentional spaces that enhance human health and wellbeing. The standard includes a set of strategies, validated by scientific research, that aim to improve health and wellbeing through design, operation, and policies that prioritise wellbeing.
These strategies are based on 10 fundamental concepts:
Air
Water
Nourishment
Light
Movement
Thermal comfort
Sound
Materials
Mind
Community
One of our interior designers, Rebecca Beadle has just become an WELL Building Standard™ Accredited Practitioner, congratulations Rebecca!.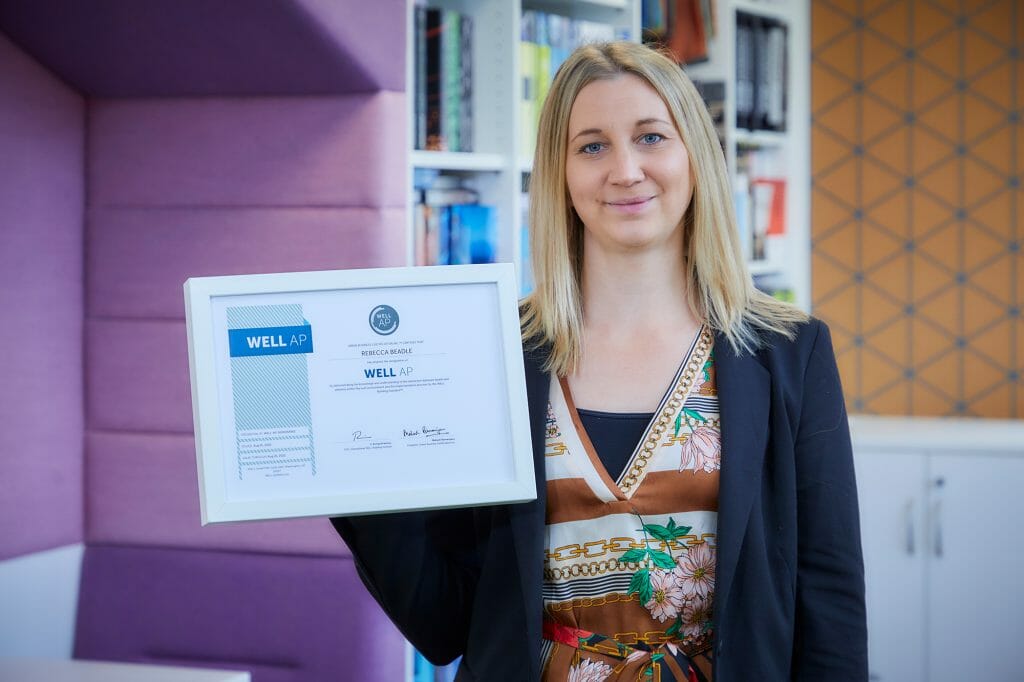 In her role, she works closely with the team and clients, to design wellness-centered workplaces. She guides clients through the WELL Building Standard™ and advises how to incorporate it within design and operations, as businesses realise the value of wellbeing to success.
The role of buildings in wellbeing has never been more evident, and the Human Givens approach and WELL Building Standard™ give business leaders a framework to transform their workplaces.
Creating workspaces that enhance rather than hinder health and wellbeing are vital. It's about designing workplaces that keep us nourished, help us move, keep us connected and inspire us to do our best work.
design elements to support workplace wellness
To achieve a workplace that nurtures and develops human health and wellbeing, there are a few basics to put in place. Firstly, businesses should ask themselves:
Do you empower people to choose how and where they work?
Do people have places to think and concentrate?
Are there areas to collaborate with colleagues?
Does the layout encourage serendipitous meetings?
Answer these questions and you'll find that you can incorporate some easy wins into your workplace design, such as:
Promoting physical movement within the workplace
Making fresh water and nourishment available throughout the building
Providing natural light, acoustic panels, and LED lightning
Creating space for privacy, social interaction, and downtime
How can Blueprint Interiors help businesses to do this?
Our aim is to help companies to design workspaces built on intention, and that enhance human health and wellbeing.
We can design and build a workplace environment that delivers against the specification of the WELL Building Standard™. We'll identify and explain ways to achieve the standards required within your budget and time frame.
We'll design a workspace that aligns with the Human Givens Model to ensure the end result is an environment where health and wellness thrive which, in turn, improves the productivity of the business.
Let's discuss how we can help with your workplace design, environment, and resources your organisation needs to invest in to improve and maintain employee wellbeing. You can drop us a line at hello@blueprintinteriors.com  or call us on 01530 223111.