10th Jun 2019
Clerkenwell Design Week 2019: Trends and Insights
We're full to the brim with design inspiration after our action-packed visit to Clerkenwell Design Week 2019!
It's always important to us to stay on top of the latest trends in workplace design so that we can deliver the best for our clients. With this in mind, our team enjoyed two days taking in the showrooms of world-leading suppliers and getting insights from industry experts.
So, here we go. Let's take a look at some of the main trends we saw coming up across the show this year.
Biophilics
Biophilic design is the concept of increasing peoples' connectivity to nature by bringing aspects of the natural environment into the design of a space.
There are lots of benefits of incorporating biophilic design into workplaces such as reduced stress, increased creativity and masking background noise to name a few. So it's no surprise that many of the big names in workplace design included natural elements throughout their showrooms in some way.
Ocee design brought the outside in in some fantastically creative ways. Not only placing plants throughout spaces, but hanging plants from the ceiling and incorporating planters into the furniture itself.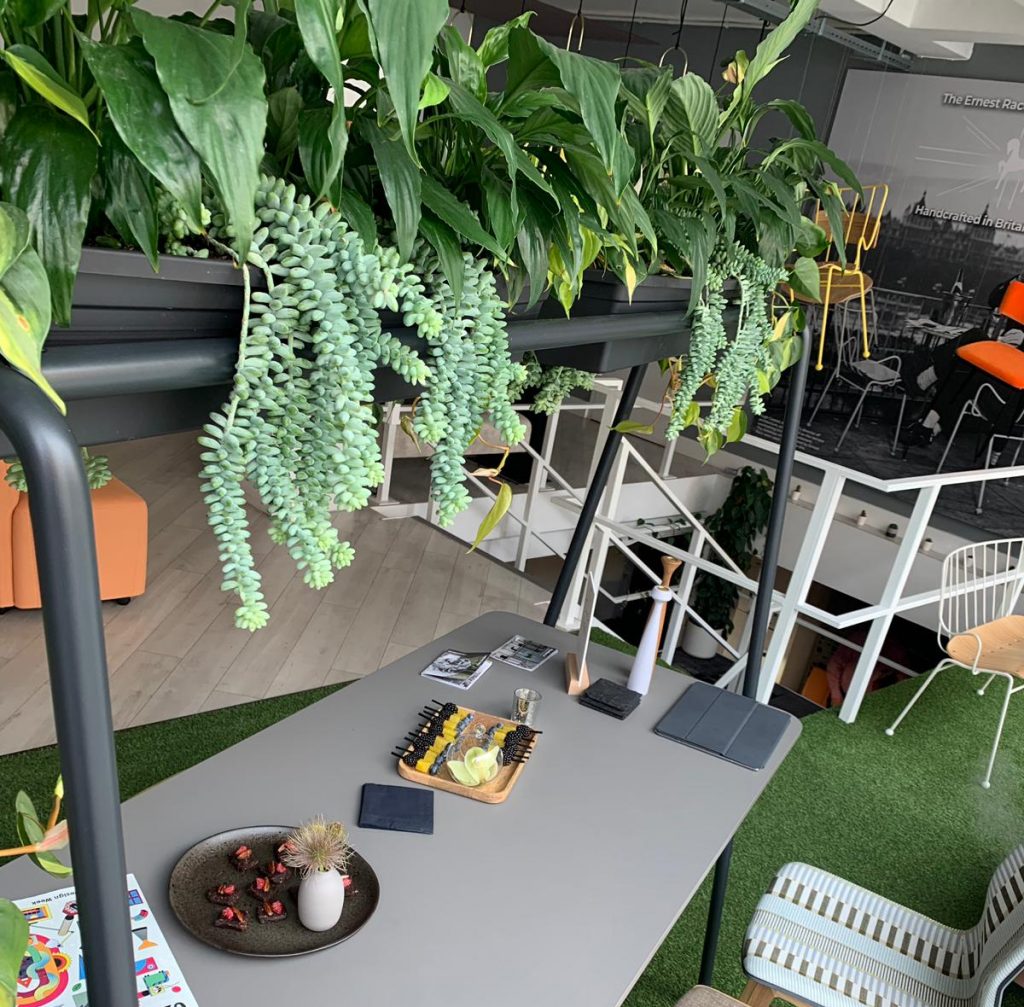 Boss Design created a pretty amazing living wall, and had lots of other planting and greenery on show too.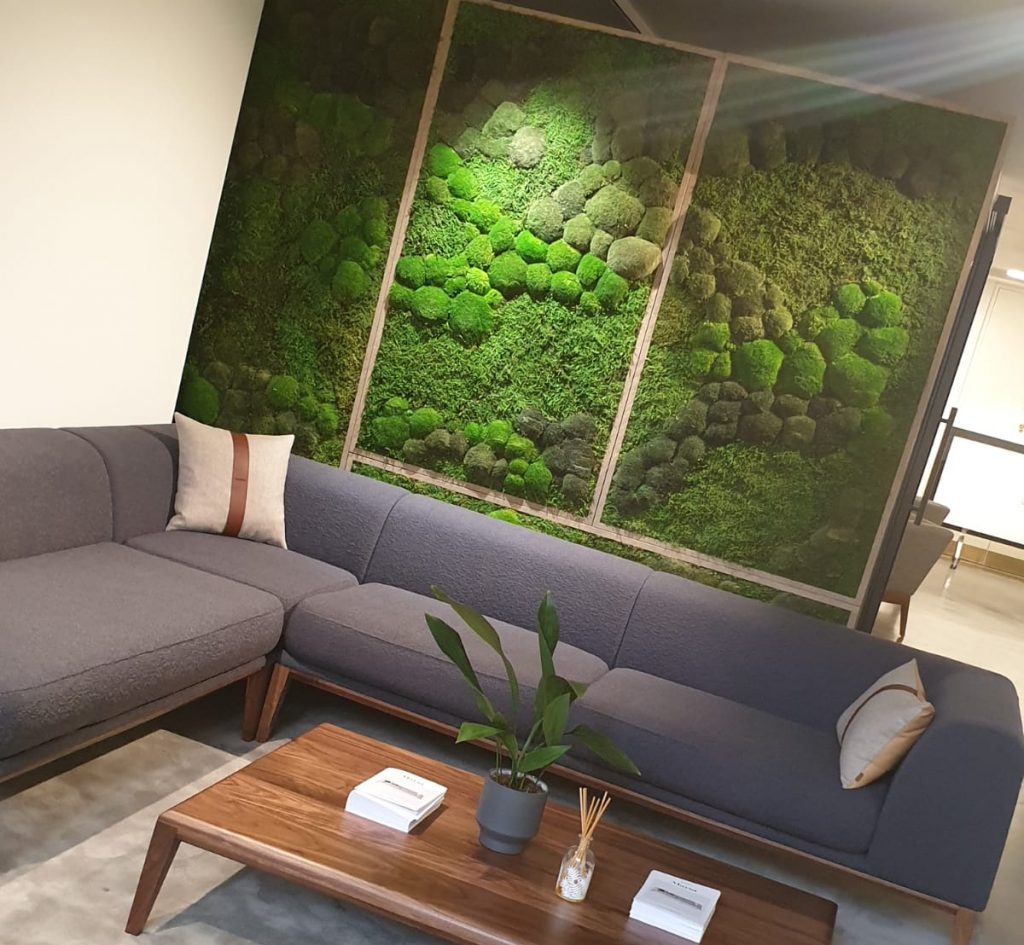 Era acoustics showed us how planters can be used as soft barriers to background office noise.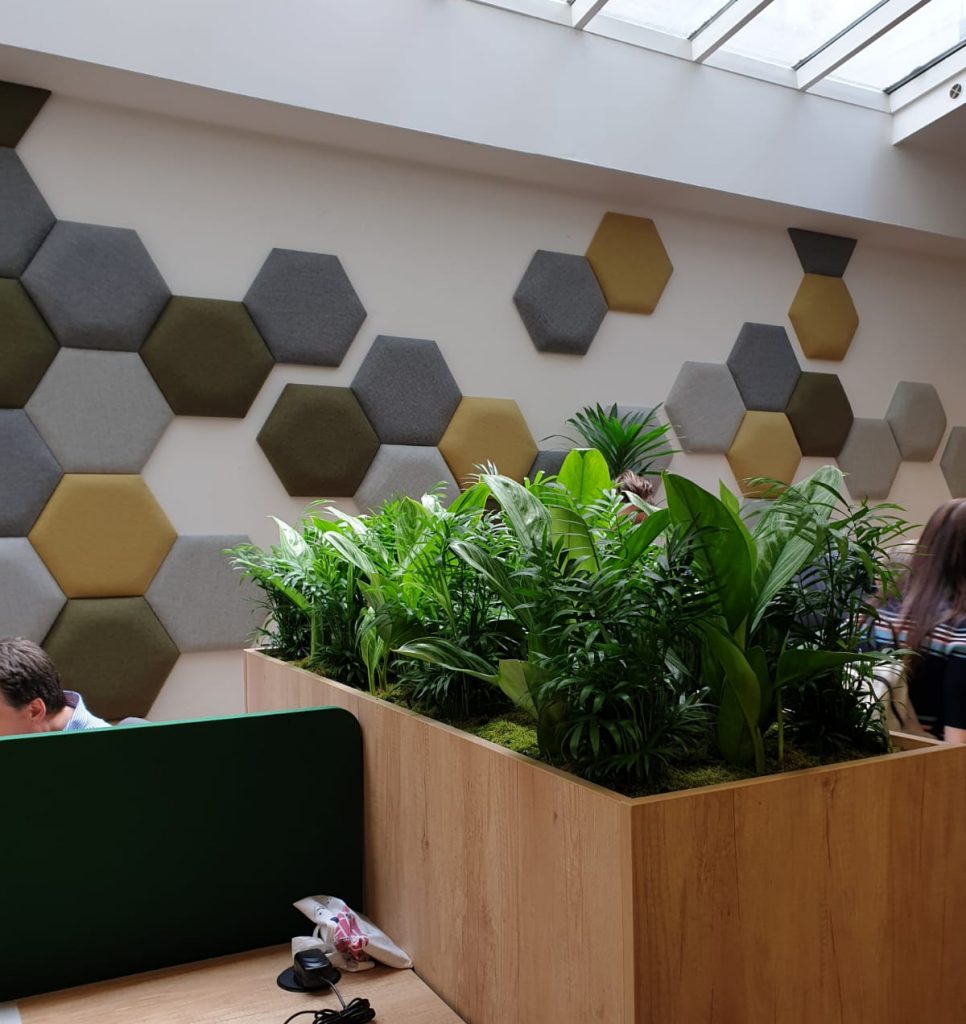 Milliken brought biophilic elements in the form of pastel colours and natural textures and patterns in their textiles. Frovi were another brand showing us their love of the outdoors with their set-ups.
Collaboration and community
We've always said that collaboration is key to some of the best business innovations, so we were very happy to see this as a central consideration for many of the exhibitors.
Some of our team went to a talk by Oliver Heath at Interface, called 'Creating Positive Spaces By Designing for Community'.
It was very much centred around using biophilics to create collaborative spaces, and we came away with some fantastic insights to share:
Biophilic design enhances community – contact with nature also restores mental and physical health
70% of communication is non-verbal so it's important to encourage face to face interactions to strengthen working relationships
Defining a community gives everyone within it a sense of belonging
Community benefits business in a number of ways – collaboration, creative thinking, social, relaxing
This trend isn't just around creating collaborative spaces for 'doing work'. Areas for creative thinking with peers, social interactions and relaxing as well as team working on projects are all essential.
Encouraging a sense of belonging and collaboration through the culture as well as the design of a workplace was also highlighted. And we definitely agree that the two go hand in hand.
Connection were certainly sending a strong message in their showwroom this year…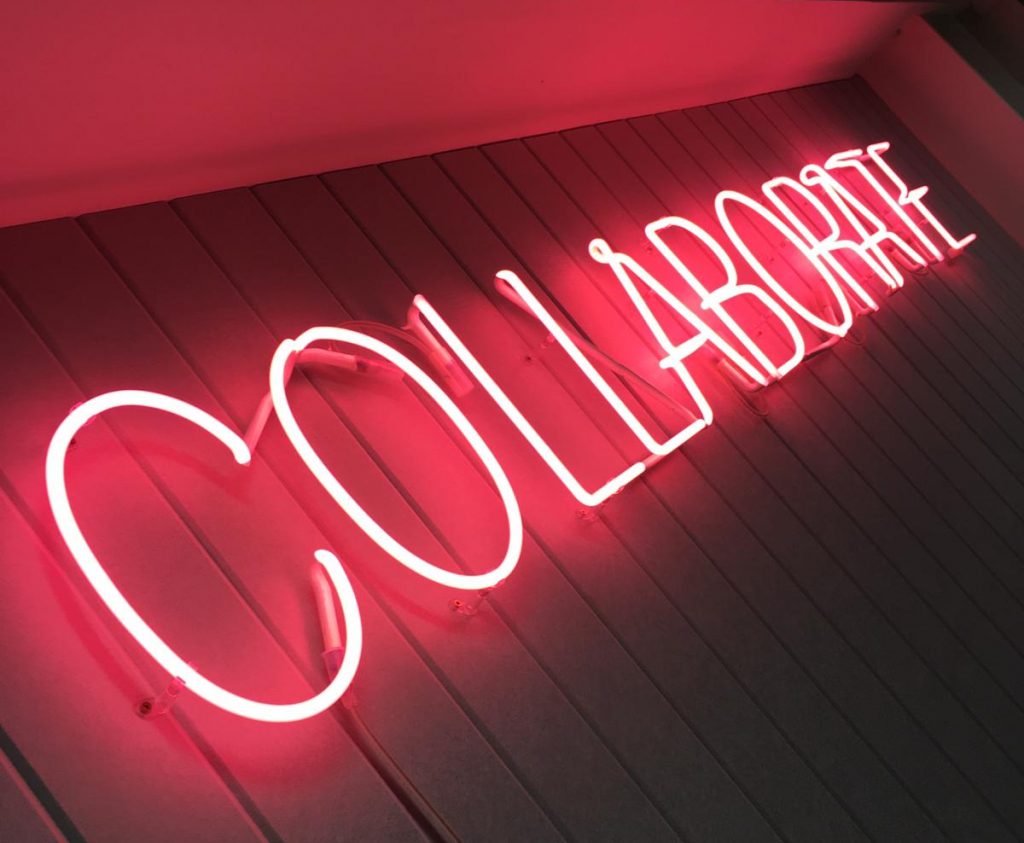 We saw lots of designs aimed at easing the transition between spaces with things like curved lines, semi partitions and transition flooring. One of our favourites was the Calvert modular system by Sixteen3 which combined steel with natural plant and birch wood elements to create defined areas without the need for dividing walls.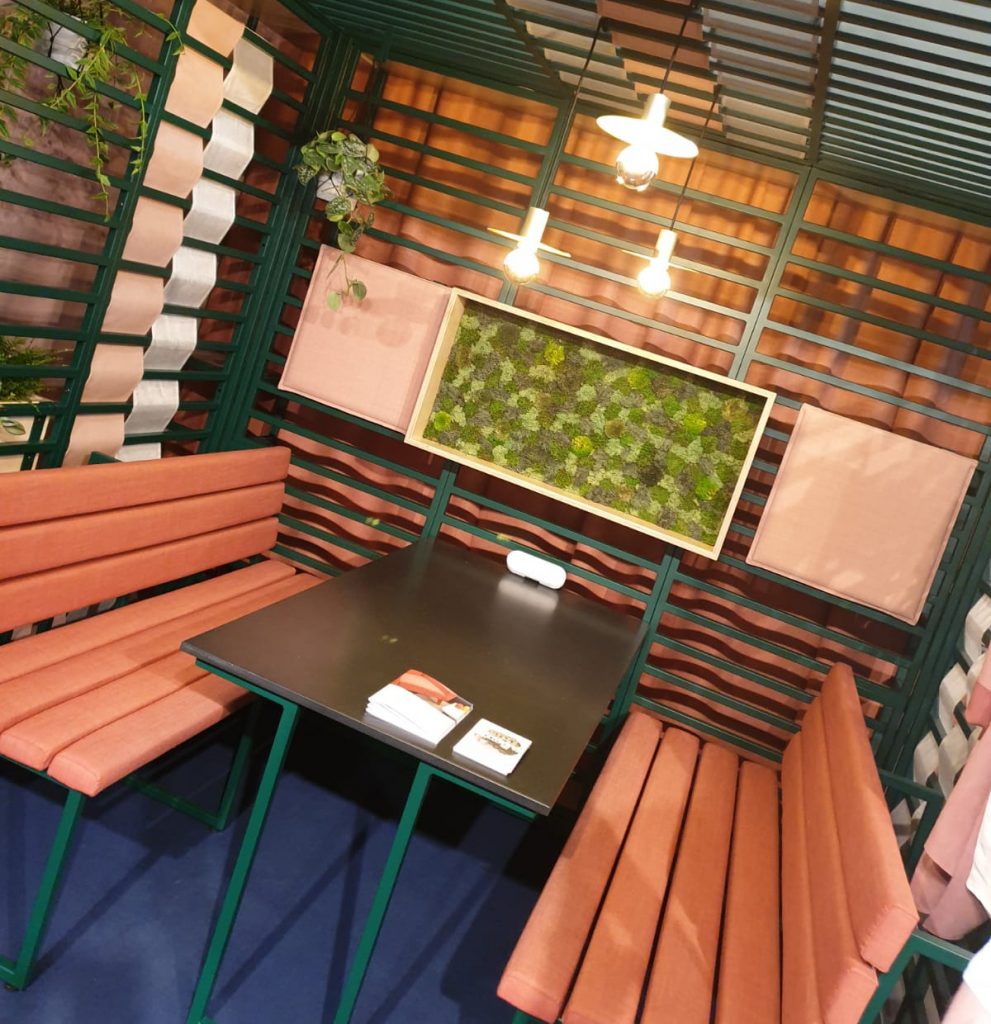 We took away lots of ideas for bringing people together through design which was amazing, and we can't wait to start implementing some of them in our own designs!
Wellbeing and Mindfulness
Wellbeing in the workplace was a huge consideration throughout pretty much every showroom.
It's the factor that connects all of the trends that we saw. After all, the ultimate aim is to create workspaces that people feel comfortable and happy working in.
Here are a couple of our team's favourite wellbeing-focused spaces…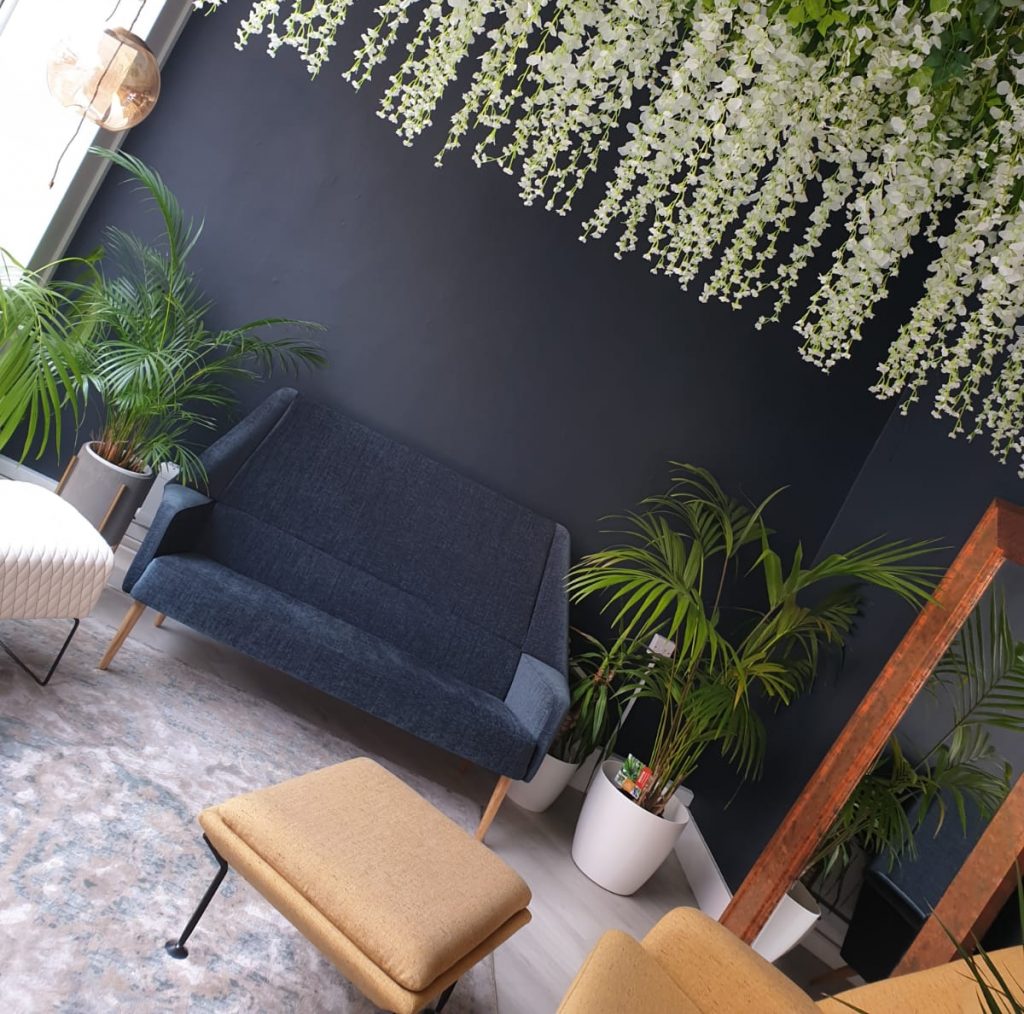 Ocee Design had a 'wellbeing corner' full of plants, and they even had forest sounds playing in the background – extremely relaxing!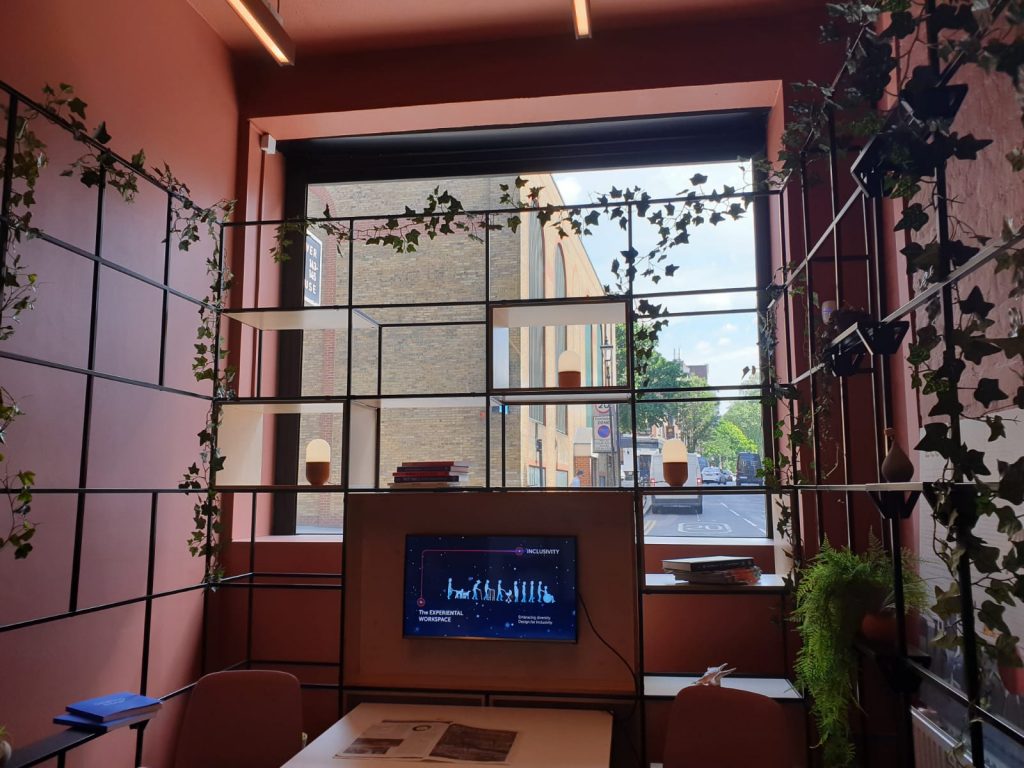 Spacestor's set-up was literally called 'A Mindful Space', so we had no questions about what their priority was.
The 'Palisades room' incorporated functional media storage and shelving with subtle colours, biophilic elements and arch detailing (another element that we saw a lot around the place!), with natural wood for a calming experience.
We love how these palisades and 'framed' spaces create 'microenvironments' that can be adapted to particular situations, such as using curtains to create privacy. Scarlet Opus Trends Agency did a talk on future trends which discussed how these microenvironments can also provide opportunities for people to personalise their own areas of the workplace for a feeling of 'home'.
Materiality and Colour
You may have already noticed this theme in the pictures we've shared throughout the blog – lots of pinks, greens, marbles, pastels and beautiful luxe finishes.
Milliken showed us how these finishes can be heightened using the floor coverings throughout a space, with their collection demonstrating natural, organic patterns and colours.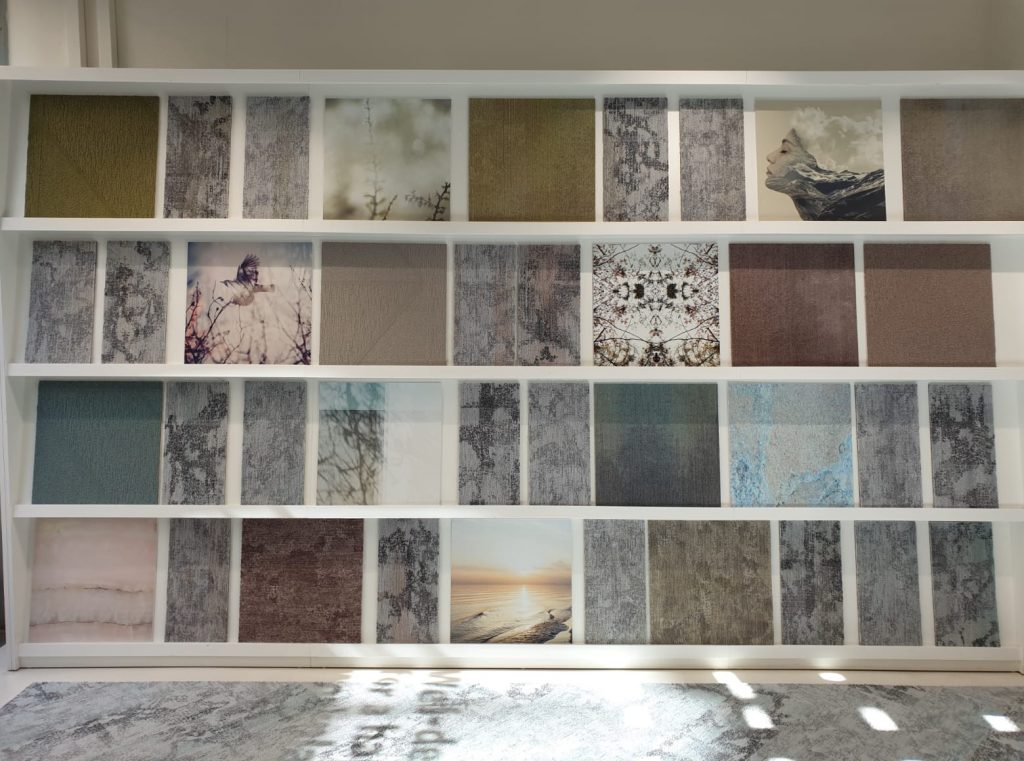 Spacestor's 'luxe Palisades' version of their palisades room setup, incorporating their new gold palisades to add some grandeur to the space.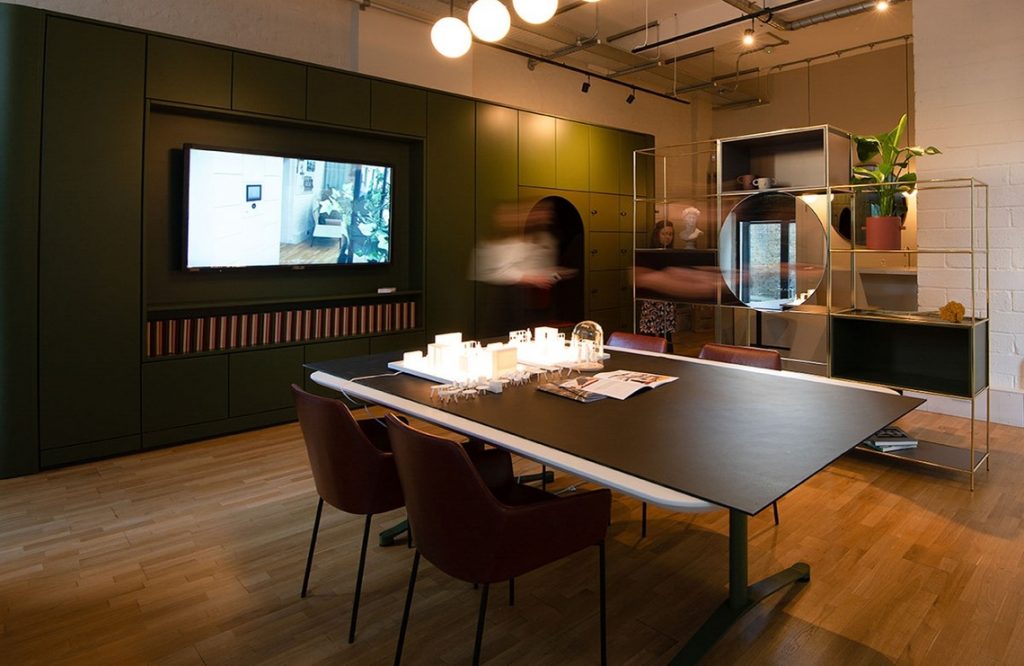 Nominique mixed and matched bold colours with unusual shapes to create spaces full of life and inspiration. With furniture situated in zones to encourage group gatherings in certain areas. And NaughtOne were also all about the colour in their designs.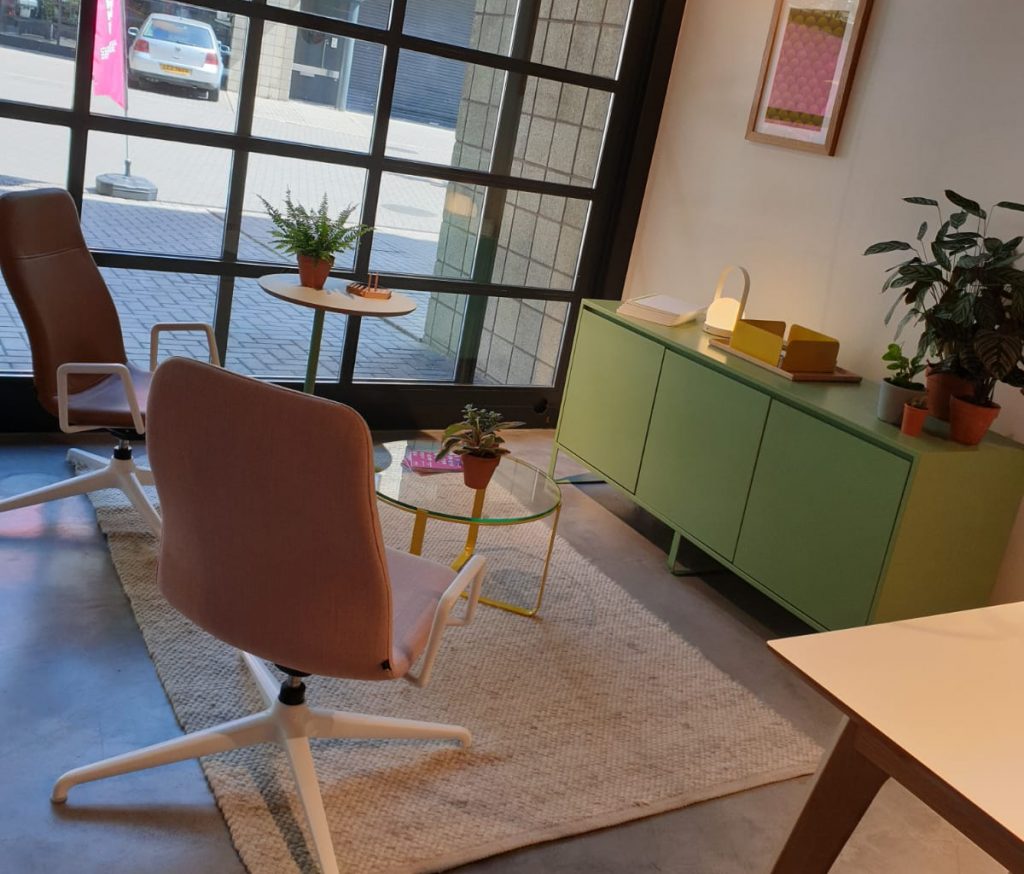 Movement at work
We all know that we need to be moving more at work, especially if we're office-based.
We went to an interesting talk with Ocee Design on this called the 'Science of Movement', so wanted to share some 'top tips' that you can put into practice next time you're at your desk:
How often we move between sitting and standing is important, not how many hours we sit or stand for so…
… you should aim to move from sitting to standing or visa versa every 45 minutes
Try to make 'being active' part of your job – go and talk to someone instead of calling them
Designing your workplace for collaboration or concentration can empower people to move between spaces
See more insights
We've created a highlight on our Instagram page @blueprint.interiors where you can take a look at more photos and see what we got up to on our visit.
If you'd like to talk to one of our design team about your own workplace design, get in touch using the form at the bottom of this page, or give us a call on 01530 223111.