27th Jul 2017
A – Z of Healthy Working
Our workplace health and wellbeing guide, the 'A-Z of Employee Health & Wellbeing' is a fantastic resource for businesses wanting to refresh their approach to creating a healthy workplace for their people.
And lucky for you, we're giving it to you in the form of a free download (scroll down!).
To mark the re-brand of the Fit for Work Team to Healthy Working Futures, our team worked with Andrew Harris, Workplace Health and Wellbeing Specialist from the Leicester Fit for Work Team to create a series of articles covering all things employee health and wellbeing.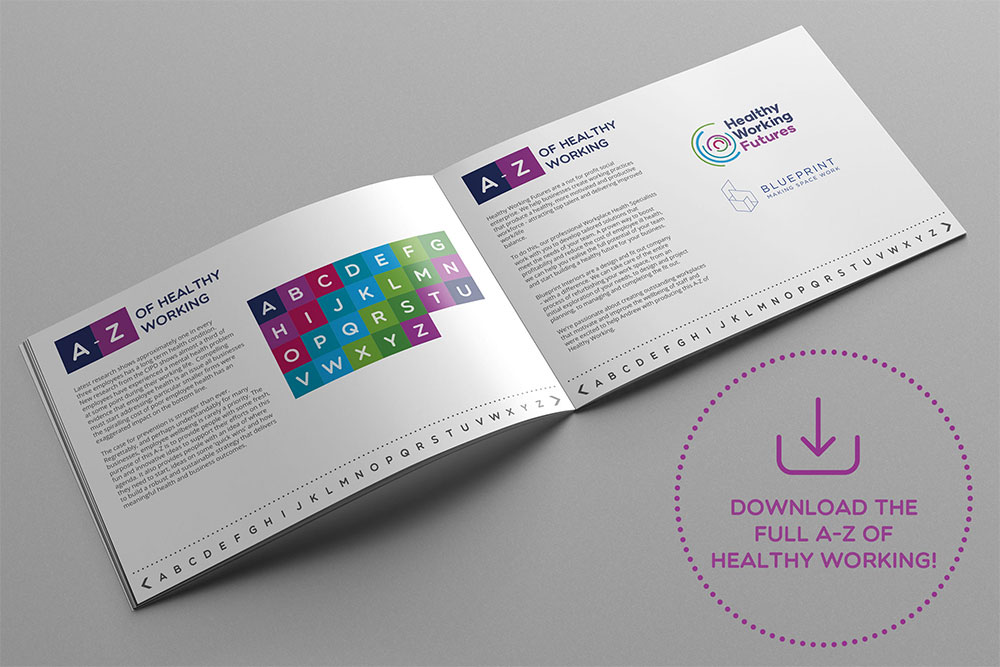 The team here at Blueprint are passionate about creating outstanding workplaces that motivate and improve the wellbeing of staff, so we were incredibly excited to work with Andrew on producing this guide.
Andrew has over 15 years experience in the health, work and wellbeing arena specialising in creating employee health and wellbeing strategies for businesses of all sizes. Andrew has delivered services for many organisations including Next, Highcross Shopping Centre, Nottingham Trent University and Wates Construction Group. In 2016 he won Standout Service of the Year at the SME Awards for his Healthy Workplaces Programme which has supported over 80 organisations across the UK.
The aim of this collaboration between Blueprint Interiors and Healthy Working Futures was to:
Bring together a wide range of free health and wellbeing resources and expertise.
Offer a source of inspiration to create a robust, sustainable health and wellbeing strategy.
Help freshen your approach with innovative, evidence-based solutions.
We really hope this guide is a valuable resource for your business. To start creating a healthier workplace for your employees, download it now!