28th Oct 2016
Our Impressions of Instagram's New Office
In celebration of Instagram's 6th anniversary, the company has unveiled a brand new office space.
Moving 350 employees from their one-floor office in California, Instagram's spacious new headquarters has been designed to reflect the photo-sharing company's creativity and minimalism.
Our design team has given us a quick rundown of the new look and layout – while highlighting the importance of working your values and practicality into your design
1. LOBBY
For the lobby and reception area, Instagram have a spacious open-plan room filled with digital displays.
As the core of the company is about users sharing their own perspectives, experiences and creativity, the digital displays allow customers to take centre stage – highlighting user-generated content within the office.
Instagram know that great branding in the workplace isn't just about showing off your logo or staying on-brand with colours, it's about bringing the key messages of your business to life.
Although their logo and design style are distinctive, sharing user content is more in line with their brand values.
With a simple open plan look that showcases user content, Instagram has succeeded in making the space feel 'like Instagram' as well as promoting a client-centred culture.
One of the most important aspects of designing a workspace is to ensure that it accurately reflects your work, culture and aims – even if it takes some creative thinking to achieve this.
2. LIFE-SIZE INSTAGRAM BACKDROPS
In a studio-like space, Instagram have hired a Hollywood set designer to create three life-sized, perfectly-illuminated sets – encouraging guests to upload pictures of their visit straight to Instagram.
The sets include a twinkling starscape; a presentation of the sun, moon and clouds that allow you to step into the 'world of Instagram'.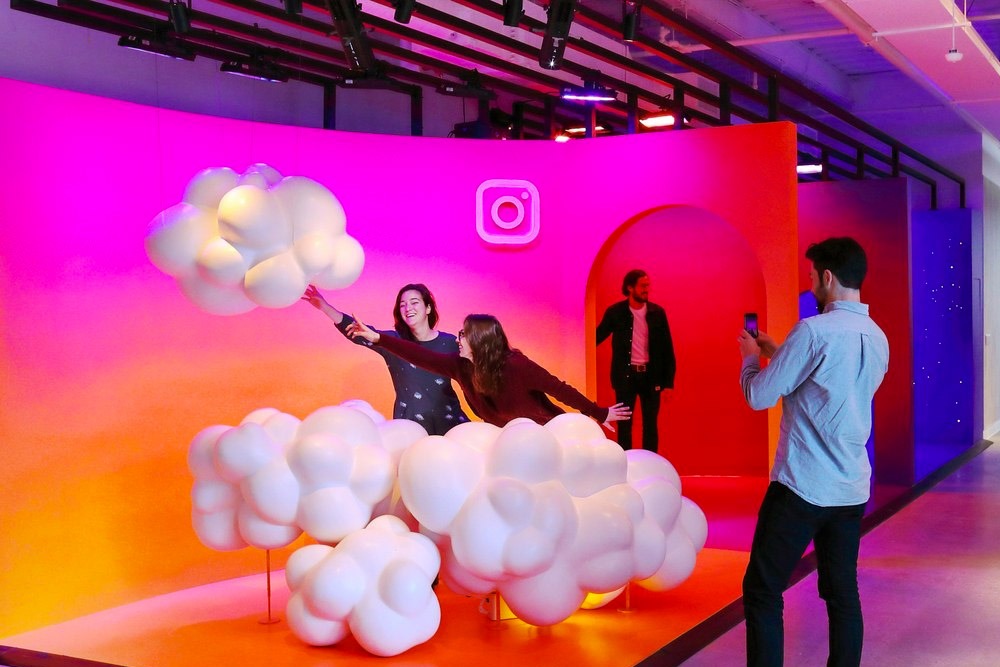 Interaction with brands has completely changed over the last few years, with actual experiences and genuine interaction becoming a critical part of getting across a brands message and connecting with customers.
With these sets, Instagram have created the perfect place for their visitors to create a sharable memento of their experiences. Through this, their users will interact directly with the brand and form a more positive and lasting impression of their visit – while sharing this promotional content with friends.
Although this is a fantastic idea for Instagram, most companies won't be able to hire a Hollywood set designer… Luckily for you, you don't need a Hollywood budget to create spaces that leave a lasting impression of your workspace and brand for your visitors.
Kim Bloor our design manager commented: "Space is an essential tool for supporting an organisations brand and culture. It's not just about the colour of the logo, space can be used to support and promote desired behaviours. At Instagram these environments provide a backdrop for sharing, creating memories and doing this with friends. For other organisations the desired behaviours might be innovation, so the space would be flexible, interactive and adaptable for their users. Or it might be very process driven, so the space would be organised, efficient and allow for concentration."
3. DESIGN ROOM
Trying to breathe some new energy into the conference room, Instagram have kept their staff up and moving with two standing tables and stools.
Removing all unnecessary distractions and keeping practicality as the centre focus, the room has a sleek, white design complete with large, replaceable foam-core boards that snap onto the wall.
A big mistake with meeting and conference rooms for a lot of companies is trying to maintain energy with needlessly flashy components. Instead of focusing on practicality, the space is wasted and staff will be more distracted than focused.
By removing distractions, Instagram have ensured that each part of the room increases productivity.
The standing tables are a great way to keep everyone up, active and engaged in meetings and even help to encourage collaboration. While the white walls and replaceable foam-core boards create a blank canvas to start bringing an idea to life.
Chloe Vickers our creative director commented: "The room has been designed with productive remote collaboration in mind with the introduction of the teleconferencing system alongside the tall tables. With this setup, staff are still able to move around the room and share their work whilst being visible to everybody involved in the session thanks to the high positioning of the camera. As well as having detachable foam boards the staff can physically interact with, the teleconferencing system adds a digital interactive element: sharing collaboration as it happens in real time with someone who can be halfway across the world or recording the session to review later as a team."
4. MICRO-KITCHEN
Keeping in line with the rest of the building, Instagram's practical 'micro-kitchens' on each floor are minimalist, open spaces complete with a long wood table to encourage casual conversations between employees.
The larger the organisation and its office, the harder it can be to connect with different teams or fellow staff members. Kitchens offer a great space to give your staff a break and encourage bonding over a coffee break or lunchtime catch-up.
Adding a softer seating option alongside the standing stools would give your staff a space to relax on their break, when productivity isn't the issue at hand. This would allow for more comfortable and informal bonding time amongst the team, which is valuable for any organisation.
One of our designers, Domhnall McLaughlin commented: "Instagram have gone for a contemporary coffee shop look in this space. If minimalism isn't your thing, it can be easy to accentuate your branding in a space like this; try adding subtle hints of your brands colour scheme through furniture and finishes, which can have the added benefit of a warmer and more inviting look for staff and clients. In this space, changing the colour of the lampshades, using fabric on the stools instead of vinyl and using a brighter rug next to the tea point are 3 simple changes that would do this."
5. LIBRARY
With so much open-plan space, Instagram also required quiet areas where employees can find some privacy and have room to concentrate.
The biggest of those spaces is the library, an elegant, light room stocked with art and design literature, as well as sketch and colouring books to help staff go back to basics and unwind.
Going back to practicality, areas like this are essential for offices with open-plan space. They allow staff privacy for meetings, phone calls, presentations or a chance to really concentrate on work.
It's key to have a number of spaces that suit your specific needs. It's not all about the first impression you'll make on visiting clients, but the affect your workplace has on your team.
Rebecca Beadle another of our designers commented: "Whilst there is a rising trend for office areas to encourage freedom, movement and flexibility, with these spaces it's important to provide places where privacy and concentration can be gained when required. This is reported to be particularly true of the rising Millennial workforce, who I would guess make up a significant part of Instagram's Silicon Valley workforce. Similar research also suggests a rise in popularity of muted pastel and chalky shades amongst Millenials, as demonstrated in this library."
CONCLUSION
The Instagram team have created an office space that manages to be minimalist while capturing the creative spirit and branding of the company.
Understanding that their visitors' experience is at the core of the company, the design allows for the kind of interaction and socialising that takes centre stage with Instagram as a social media platform.
Importantly though, their offices are designed with both their team and clients in mind. Along with being visually appealing for visitors, each aspect of the new Instagram offices has been put together to get the most out of the team.
By combining individuality with workplace practicality, Instagram have put together a fantastic example of creative workspace fitting.