31st Oct 2019
Behind the Scenes: October at Blueprint Interiors
The Blueprint Interiors team have been very busy this month! Not only with our day-to-day activities creating positive, people-focused workspaces for our clients, but with networking, events and project completions too.
Of course we couldn't keep all the excitement to ourselves, so here's a quick round-up of what we've been up to this wet and windy October.
Rachel, Kim and John qualified as i-act Managers
This month we've been celebrating three of our lovely team members, Rachel, Kim and John, becoming qualified i-act managers! I-act is an accredited programme to promote understanding and good management of mental health and wellbeing in the workplace.
Fittingly on World Mental Health Day, the three of them completed the 'Managing and Promoting Mental Health and Wellbeing' course and since then we've been enjoying using their improved knowledge to help us continue to create people-focused workspaces that prioritise wellbeing.
Big congratulations to Rachel, Kim and John!
Exploring the Latest in Fabric Design
Kim and Keiren attended the 'Let's Innovate Together' event at the beginning of the month, hosted by Camira Fabrics and Tarkett. It was a great opportunity to celebrate innovation and sustainability with the arts and design community – and they even got to check out Camira's latest fabric launch – the eco-friendly textile, Yoredale.
Health and wellbeing in the workplace
Charlotte attended the East Midlands Chamber's Health and Wellbeing conference at Osberton. Most people spend the majority of their waking hours at work, so the event focused on how businesses can support their team's health and wellbeing.
ProCon Awards Finalists Showcase
We went to the ProCon Leicestershire Awards finalist showcase a couple of weeks ago. As patrons, we love supporting the events ProCon holds for its members across the year. They're always great opportunities to meet like-minded people!
Completing new projects!
In other news, we were excited to announce the completion of one of our latest projects with Finch Consulting this month.
As their team often need to work remotely, it was important that their space created a welcoming environment to return to, should they need to collaborate or want to socialise.
We created 'The Nest' – and you can check out more pictures of Finch's new space on the project page.
Downtown in Birmingham, Birmingham Business Awards
Rob and Charlotte had the pleasure of attending the Downtown in Birmingham, Birmingham Business Awards alongside our wonderful colleagues Janine and Dom from Finch Consulting and Kirsti from Fisher German.
We had a great time celebrating the Birmingham business community!
Mix Interiors magazine covered one of our projects
As you may have already seen, we were also featured in Mix Interiors magazine this month! The article talked about our project for AFH Wealth Management that we completed earlier this year at their new Birmingham site.
We really enjoyed working on this project and we're proud of the finished result. You can read AFH's feedback and more about the project in the article on page 15 of the digital magazine.
Leicester Business Festival
We're currently in the middle of the fifth annual Leicester Business Festival – the first two-week business festival of its kind in the UK. Rob attended the opening seminar at Leicester's newest Grade A office, No 1 Great Central Square and very much enjoyed exploring the building.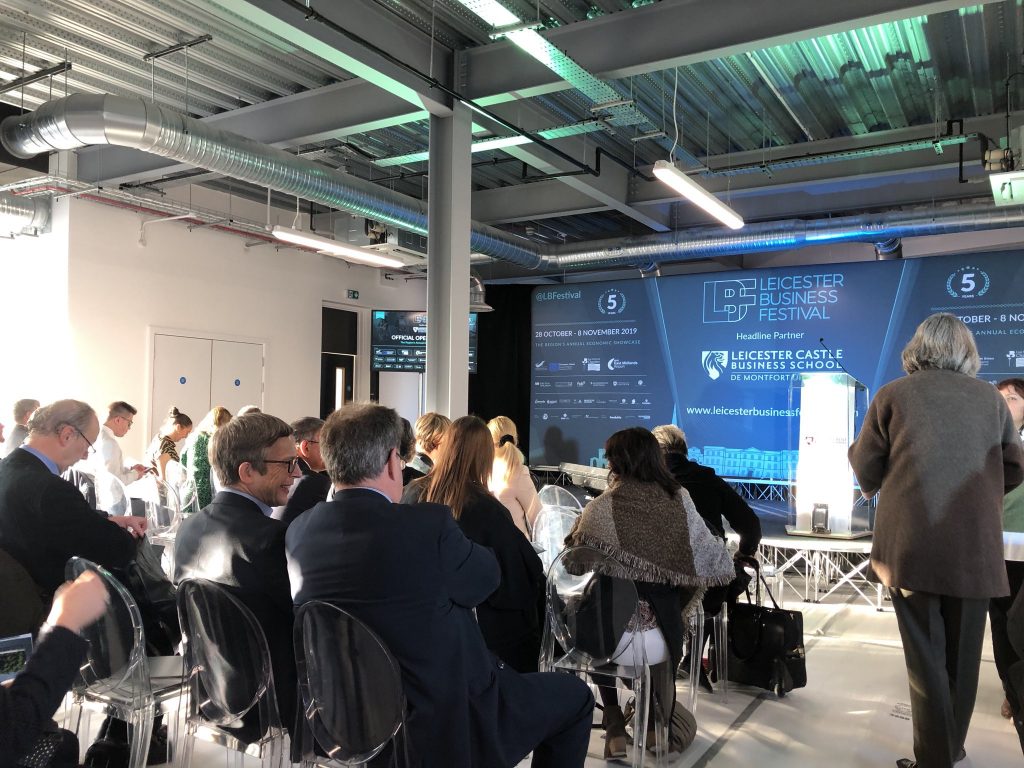 He also went along to other sessions on 'The mutual rewards of mentoring young people in business' and 'Make diversity your business'. We're looking forward to what the rest of the festival has in store.
And that's all for now! We'll be back next month with another update, but until then you can follow us on our social channels for more regular news from our team.