31st Jan 2020
Behind the Scenes: January at Blueprint Interiors
It's been a busy start to the year for us here at Blueprint Interiors. Let us fill you in on what we've been up to!
We've been shortlisted for an East Midlands Business Masters Award
This month we were hugely excited to find out we'd been shortlisted as finalists for the Property Company award at the East Midlands Business Masters 2020!
Our entry mainly focused on everything we've created with our business home, WorkLife Central, and what we've achieved since Blueprint Interiors was founded by Rob (just 18 years ago!). If you fancy reading about it in a little more detail, we've summarised our entry in our blog.
We've been shortlisted alongside some other amazing East Midlands businesses and now we're looking forward to attending the black-tie awards dinner on Thursday 12th March when we'll find out the winner!
And a LeicestershireLive Award
We're also thrilled to have been selected as a finalist at the LeicestershireLive Innovation Awards in the Innovation in Design category! If you're interested, you can find out what we talked about in our award entry here.
Now we're looking forward to celebrating alongside some other incredible Leicestershire businesses at the awards presentation on 27th February.
And 3 Enterprising Women Awards!
And on top of that, we're delighted to have been nominated for not just one, but three Enterprising Women Awards!
Chloe and Kim went along to the breakfast event to hear the announcement of the finalists and found that we'd been nominated in the following categories:
·         Team of the Year
·         Small Business of the Year
·         And our very own Kimberley Bloor was also nominated for Female Employee of the Year
Brilliant stuff!
We attended the Interface wellbeing evening
Kimberley, Charlotte, Mary and Rob had a great time attending Interface's wellbeing event, hosted at their offices, and they even learnt a thing or two! We've been enjoying using their new knowledge in our work so we can continue to produce workspaces that promote wellbeing.
We're sponsoring an award at the East Midlands Bricks Awards
For another year the East Midlands Bricks Awards are set to celebrate the stars of the region's commercial property sector, and we're proud to be sponsoring the Most Active Agents of the Year category!
If you're interested in finding out more about our sponsorship, the different categories, or even if you know a project or company that deserves to be recognised, we've got more info in our blog.
We got a new delivery
The BEA meeting booth from Joint Design Direction made a nice addition to our space at WorkLife Central this month. The whole team have been enjoying using it for collaborative working, as demonstrated by Kieren and Chloe here!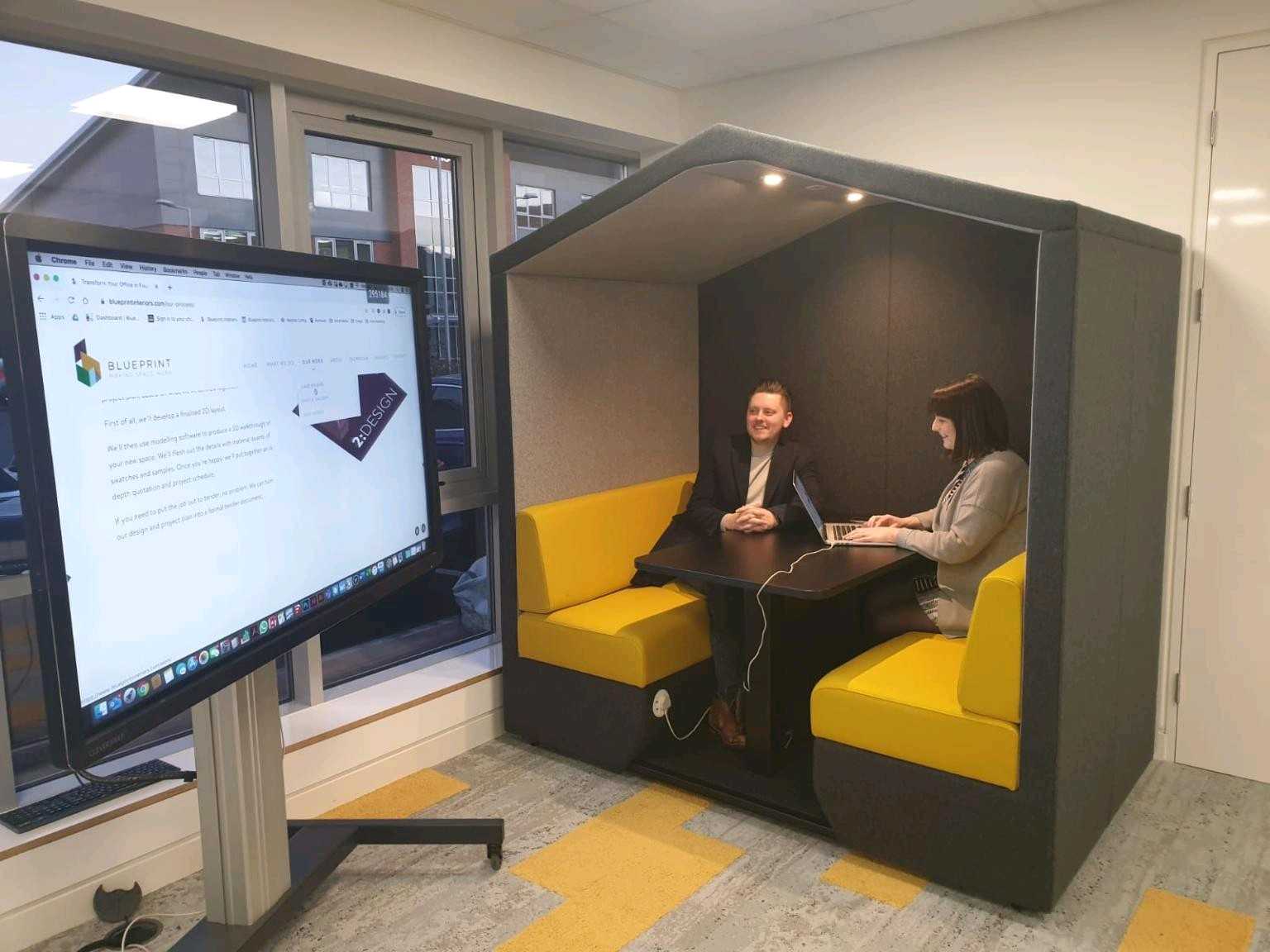 Thanks JDD!
Rebecca started on her WELL Standard Qualification
This month Rebecca started to work towards her WELL Standard qualification from the International WELL Building Institute.
Just like us, IWBI are committed to creating spaces to help people thrive, so they're leading a global movement to transform buildings and communities to allow for this. As part of their work, they deliver the cutting-edge WELL building standard.
So far Rebecca has completed her first module and we've been enjoying learning from her and using the new knowledge to help us continue to create people-focused workspaces.
And that's all for now! We'll be back next month with another update but in the meantime, you can follow us on our social channels for regular updates from the team.