21st Dec 2016
Our Predictions: Office Design Trends We Will See More of in 2017
As 2016 draws to a close, we're all looking forward to the new year. Looking forward, our design team have discussed what trends they think we will see more of in 2017, and have put together their 5 top office design predictions.
So what does the new year have in store? Let's find out.
1. A move away from one person desks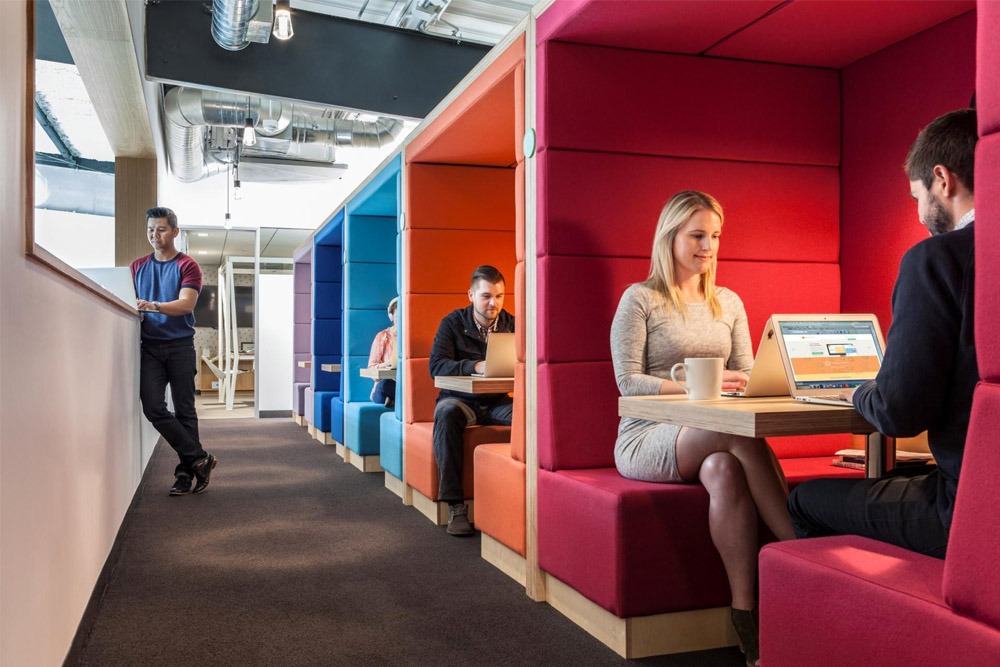 Our design team have predicted that more and more companies will see the light by not having one person bound to a single desk.
This trend will free workers of restrictive spaces and will continue the rise of collaborative break out areas. These spaces will focus and enable workers to choose a space that works for them, whether that means a quiet area to really knuckle down or a team area to work on projects together.
Great examples of these spaces are seen through the Railway Carriage by Spacestor (seen above) as well as our very own Arny Adytum (pictured below) in our office by sixteen3.
These are stylish alternatives allow staff to have a personalised space, without restricting them to a desk.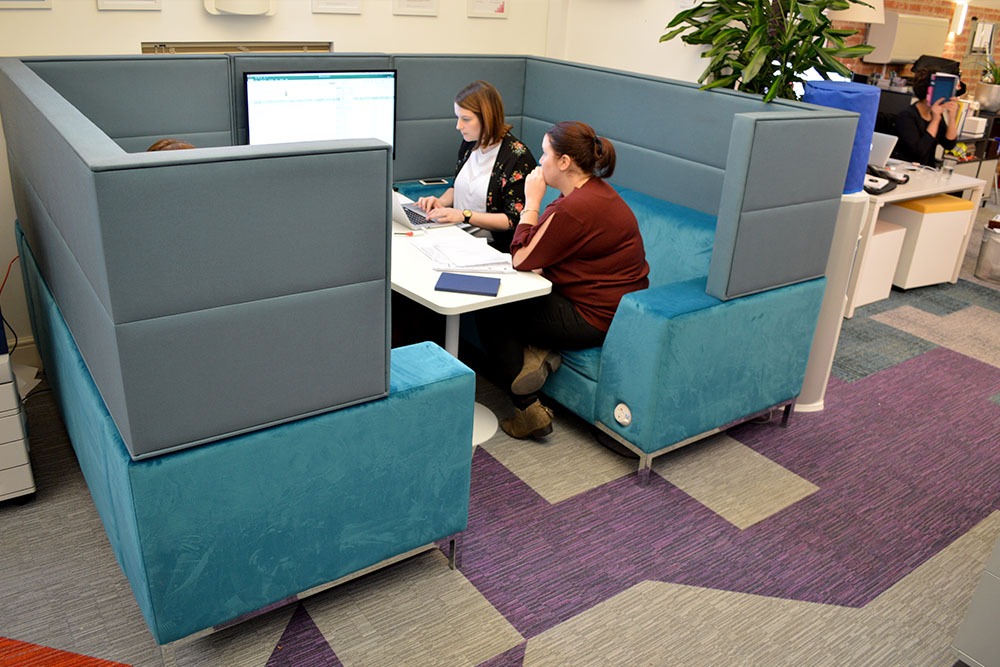 2. A move away from pedestals
Like one person desks, pedestals have a tendency to help restrict staff members to the same space in the office each day. As well as this, they usually take up a very large part of an office refurbishment both in terms of space and budget.
Yet, pedestals can help staff have their own space. What's the alternative?
According to our design experts, there have been a rise in replacements through alternative personal storage systems. These systems include things like the Hotbox, which are used here at Blueprint.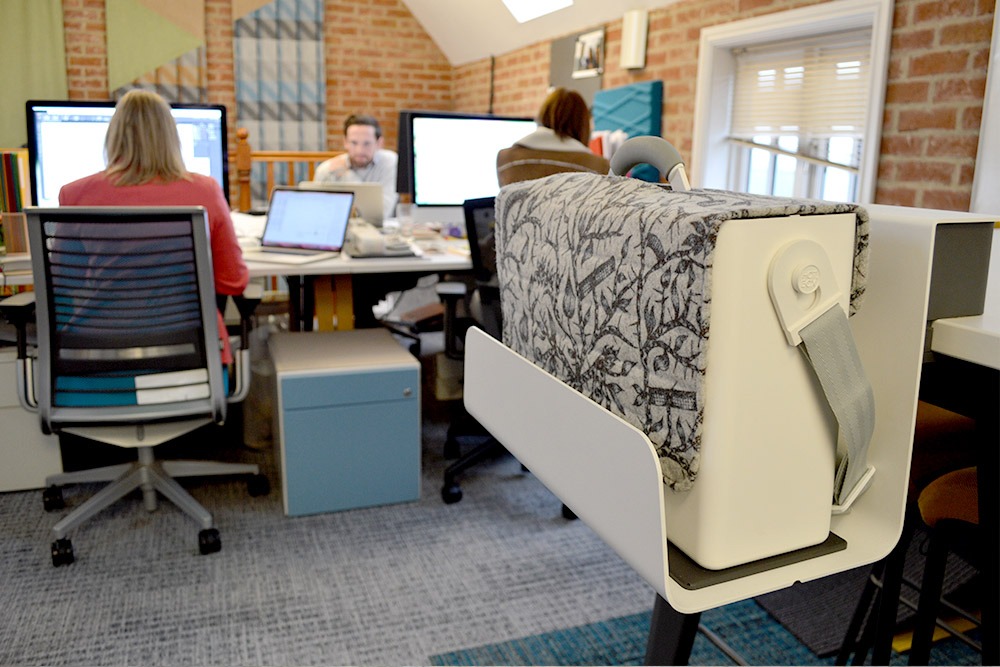 Alternatives can even include locker systems that can be unlocked through your phone, such as the HotLocker Agile by Spacestor.
These are stylish alternatives allow staff to have a personalised space, without restricting them to a desk.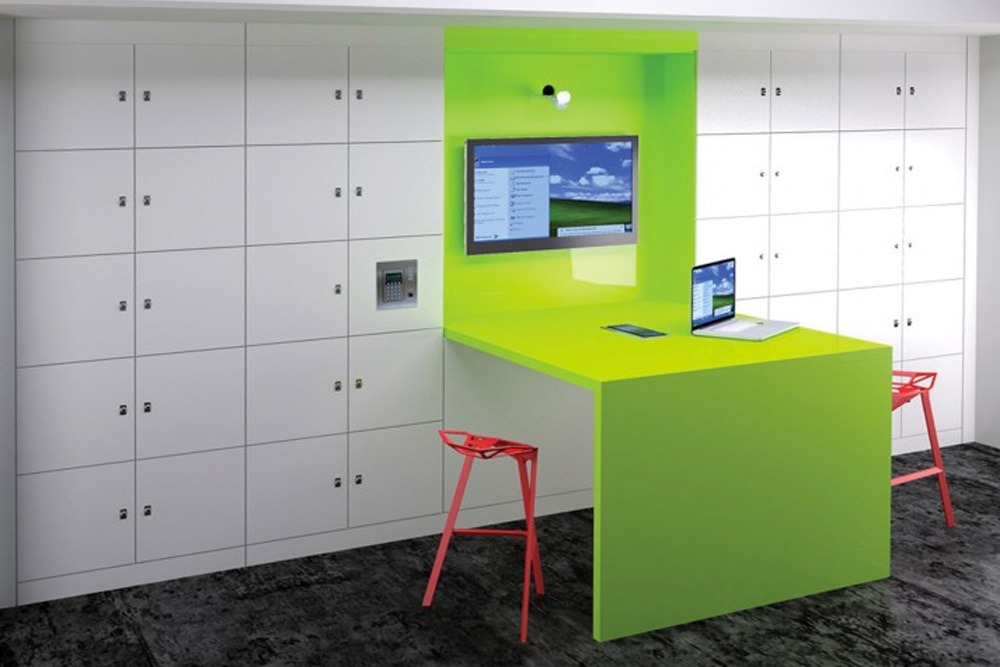 3. An increase in technology across all aspects of the office
As technology becomes an increasing part of our everyday lives, so does it spread across the office.Yet, instead of being confined to small areas, technology will be used across all areas, including communal areas such as canteens and tea-points.
The billi tap makes a fantastic example for how technology is being integrated across the office. This tap offers cooled, boiling (and even sparkling) water instantly with the press of a button all from one system, making sure there is no need to wait for the kettle anymore!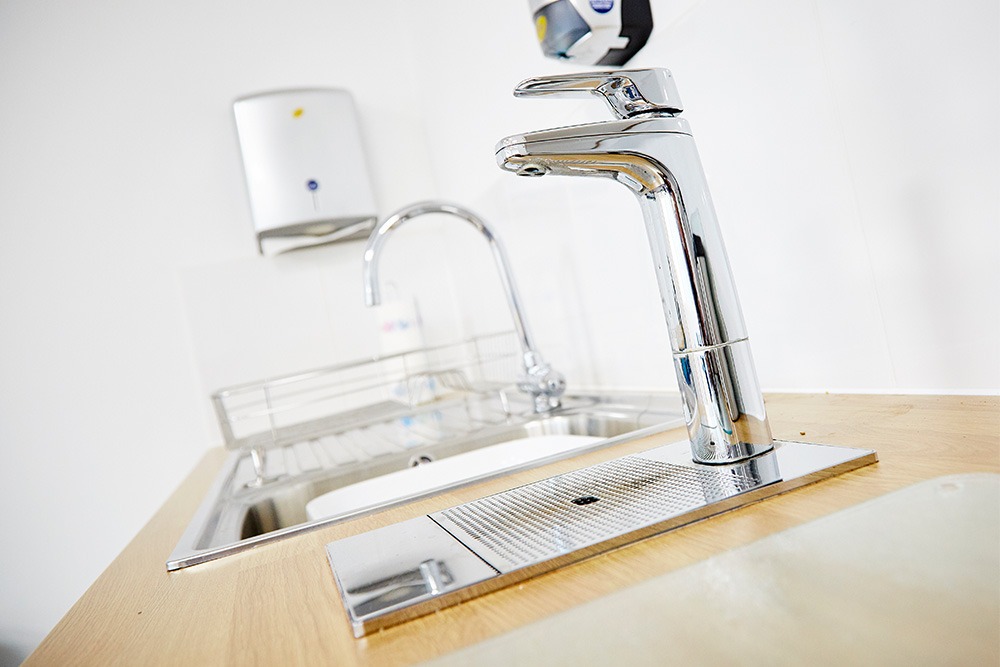 4. An increase in Raw Materials
Our design team have predicted an increase in raw materials for the next year.
This includes a rise in working with woods, stone and 'raw' materials into the office. This is both in the form of finishes such as wooden floors and exposed ceilings, as well as furniture.
The raw material works fantastically well for open plan spaces, paired with a touch of bright colour that makes the space come to life. An amazing example of this is through the wooden floors and furniture by Frovi, paired with a striking bright green.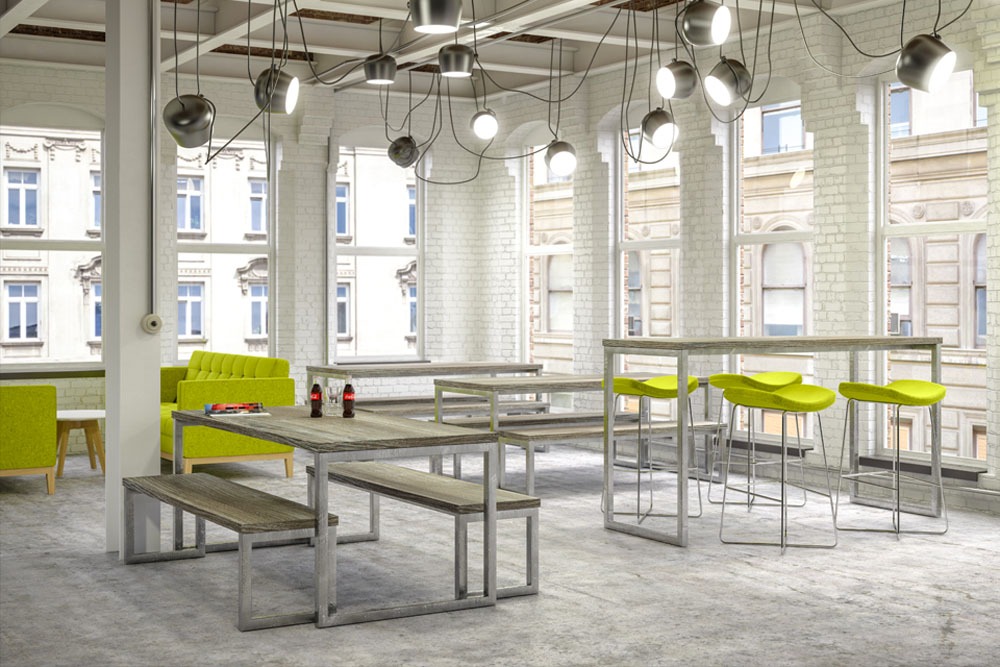 For those who aren't the biggest fan of raw materials, this trend will also manifest itself through inspired patterns. Take a look at this through the brickwork inspired wallpaper and artificial wood floor finish that we used for our refurbishment of MIRA's canteen to compliment their exposed ceiling and tiling.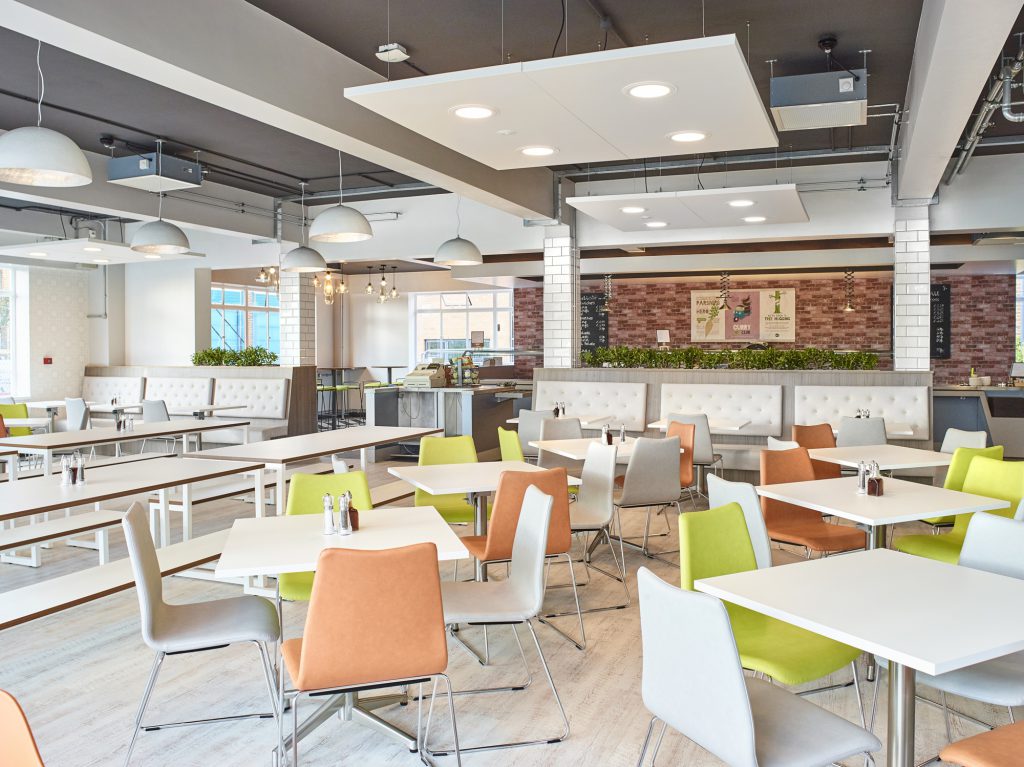 5. An increased focus on wellbeing
Staff are a company's most important aspect. As most companies are aware of this, we predict that the focus on wellbeing will continue in 2017.
But what is wellbeing? It's not just simply offering a free gym membership or fruit on the desk to your staff, it's an integral part of attracting the right people to your business, nurturing their talent and retaining them.
Staff spend the most part of their day in the office, so it's important that they can stay active, have the ability to change scenarios and move throughout the day without compromising on productivity.
One way of achieving this is through sit stand desks, which are increasing in popularity. They give their staff the option to adjust their station throughout the day, while options such as the quickstand from humanscale allow existing spaces to be made into sit stand stations.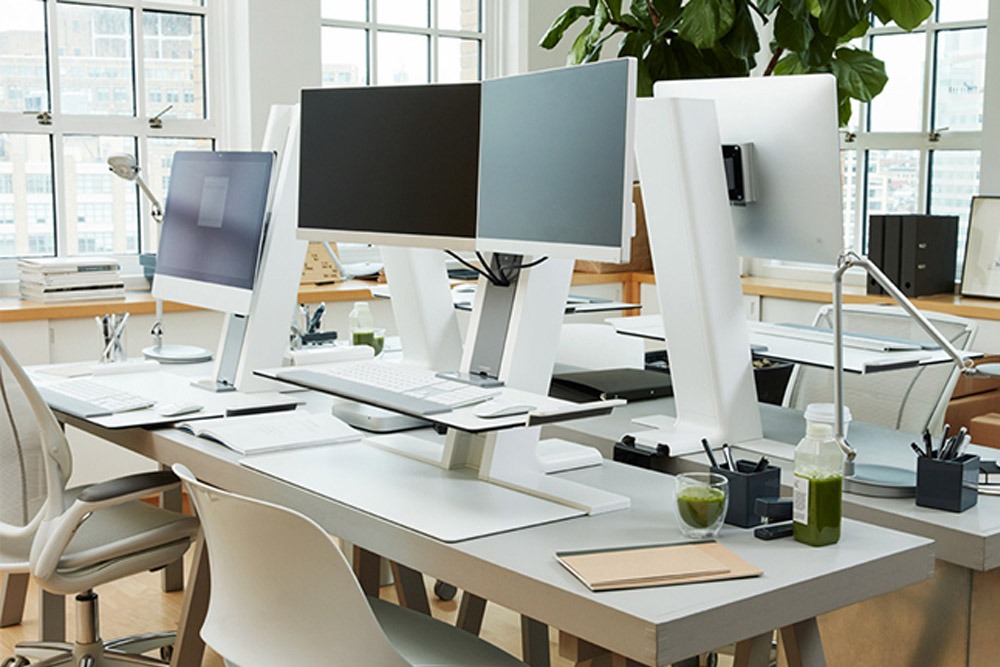 In addition to sit stand desks, there is also a prediction for a further rise in rooms and spaces with a more domestic feel to them. These spaces allow staff to relax, recharge or focus on a task when they need a change of scenery in a comforting space.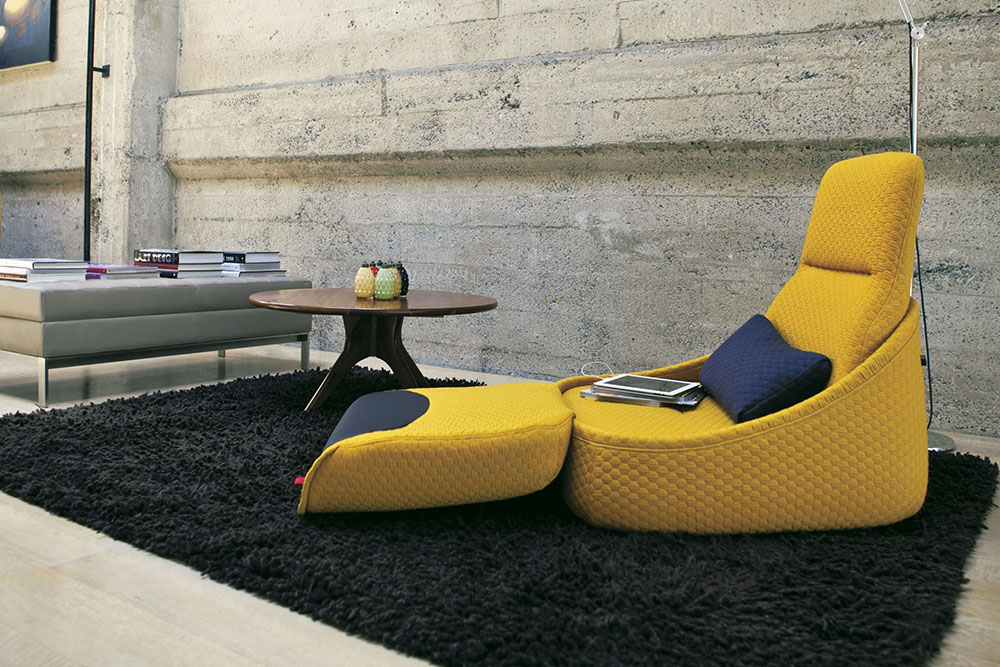 Conclusion
Our predictions for 2017 are showing that free, open plan spaces are key to next year's office design trends.
These spaces are being used with a move towards freer and unrestricted work spaces, that focus on staffs wellbeing and allow them to choose a workspace to best suit how they need to work.
Although we predict 2017 will see more of these designs, the most important thing to remember is that there is no one size fits all for office design. When planning your office design, you need to ensure that the space works for you.